This appetizer is a great afternoon snack, but would also be a perfect appetizer for a dinner party, pot luck, or barbecue.
By Taylor Kadlec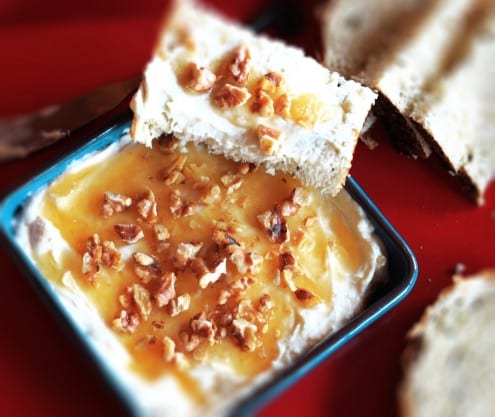 Goat Cheese and Honey Spread
This appetizer is a great afternoon snack, but would also be a perfect appetizer for a dinner party, pot luck, or barbecue.
Ingredients
8 oz mascarpone cheese
4 oz goat cheese
3 tbsp honey
1 tsp olive oil
⅛ tsp salt
¼ cup chopped walnuts
Instructions
Preheat oven to 375 degrees. Place walnuts on baking sheet and once preheated, toast walnuts in oven for 7 minutes. Set aside.
Combine mascarpone, goat cheese, 1 tbsp honey, olive oil and salt in medium bowl.
With electric hand mixer, beat until fluffy, 1 to 2 minutes. Alternately, you could do this in a food processor.
Spread mixture into serving dish.
Drizzle remaining 2 tbsp (or more, to your preference) of honey.
Sprinkle with toasted walnuts.
Serve with baguette, focaccia, crackers, or veggies. Enjoy!
Taylor Kadlec
Taylor Kadlec is a lover of all things food including baking, cooking, and of course, eating. She is a self-taught baker and cook, and she shares her kitchen adventures on her blog Greens & Chocolate, where healthy cooking meets sinful indulgence.