In this granola recipe, the crunch comes from seeds, rather than nuts, and coconut chips.
By Carly DeFilippo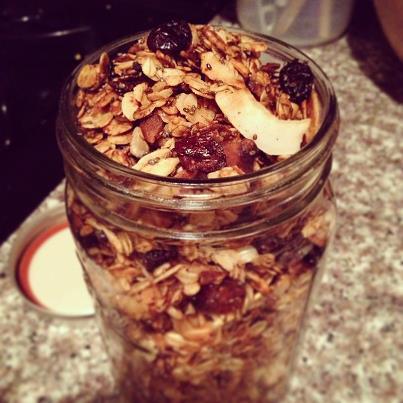 Gluten and Nut-Free Granola
In this granola recipe, the crunch comes from seeds, rather than nuts, and coconut chips.
Ingredients
5 cups gluten-free oats*
5 tbsp coconut oil
¼ cup chia seeds
½ cup sunflower seeds
1 cup coconut chips
¾ cup golden raisins/craisins
2 egg whites
1-2 pinches of high quality sea salt
½ tsp "Reims" spice blend (in lieu of this, you can pass on spice, or add fall/winter baking spices, like cinnamon or "pumpkin pie spice")
Instructions
Mix together all dry ingredients.
Add coconut oil, and mix.
Beat egg whites, and add to mixture. Dry ingredients should be lightly coated by oil/egg whites, to the point of just beginning to stick together. You can add more oil/egg white if necessary.
Shape granola into a "donut" on large greased baking pan. Bake for 20-30 minutes on 350 degrees, stirring occasionally to ensure even cooking. (The "donut" ensures that you don't end up with an uncooked middle.)
Notes
*Oats are naturally gluten-free, but if you have gluten sensitivities, it is important that they are verified as being produced in a gluten-free environment.
Carly DeFilippo
Carly is a Contributing Writer at Honest Cooking. Though the first line of her college application essay was "I love tunafish," it wasn't until she pursued graduate studies in Paris that she ever considered a future in food. Based in Manhattan, Carly is a freelance writer and the co-founder of Cognoscenti Creative, a boutique branding agency dedicated to establishing artisans as influencers.