This one's definitely something special with unique flavor and great texture.
By Julia Mueller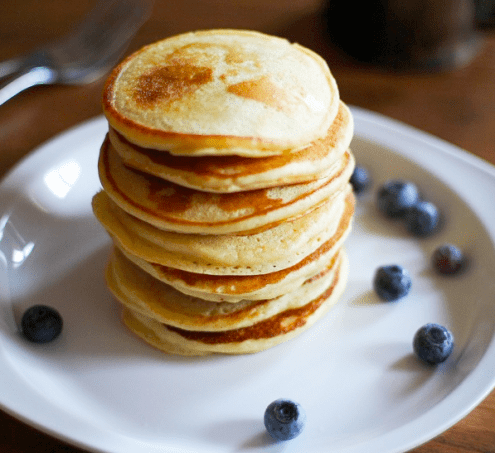 I made this recipe back when I was dishing out pancakes every Friday during The Pancake Project. I had no reason to hold on to this recipe for so long. I don't know if I was waiting for the apocalypse or for someone to straight up tell me, "'Eh you! Pohst that gluhten free yogaht paaaaancake recipe already, huh?" Of course this person would sound exactly like Robert De Niro.
Gluten Free Yogurt Pancakes
This one's definitely something special with unique flavor and great texture.
Ingredients
!For the pancakes:
1 cup vanilla yogurt (low-fat)*
1 egg
1 tablespoon agave nectar or sweetener of choice
⅓ cup gluten-free all purpose flour
⅓ cup corn Flour
⅓ cup Brown Rice Flour
¼ teaspoon baking soda
Dash salt
!For the Topping
1 pint blueberries
2 tablespoons water
1 tablespoon agave, honey or brown sugar (optional) or to taste
Instructions
To prepare the blueberry topping:
Heat all ingredients in a small saucepan just below medium heat.
Juices will begin seeping from the blueberries. Allow them to cook until the mixture is gently bubbling and blueberries appear puffy and soft, about 10 minutes.
Add the sweetener, stir, and set aside.
To make the pancakes:
Mix the wet ingredients together in a mixing bowl then add the dry ingredients and mix well to combine.
Heat a skillet to medium-high heat and add enough oil/butter to coat the bottom of the pan.
Measure out a scant ¼ cup of pancake batter and pour on skillet. Cook until the sides begin to firm up, a few minutes.
Flip the pancake to the other side and cook another few minutes until cooked all the way through.
Notes
*Depending on the consistency of your yogurt, you may need to add milk/almond milk to get the batter thinner. The yogurt I used was fairly thin so I added no additional liquid.
Julia Mueller
As a fitness and nutrition enthusiast, Julia writes a food blog called The Roasted Root, where she share recipes that are mostly vegetable and meat based along with stories of her travels and day-to-day activities. Julia loves enjoying fresh home cooked meals with her friends and family, and the process of developing recipes, photographing, and sharing them.