Gluten Free Rosemary Cupcakes with Carrots and Walnuts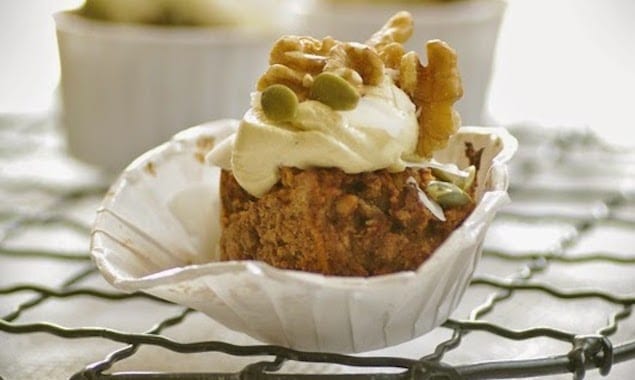 Perhaps not as sexy as chocolate, but these cupcakes are so delicious. They are moist and earthy and chock full of goodness to make you smile from the inside out.
By Leigh R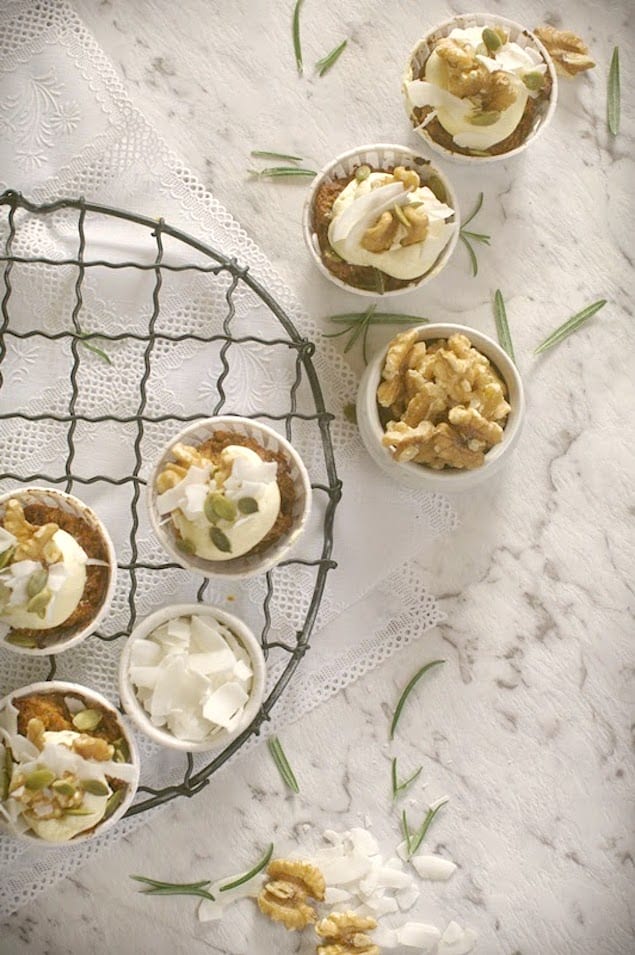 Perhaps chocolate is a more sexy choice for cupcakes and perhaps vanilla would be my normal, personal choice, but somehow the humble root vegetable known as carrot was all I could think about.
So on a glorious Saturday afternoon I grated, sifted, stirred and baked.
This recipe is gluten and refined-sugar free, but I didn't notice.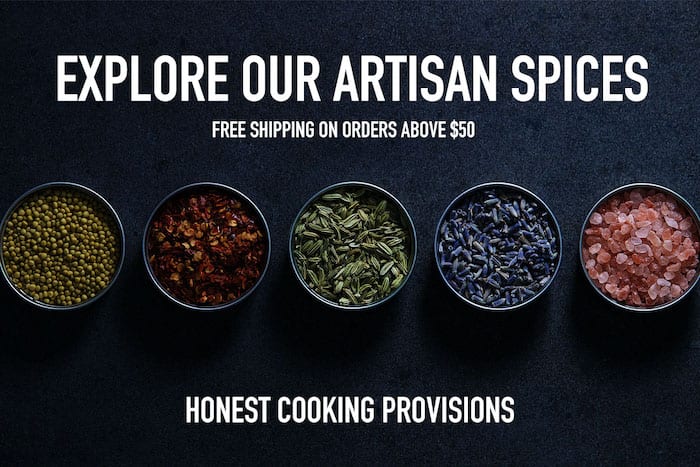 It's dense, moist and earthy and chock full of goodness that makes you feel good from the inside out.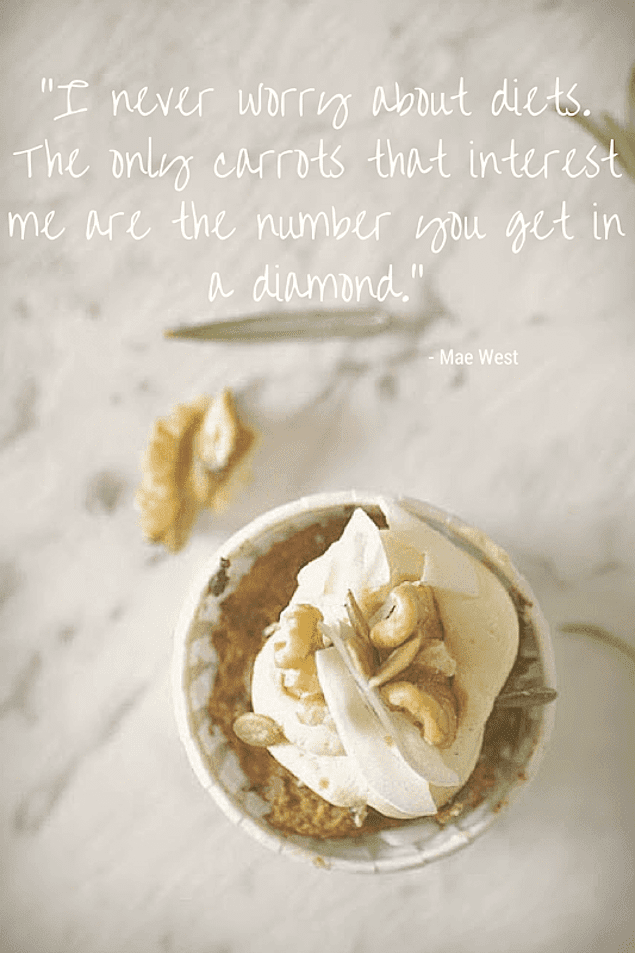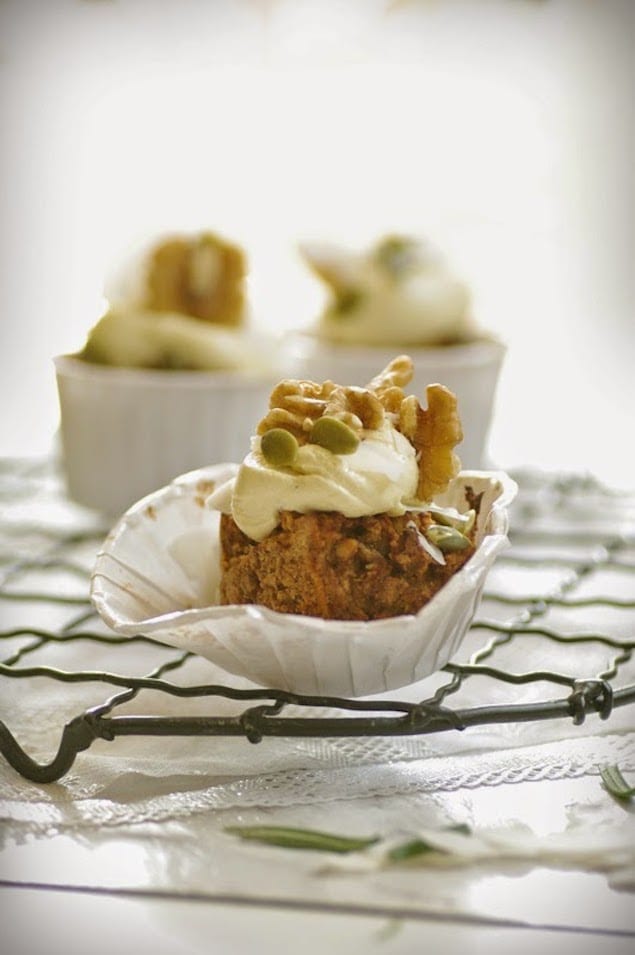 Gluten Free Rosemary Cupcakes with Carrots and Walnuts
Perhaps not as sexy as chocolate, but these cupcakes are delicious. They are moist, earthy and chock full of goodness to make you smile from the inside out.
Serves:
24 cupcakes or one cake
Ingredients
Cupcakes
1 ½ cups of dates, soaked in warm water for 10 minutes, then drained
100g unsalted butter, room temperature
1 banana, ripe
zest of 1 lemon
1 tsp vanilla extract
2 tsp baking powder
2 tsp ground cinnamon
½ tsp nutmeg
5 organic eggs
2 cups carrot, grated
1 tsp rosemary, finely chopped
¾ cup walnuts, roughly chopped
½ cup desiccated coconut
3 cups almond flour
For the icing
250g cream cheese, room temperature
50g unsalted butter, room temperature
1 tsp vanilla extract
1 tbsp rice malt syrup (or honey)
Instructions
Preheat oven to 160 degrees.
Placed dates and butter into a food processor and mix until you have a rough puree.
Add banana, lemon zest, spices and baking powder and mix until well combined.
Add eggs and mix until just combined (do not over mix)
Pour wet mixture into a large bowl and add the carrot, walnuts, rosemary and coconut. Mix well.
Sift in the almond flour and gently fold through until just combined and pour into a greased and lined cake tin, or into individual cupcake liners (fill almost to the top as these cakes will not rise by very much).
For a large cake = bake for 60-80 minutes or until cake is golden and a skewer comes out clean when inserted into the centre. Allow to cool for a couple of hours and then chill in the fridge for 1 hour prior to icing.
For cupcakes = bake for approximately 20 minutes.
For the icing
In an electric mixer, blitz the cream cheese, butter, vanilla and rice malt syrup together until light and fluffy before piping onto the cupcakes or smoothing onto your cake.
Leigh R Chomp
A Melbourne based Taurean, home-cook, amateur photographer and lover of all things French!