Gluten-Free Peanut Butter and Coconut Tart with Cocoa Nibs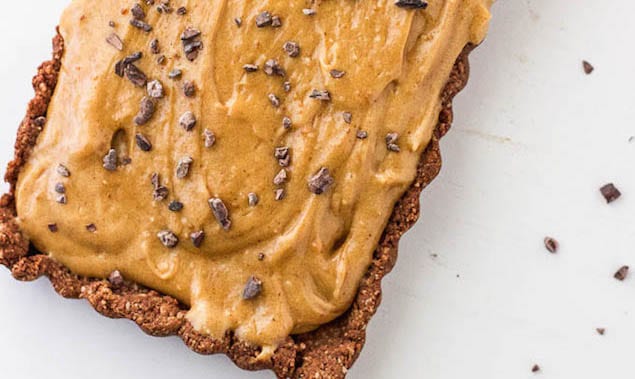 This gluten-free and vegan tart is filled with a combo of peanut butter and coconut whipped cream, making for the creamiest of peanut butter decadence to sit in a almond and chocolate crust.
By Tessa Fisher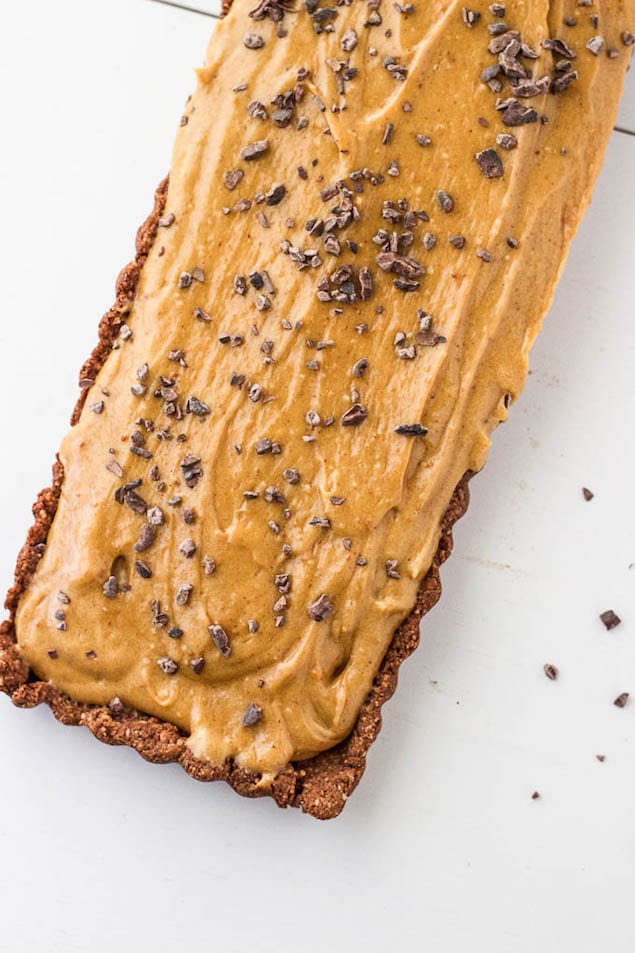 The ingredients for this dessert are simple, the prep is easy, and it is gluten-free and vegan. The filling is a combo of natural peanut butter and coconut whipped cream, making for the creamiest of peanut butter decadence. If you end up using unsalted peanut butter, be sure to up your salt factor a bit. The chocolate crust, equally as simple, is made with almond flour and flavored with organic cacao powder (cocoa works too) and a hint of maple syrup.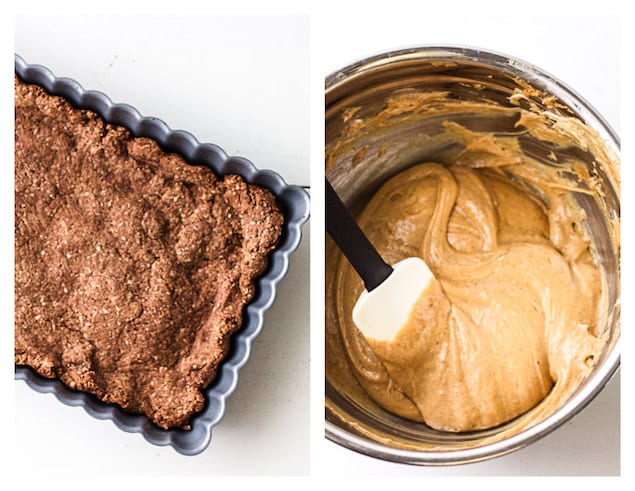 See Also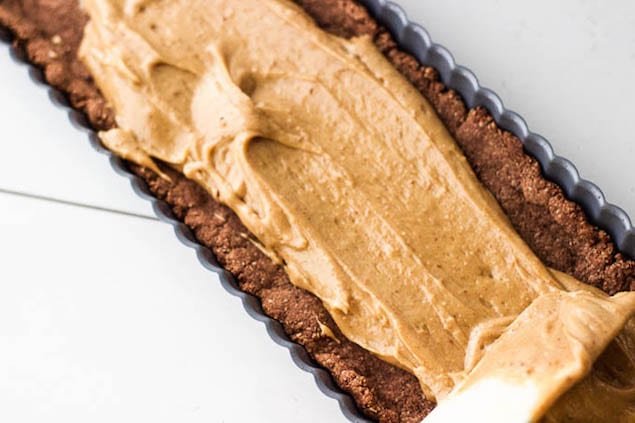 Gluten-Free Peanut Butter and Coconut Tart with Cocoa Nibs
This vegan tart is filled with peanut butter and coconut cream, making for the creamiest of peanut butter decadence to sit in a almond and chocolate crust. Inspired by Joy the Baker's Honey Almond Butter Chocolate Tart.
Recipe Type:
Dessert, Baking
Cuisine:
Gluten-Free, Vegan
Ingredients
For Chocolate Crust:
2 cups almond flour
2 tablespoons organic cacao powder (cocoa powder will work too)
½ teaspoon baking soda
¼ teaspoon salt
¼ cup refined coconut oil, melted
3 tablespoons maple syrup (I prefer grade B)
½ teaspoon pure vanilla extract
For Filling:
1 cup natural creamy salted peanut butter
1 can organic coconut milk, full fat, refrigerated overnight
½ cup maple syrup
1 teaspoon pure vanilla extract
⅛ teaspoon salt
Organic cacao nibs or chopped dark chocolate, optional
Instructions
Start by making the chocolate crust. Preheat oven to 350 degrees Fahrenheit. In a medium bowl, add almond flour, cacao powder, baking soda, and salt, and whisk until blended. Stir in coconut oil (make sure it is no longer hot), maple syrup, and vanilla extract until dry ingredients are moistened. Complete blending mixture by using your hands, making sure coconut oil is evenly distributed.
Press crust mixture into a 14 x 4.5 x 1 tart pan or 9-inch round pan, making sure to press dough halfway up sides of pan. Bake for 15 minutes. When done, cool in pan on wire rack.
To make the filling, scoop the waxy solid from out of the coconut milk can into a small bowl, stopping when you hit liquid below. Using an electric mixer, beat coconut milk until it starts to thicken and soft peaks appear. In a medium bowl, beat together peanut butter, ½ cup maple syrup, vanilla extract, and salt. Fold in half of coconut whipped cream into peanut butter mixture and mix until blended. Add the rest of the coconut whipped cream and mix until thoroughly blended.
When crust is cool, transfer filling into crust and smooth top with a spatula. Sprinkle cacao nibs or chopped dark chocolate over top. Serve immediately.
Tessa Fisher
Tessa F., baking enthusiast and school counselor, adopted a gluten-free diet to eliminate severe migraines. Tessa's success has inspired her to share her love of gluten-free baking using natural, seasonal, whole ingredients. Find more of her recipes on the blog Salted Plains.