Because sometimes you need a little bit of fudge-y goodness.  And these are definitely fudge-y.
By Trish Cowper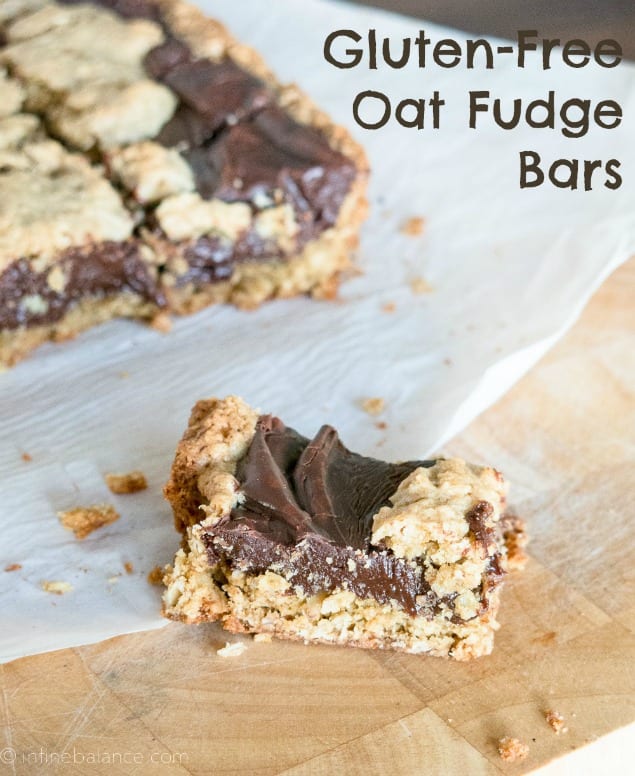 Because sometimes you need a little bit of fudge-y goodness.  And these are definitely fudge-y.
Keep this recipe around for when you need to whip something up for a bake-sale or a kid's school party. They are nut-free and gluten-free.
Don't have oat flour?  No problem.  Use standard all-purpose flour, a gluten-free all purpose blend, or make your own oat flour by running some rolled oats through the blender until you have a fine powder.

Gluten-Free Oat Fudge Bars
Easy chocolate fudge baked into a chewy oatmeal cookie crust. This crust is gluten-free if made with oat flour
Recipe Type:
Cookies, squares, desserts
Ingredients
1 cup butter, softened
1 cup packed brown sugar
½ cup white granulated sugar
2 large eggs
3 cups large flake old fashioned oats
2 cups oat flour (alternately use all-purpose flour)
1 teaspoon baking soda
¾ teaspoon fine grain sea salt
300 ml can Eagle Brand Sweetened condensed milk
12 oz bag semi-sweet chocolate chips
1 teaspoon vanilla extract
1 tablespoon butter
Instructions
Preheat oven to 350 degrees.
Line a 8 x 12 baking dish with parchment paper
In a large bowl, or in the bowl of a stand mixer, add butter and sugar and beat together on medium speed until well blended and creamy. Add eggs and beat until light and fluffy.
In a medium sized bowl stir together oats and oat flour, baking soda and salt.
Add oat mixture to butter and eggs mixture and beat together until well combined and it has formed a sticky dough.
Reserve ⅓ of the dough and set aside. Press the remaining dough into the bottom of the baking dish. Dampen your hands with a bit of water to help press the dough flat into the baking dish. This is sticky dough. Press the dough slightly up the sides of the dish to make a bit of a ridge to catch the fudge topping
To make the fudge: in a small sauce pan combine Eagle Brand condensed milk and chocolate chips over medium low heat. Stir until chocolate chips have melted and mixture is smooth and creamy. Remove from heat and stir in the tablespoon of butter and the vanilla.
Evenly spread the fudge over top of the dough in the baking dish. Try to leave a half inch or so around the sides.
Take small clumps of the dough previously set aside and press into flat shapes and lay on top of the fudge. Don't worry about covering the entire top, you want to see some fudge peaking through.
Bake at 350 for 20-22 minutes. The oats on top should be slightly golden brown.
Remove from the oven and allow to cool before cutting into squares.