PARTNER POST: Discover new ways to incorporate seasonal teas into your holiday cooking and desserts with Celestial Seasonings.
Whip up an easy, gluten free mini pumpkin cake loaded with warm spices and flavors that is perfect with a warm cup of tea and shared with just a few friends.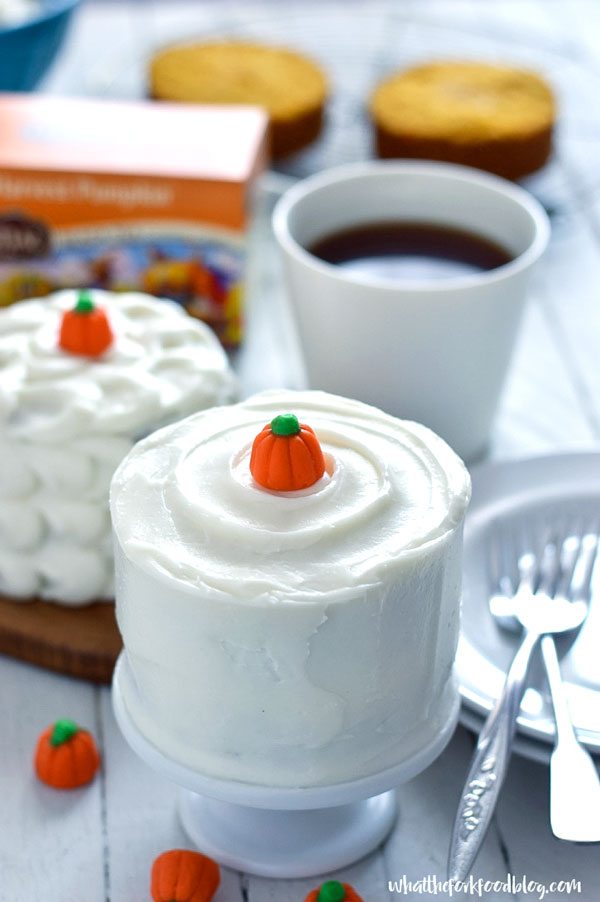 I made cake. And not just any cake, a gluten free mini pumpkin layer cake! Not only is it gluten free, but it's also dairy free and the best part? It's MINI. Like, it only serves 2-3 people. You could even stretch it a bit and serve 4, it would be like eating a cupcake but just in layer cake form.
Mini layer cakes get me super excited. They make it easy to make any day a little celebration without going totally overboard and having to make a regular sized cake big enough to feed a party.
The first mini cake I made was my Mini Chocoalte Layer Cake. I've been working on mini cake recipes ever since. They can be a bit tricky at times and I want to make sure I have nailed the full cake recipe before scaling it down to become mini, which is why this is only the second mini cake I've shared on the blog.
This recipe uses only ¼ cup of pumpkin puree. It's the perfect way to use up extra pumpkin if you have some leftover from another recipe.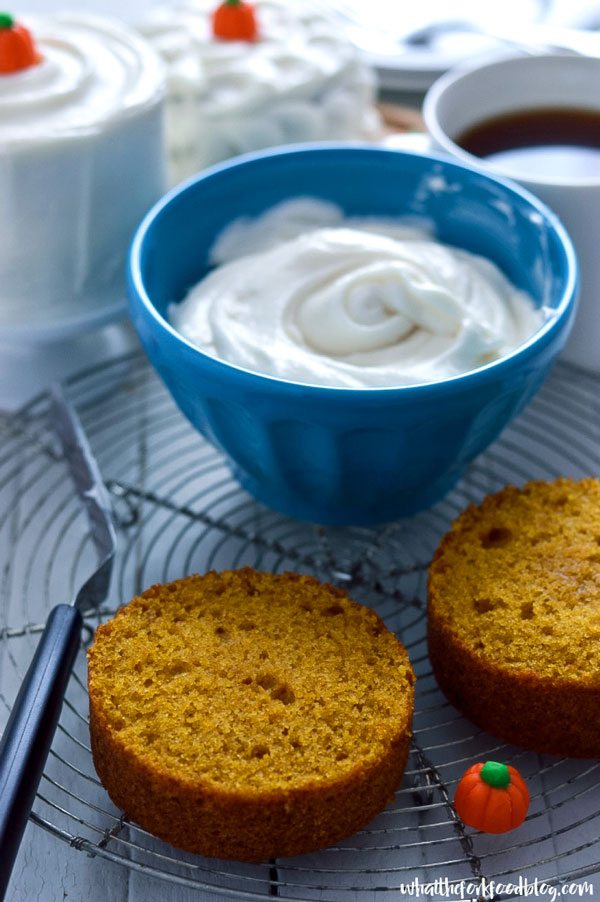 If you need some recipe ideas, I can tell you that one regular size can of pumpkin has about 1 ¾ cups of pumpkin puree. You can make this gluten free mini pumpkin layer cake, my Gluten Free Pumpkin Banana Bread, and my Gluten Free Pumpkin Chocolate Chip Bread all from one can of pumpkin. If you don't want two breads, you can make the Gluten Free Pumpkin Chocolate Chip Muffins instead of the pumpkin chocolate chip bread.
Since I've tested it so much, I can tell you that the cakes freeze VERY well. All you need to do is wrap them in plastic wrap, place them in a freezer bag and then freeze until you're ready to use them. You don't even have to wait for them to defrost before frosting them. Just frost the frozen cakes as you would a regular cake and then refrigerate for a couple hours before serving.
Since these cakes are mini sized, they're perfect for afternoon tea or even a weeknight dessert. I like to pair mine with Celestial Seasonings Sweet Harvest Pumpkin tea. Pumpkin on pumpkin <3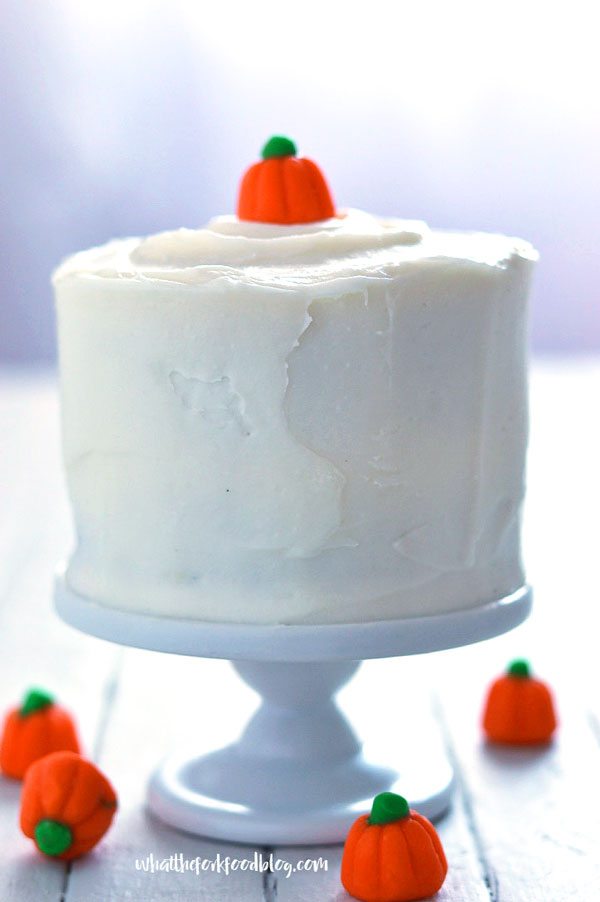 I'm loving tea in the afternoon/evenings lately since I can't drink regular coffee after 3pm (or else I'm up until 2 am). They've got some really great seasonal flavors in addition to pumpkin – Candy Cane Lane, Gingerbread Spice, Nutcracker Sweet, Cranberry Vanilla Wonderland, and Caramel Apple Dream. Put a selection of these out with your holiday spread this year and your guests will thank you!
See Also
You'll be loving this mini pumpkin cake with your tea – it's such a great combo. I drink my tea black with no sugar and I LOVE the way it tastes with the cake. SO good. Enjoy!
Want to try a fun scone recipe for the holidays? Check out these Sugar Cookie Sleigh Ride Scones! Recipe here.

Click here for the cream cheese frosting recipe.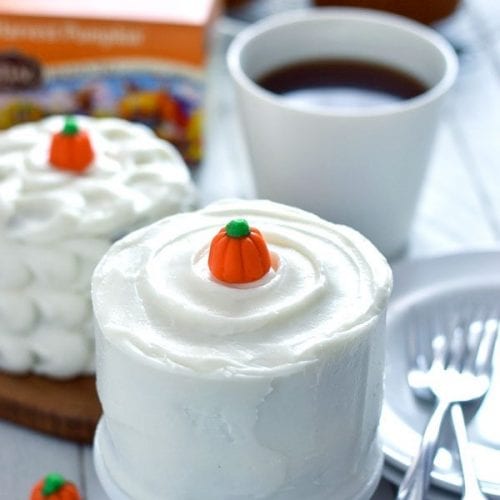 Sharon Lachendro
Ingredients
1

large egg

room temperature

¼

C

pumpkin puree

1/3

C

granulated sugar

¼

C

avocado oil

or canola oil

½

tsp

vanilla extract

½

C

gluten free all-purpose flour

¼

tsp

xanthan gum

½

tsp

baking powder

¼

tsp

baking soda

¼

tsp

fine sea salt

¼

tsp

ground cinnamon

pinch

of ground nutmeg
For the Frosting:
½

batch of dairy free cream cheese frosting

see link above for the recipe
Instructions
Preheat oven to 350F degrees and spray two 4-inch ramekins with non-stick spray.

In a medium bowl, whisk together the egg, pumpkin, sugar, oil, and vanilla.

Sift in the flour, xanthan gum, baking powder, baking soda, salt, cinnamon, and nutmeg. Stir to combine and make sure all the dry ingredients are mixed in.

Pour the batter evenly between the two ramekins and place the ramekins on a rimmed baking sheet (for easily getting them in and out of the oven). Bake at 350 degrees for 22-26 minutes or until a cake tester comes out clean.

Cool on a wire rack, remove cakes from ramekins after 10 minutes to cool completely before frosting or freezing.
Sharon Lachendro
New Englander born and raised. I'm the wife of a gluten-sensitive sweets and carb lover and mother to two beautiful girls. I'm the author of What The Fork Food Blog, home of easy gluten-free recipes that can easily be adapted for gluten-eaters. I love, love, love vanilla, Julia Child quotes and coffee. Lots and lots of coffee.