Celebrate summer with these delicious coffee flour ice cream sandwiches. They're made with a peanut butter cookie dough and a spiced ice cream base.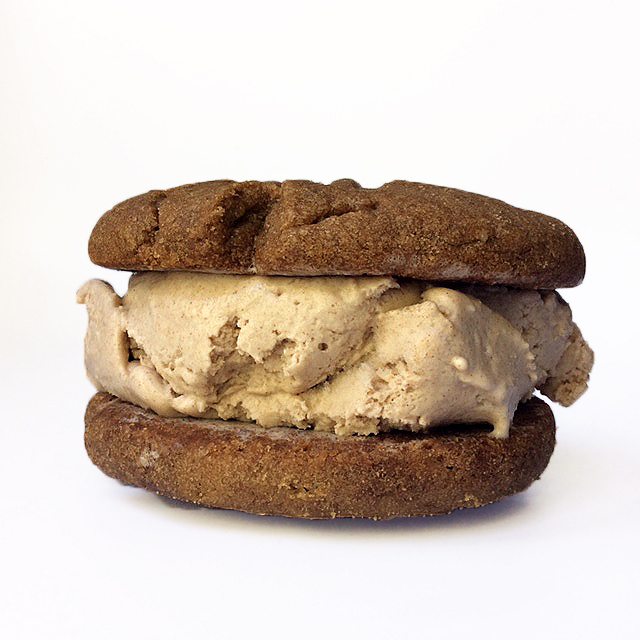 If you haven't tried Coffee Flour yet, you should! You can read about our first adventures with it here.
So what is it exactly? Coffee Flour is a gluten-free flour made from the fruit and skin of dried coffee cherries. It has a mild, earthy flavor with fruity undertones, making it a subtle, yet nutritionally potent addition to many of the foods you know and love. It has more fiber than whole grain wheat flour, is packed with protein, potassium and antioxidants, plus it is a great way to use something that is usually waste for coffee farmers.
We loved using it in our favorite brownie recipe, but it is also great in granola recipes, crackers and pizza.
Celebrate summer with these rich, melty Coffee Flour ice cream sandwiches.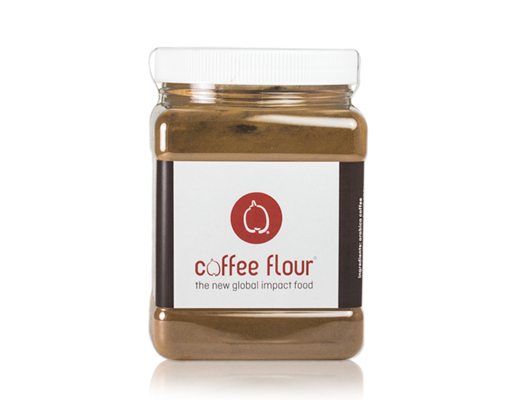 Gluten Free Coffee Flour Ice Cream Sandwiches
Remember when you were a kid and heard the ice cream truck?the excitement it brought? Well, you're an adult now and no need to wait for the ice cream truck! Make these Coffee Cherry Flour ice cream sandwiches and eat one any time you want...in fact, eat two! You're helping the environment, generating new revenue for coffee farmers, and creating jobs in coffee growing regions. That's very adult of you.
Serves:
4 ice cream sandwiches
Ingredients
95g (1?2 c.) shortening
190g (3?4 c.) peanut butter
225g (11?4 c.) brown sugar
2 eggs
5g (1t.) vanilla
2g (1t.) salt
200g (11?2 c.) all-purpose flour
20g (1?4 c.) Coffee Cherry Flour
17g (2T .) Coffee Cherry Fl
120ml (1?2 c.) milk
946ml (33?4 c.) cream
Big pinch of kosher salt ?Dash of nutmeg
300ml (6 each) egg yolks
283g (11?4 c.) dark brown ?sugar, firmly packed
5ml (1t.) vanilla extract
Instructions
Coffee Cherry Flour Peanut Butter Cookie
Preheat oven to 275 ?
In a large bowl, sift together ?the flour, salt, and Coffee ?Cherry Flour.
In the bowl of a stand mixer, ?cream together the shortening, ?peanut butter, and brown sugar.
Add the eggs to the peanut ?butter mixture, one at a time, and the vanilla. Mix until combined.
Slowly add the dry ingredients and mix on medium speed until dough comes together.
Portion to 3oz balls, press into 1?2 inch rounds and, using a fork, press a crosshatch design on the tops.
Bake at 275 ? for 18-20 minutes.
Transfer to a wire rack to cool.
Coffee Cherry Flour Ice Cream
Combine the Coffee Cherry Flour & milk in a small saucepan. Bring to a simmer to hydrate the Coffee Cherry Flour. Cook over low heat until it thickens. Remove from heat.
In a large saucepan combine the cream, salt, nutmeg, and Coffee Cherry Flour paste with 2oz of the sugar. Bring the cream to a simmer over medium heat, stirring constantly until smooth. Remove from heat and blend for 3 minutes with an immersion blender.
In a large bowl, combine the remaining sugar & yolks with a whisk. Slowly pour about 1?2 cup of hot cream mixture into the egg yolk mixture, whisking constantly. Repeat, whisking thoroughly before adding additional hot cream to the egg yolk mixture. Pour the egg yolk mixture back into the saucepan and whisk constantly over medium-low heat until the mixture thickens and will coat the back of a spoon, 5 to 8 minutes. Do not let mixture boil. Add vanilla extract. Strain.
Churn in an ice cream maker.