Glazed Gingerbread Doughnuts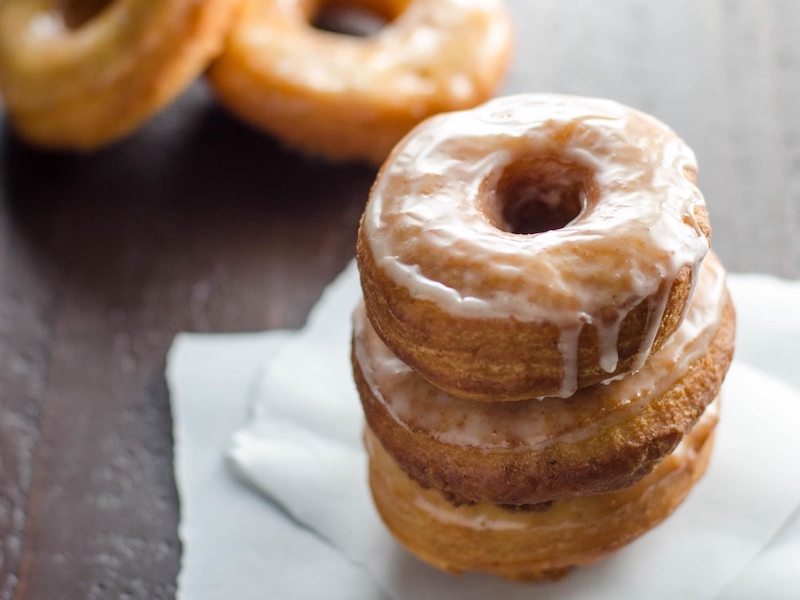 PARTNER POST: Discover new ways to incorporate seasonal teas into your holiday cooking and desserts with Celestial Seasonings.
Making homemade donuts is easier than you think. These glazed beauties have a hint of gingerbread spice, thanks to the addition of tea, which is perfect for the holidays.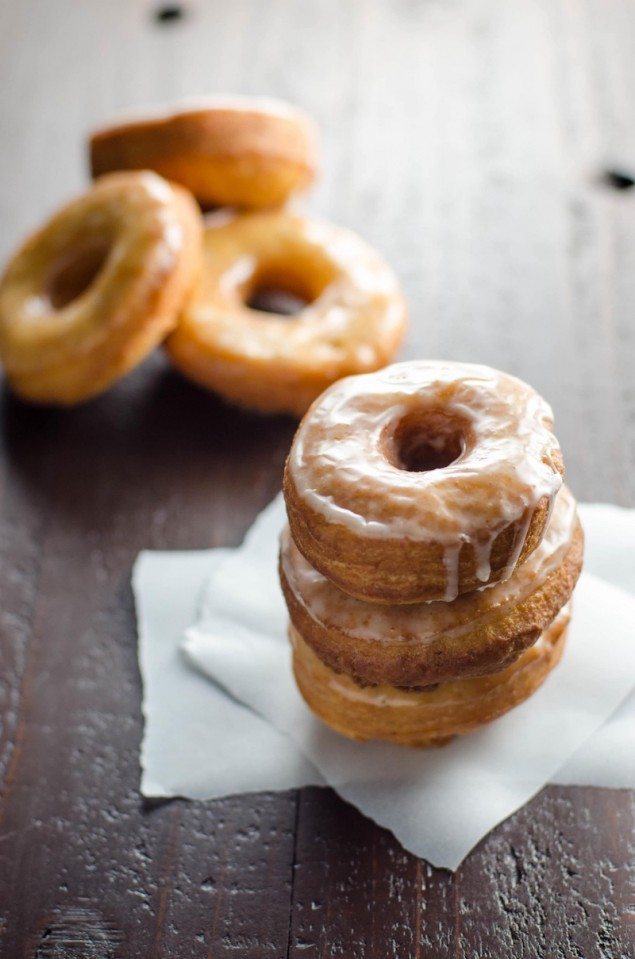 We're hosting Christmas for a small crowd this year, so I'm in the process of dusting off not only my presents game but also my holiday decor, party food and general hostess games. That feels like a lot of games at once, doesn't it?
Is it becoming obvious why I need donuts in my life at this particular moment?
And something tells me I'm not alone here. Got a lot going on? Maybe grab a donut and a nice cup of tea, and let's just put our feet up on the couch and chill for a few minutes.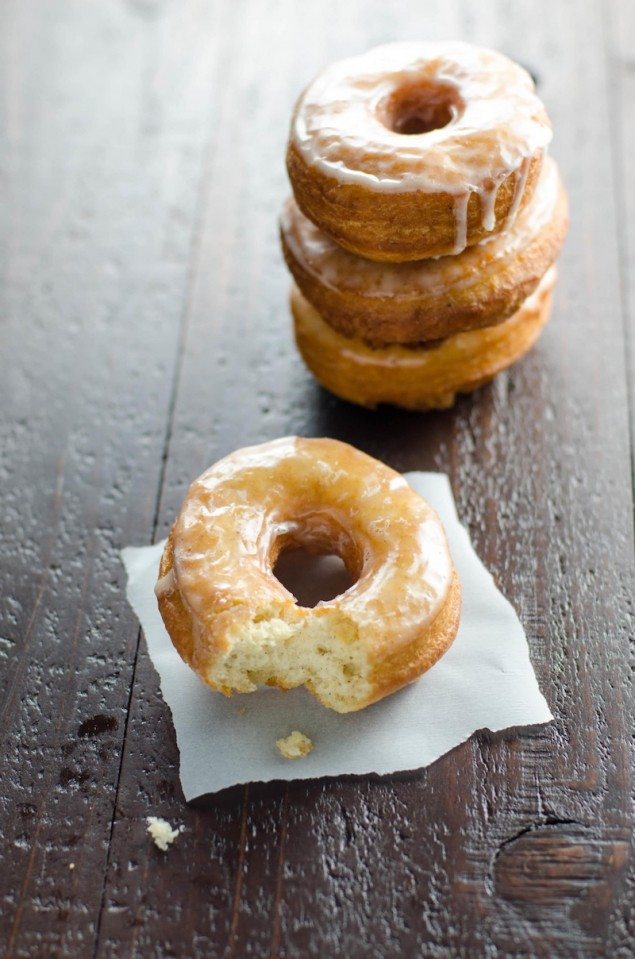 Here are some things I bet you've thought a lot about recently: prioritizing the twelve-ity-teen items on your to-do list. What to have for dinner. Maybe some end-of-year charitable giving.
Here's something I bet you haven't thought about too much: putting tea in your food. I hate to give you one more thing to do, but I gotta say: you're going to want to consider giving this a try. I think we all basically understand the magic of tea: it's everything from a cozy hug to an Arnold Palmer to a veritable Indian Visa — whatever you need at the moment. But did you know it's also a DONUT?
This recipe, which just tastes like a perfect little donut, has a little bit of Celestial Seasonings Gingerbread Spice Tea steeped into both the batter (via the butter — a cool trick) and the glaze. And after you make the glaze, you'll literally have a cup of tea waiting for you to drink with your donut. Call me middle-aged (despite my borderline absurd use of "literally,") but that's some pretty exciting stuff right there.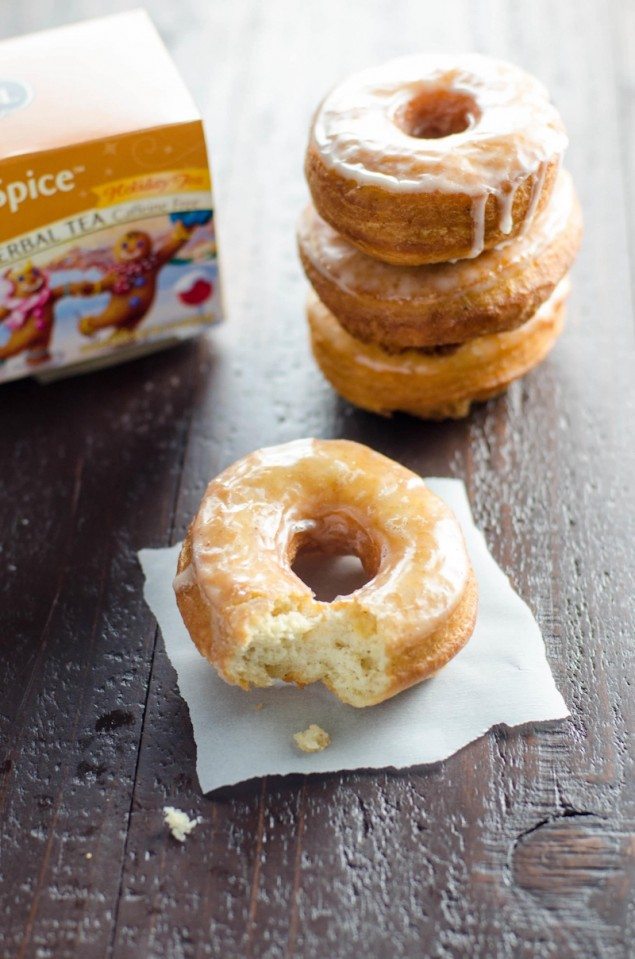 Psst…don't worry. Making homemade donuts is not as big a deal as it might feel like. Not by a long shot, actually. I know deep frying can seem intimidating, but donuts are easy. I swear. And so very (very merry merry) worth it.
Want to try another fun recipe for the season? Check out this Candy Cane Tea Chocolate Bark! Recipe here.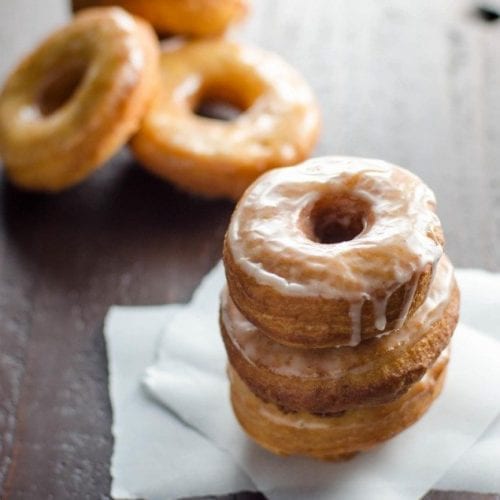 Carolyn Cope
Servings
12
doughnuts & 12 doughnut holes
Ingredients
For the donuts
1

bag Celestial Seasonings Gingerbread Spice tea

5

tablespoons

salted butter

4

cups

all-purpose flour

spooned and leveled

1/2

cup

sugar

4

teaspoons

baking powder

1/2

teaspoon

ground cinnamon

1/2

teaspoon

ground ginger

1/8

teaspoon

ground nutmeg

1/8

teaspoon

ground cloves

1/8

teaspoon

ground allspice

2

large eggs

1

cup

buttermilk

4

cups

safflower oil for frying
For the glaze
1

cup

powdered sugar

1/4

teaspoon

ground cinnamon

1/8

teaspoon

ground nutmeg

2

tablespoons

brewed Celestial Seasonings Gingerbread Spice tea

1

teaspoon

vanilla extract
Instructions
For the donuts
Snip open the tea bag and pour the contents into a small microwave-safe bowl (or a small pot if you'd prefer to use the stovetop). Add the butter and warm on medium heat until melted. Set aside to let the tea steep in the butter for five minutes. (You'll strain out the tea solids later.)

In a large bowl, stir together the flour, sugar, baking powder, cinnamon, ginger, nutmeg, cloves and allspice. Into the center of the bowl, crack the eggs and pour the buttermilk. Strain the butter into the bowl through a tea strainer or small fine-mesh sieve. Using a fork, beat the eggs a bit and then gently incorporate the dry ingredients into the wet to form a rough dough. Don't overmix or donuts will be tough.

Sprinkle a little flour on your work surface. (I sometimes like to roll out dough on a nice big piece of parchment — flour the parchment if you go that route.) Place the dough on the work surface and knead just a few times to bring it all together. Lightly flour the top of the dough and a rolling pin, and roll out to about 1/4-inch thickness. Using a 3 1/2-inch donut cutter with a 1-inch hole (or similarly sized cookie cutters, biscuit cutters or even an overturned water glass and shot glass) cut out as many donuts and holes as you can. Gather and re-roll the dough one time to make more donuts.

In a Dutch oven or similar heavy pot with high sides, heat the oil over medium-high heat until it reaches 350°F. During cooking, adjust the heat as necessary to maintain the temperature as best as possible. Fry donuts in batches, about three at a time depending on the size of your pot. It should take about 1 1/2 to 2 minutes per side until donuts are golden brown and cooked through. Some cracking on the top before you flip each donut is a good indication that the inside is nicely cooked. Cool donuts on a wire rack lined with paper towels.
For the glaze
In a wide, shallow bowl, stir together the powdered sugar, cinnamon and nutmeg. Pour in the tea and vanilla and stir until a nice smooth glaze forms. Dip the top of each donut into the glaze and return to rack. The glaze should dry within a few minutes. Serve donuts on the day you make them.
Notes
These lightly sweet, gently spiced treats are good old-fashioned cake-style donuts that you don't need a special donut dropper to make. The dough comes together quickly and easily, so you can make a batch whenever the mood strikes during the holiday season. Use a candy/deep fry thermometer to monitor oil temperature and a spider strainer to flip and remove donuts from pot. Makes about 12 donuts and 12 donut holes.
Carolyn Cope
Carolyn is the voice behind the popular blog Umami Girl and writes frequently for other food-related publications. Equal parts live-to-eat and eat-to-live, she holds certificates from both the French Culinary Institute and the eCornell Plant-Based Nutrition program. Carolyn has lived and worked in New York and London and currently resides with her husband and two daughters in a sweet little seaside town in New Jersey.