This workhorse of a cake takes you from breakfast to dinner parties with a rustic sweetness that's easy to love.
By Alisha Lumea & Polly Legendre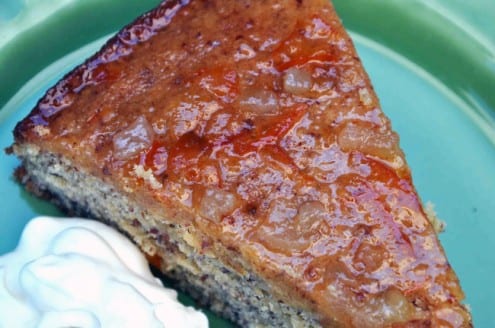 Everything about the combination of marmalade, ginger and whisky tells you that this cake is going to be a good idea. It captures so much of what we like about Scottish baked goods, being both sweetly satisfying and unpretentious. The whole wheat and almond flour give it a toothsome grounding, while the citrus and ginger keep it bright.
A cake like this calls out for a cup of tea, or you can dress it up for after dinner with vanilla ice cream or whipped cream. You can even call it breakfast with a dollop of thick plain yogurt on the side.
Ginger Cake with Whiskey Marmalade Glaze
This workhorse of a cake takes you from breakfast to dinner parties with a rustic sweetness that's easy to love.
Author:
Alisha Lumea & Polly Legendre
Ingredients
For cake
1 cup (2 sticks/227g) unsalted butter
1 cup (120g) sugar
4 eggs
½ cup (130ml) well-shaken buttermilk (can always substitute plain yogurt, thin with a little water if thick)
¼ cup (80g) prepared marmalade
1 cup (120g) whole wheat flour
1 cup (120g) almond flour
2 tsp baking powder
½ tsp ground ginger
¼ tsp salt
For glaze
⅓ cup (100g) prepared marmalade
¼ cup (75ml) whisky
2 tbsp candied ginger, chopped
Instructions
Preheat oven to 350 degrees F (175C).
Butter and flour a 9-inch spring-form pan.
Combine wheat flour, almond four, baking powder, ground ginger and salt and mix until blended.
In a separate bowl, beat the butter and sugar together until light and fluffy. Add the marmalade. Add the eggs one at a time and beat until fully combined. Add the buttermilk and mix. In two or three additions, add the dry ingredients and mix until just combined. Do not over mix.
Place the batter in the pan and bake for 40-50 minutes or until a tester inserted in the center of the cake come out clean. While the cake is in the oven, combine the marmalade, whisky and water in a small saucepan and heat, stirring, until the glaze becomes liquid.
Remove the cake from the oven and allow it to sit until the pan is cool enough to handle but the cake is still warm. Remove the sides of the spring-form pan. Use the testing skewer to poke holes down into the cake to help the glaze seep in fully.
Using a pastry brush, apply the glaze in several additions until it has all been absorbed into the cake and the top of the cake is coated in marmalade. Sprinkled the chopped candied ginger over the top.
The cake will keep in a sealed container for up to three days.