Mother's Day is around the corner, graduations are happening every weekend and before we know it, Father's Day will be here. We've listed our favorite gifts for Moms, Dads and Grads, be it from high school or college.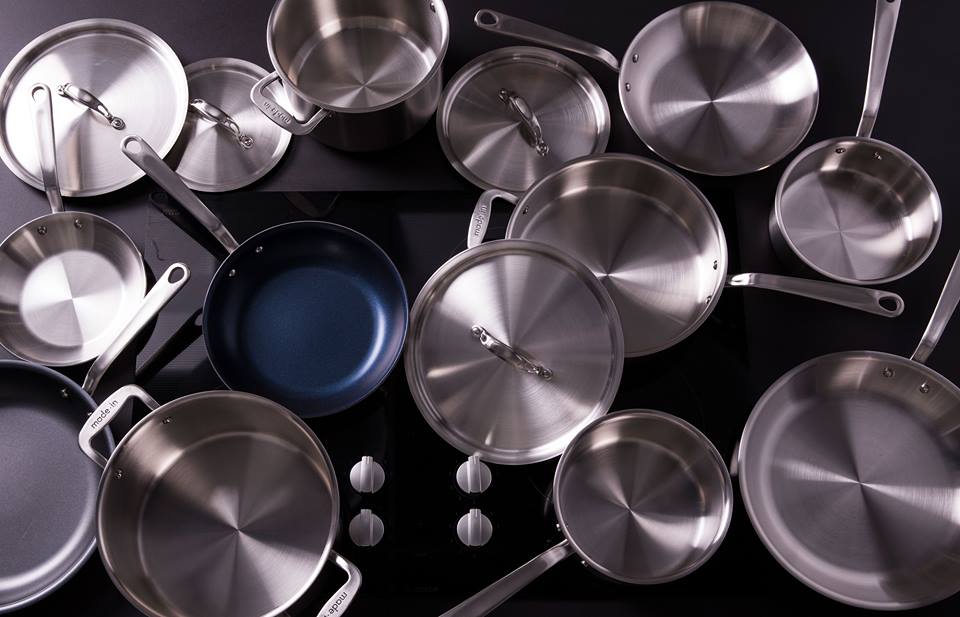 Moms, Dads, and College Grads: Made In Pots and Pans
This is a premium direct-to-consumer cookware brand we've fallen for. By cutting out the middle-man they are able to create high-quality cookware at a lower price. They have customizable cookware options and pre-curated kits so you are getting the right pans for your kitchen size and cooking needs. Plus, they're beautiful and made in the US. It's a great affordable option for college grads entering adulthood and needing a full set or for mom or dad if they need a refresh of one of their pans.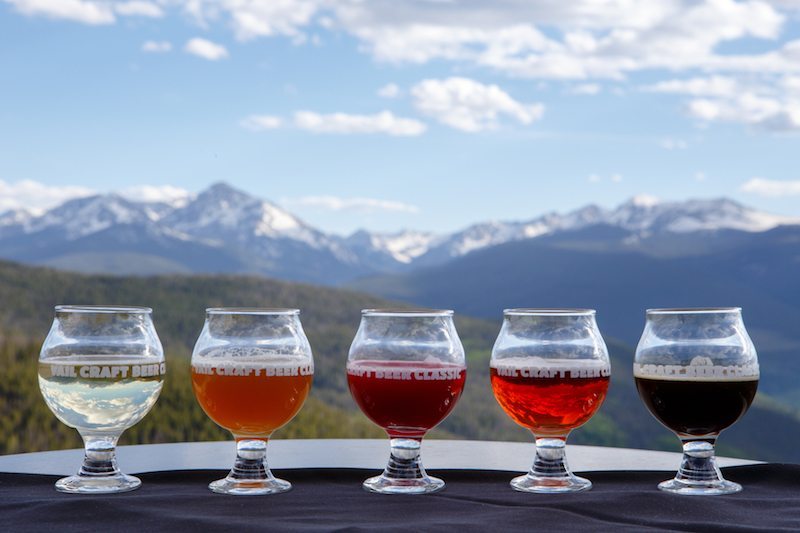 Beer-Loving Moms, Dads, and College Grads: Tickets to Vail Craft Beer Classic
What could be better than a weekend in the mountains with great food and amazing beers? For a beer-lover, there's not much that can top this. Get them tickets to an event!
High School Grads: Dishes
They're off to school! And they have no dishes to their name… Get the college-bound kid in your life one place setting of utensils, a large plate, salad plate, a bowl and a drinking glass. Maybe even a stack of napkins too! Make sure they are microwave-safe and small enough to fit in a small dorm room.
Spice-Loving Moms, Dads, and Grads: Hot Sauce Sampler
If that special person in your life likes some heat or they are headed off to enjoy dorm food, give them their very own hot sauce sampler. Head to your grocery that has a selection of local food items too and make them a basket of different bottles. Or, check out this pre-made pack.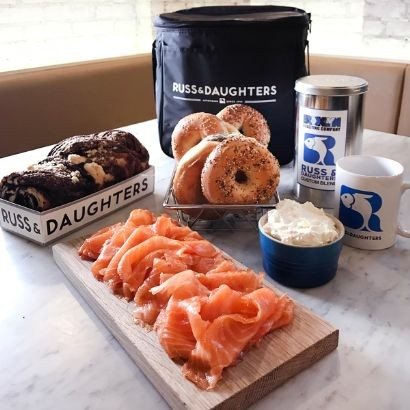 Mother or Father's Day Brunch: Russ and Daughters NY Brunch Shipped to Their Door
If mom or dad appreciates a good bagel and lox, this is the gift for them. The box comes with coffee, cream cheese and babka to. Find it here.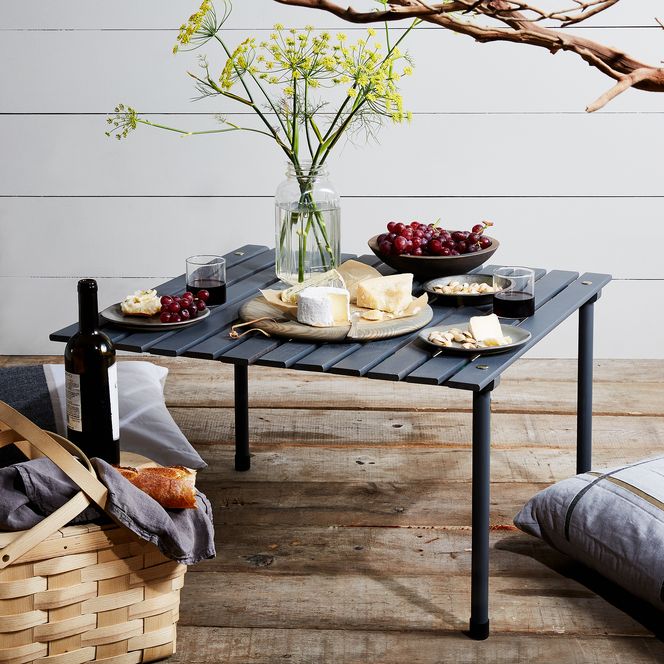 Mom, Dad or High School Grad: Table in a Bag
So that mom or dad is ready for an impromptu picnic in the park, get them this table in a bag. It is also perfect for those headed for a college so they can picnic on the floor of their dorm room. See it here.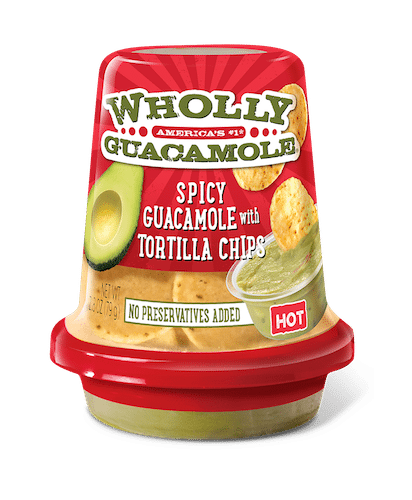 High School Grads: A Box of Snacks with Wholly Guacamole Snack Cups
We distinctly remember going off to college and one of our aunts sending a month's supply of snacks. It was such a lifesaver, especially as we were starting to feel homesick. Fill up a box with family favorites or local specialties. We recently fell for Wholly Guacamole's new chip and guac packs aka Wholly Guacamole Snack Cups. SO. GOOD.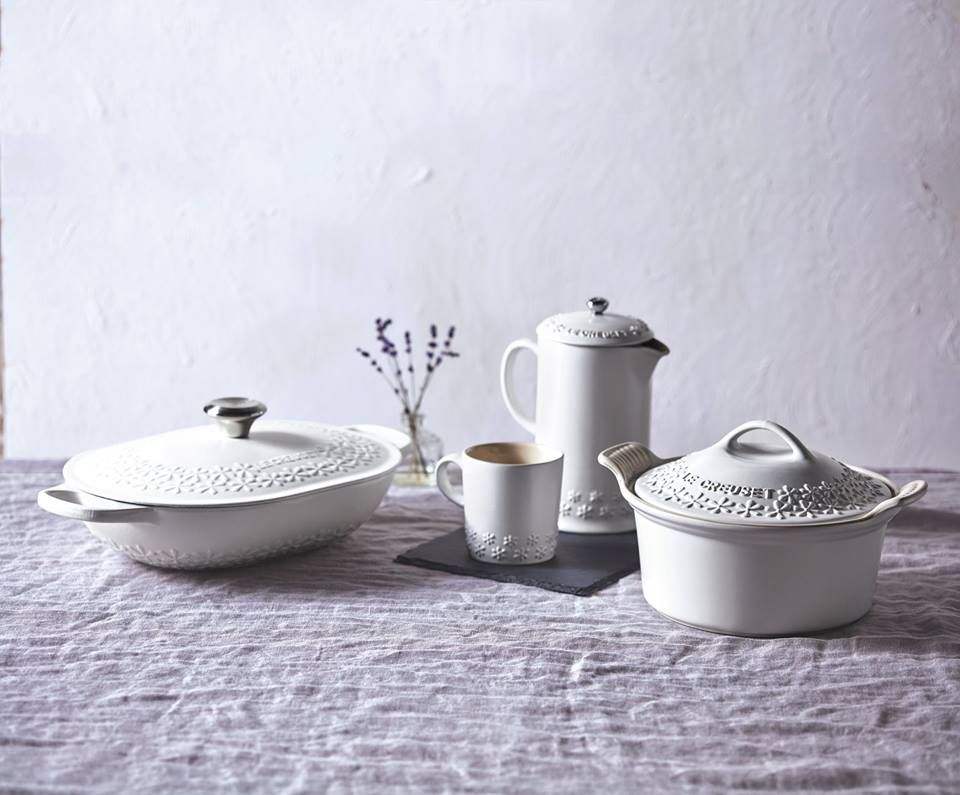 New Kitchen Swag for Mom
Perfect to dress up the table at home or to take to the next holiday gathering, these new Fleur items from Le Creuset are sure to be a hit! Check them out here.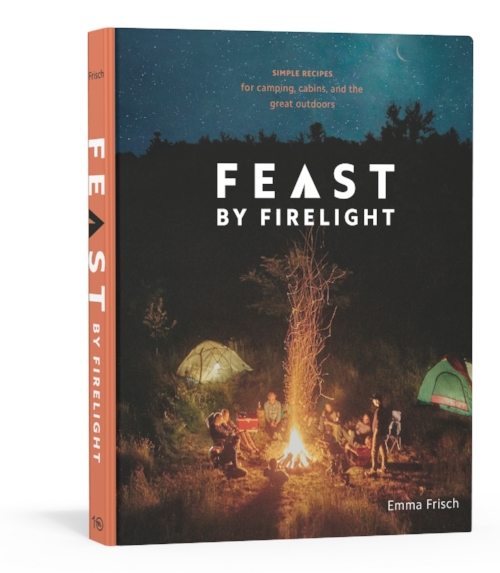 See Also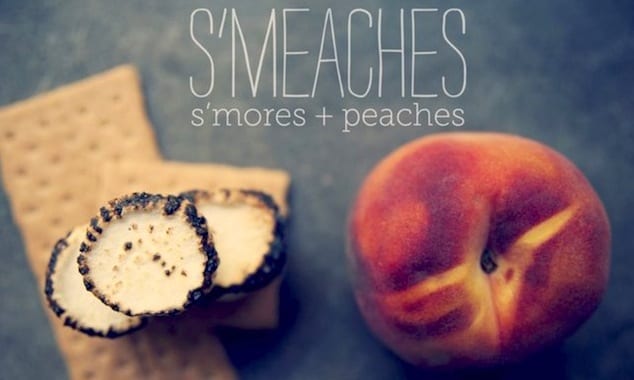 Moms, Dads, and College Grads Who Like to Get Outside: Feasts by Firelight: Simple Recipes for Camping, Cabins, and the Great Outdoors
This new cookbook by Emma Frisch of Firelight Camps is perfect for people who love food and love exploring nature. Rather than relying on hot dogs and cans of pre-made biscuit dough, this book teaches you how to prep for an easy camping meal prepared over the fire or on the grill. Plus, each recipe has instructions for cooking at home too. Word on the street, this book is perfect for busy parents because each recipe can be prepared ahead and served quickly when you're ready to eat. Buy the book.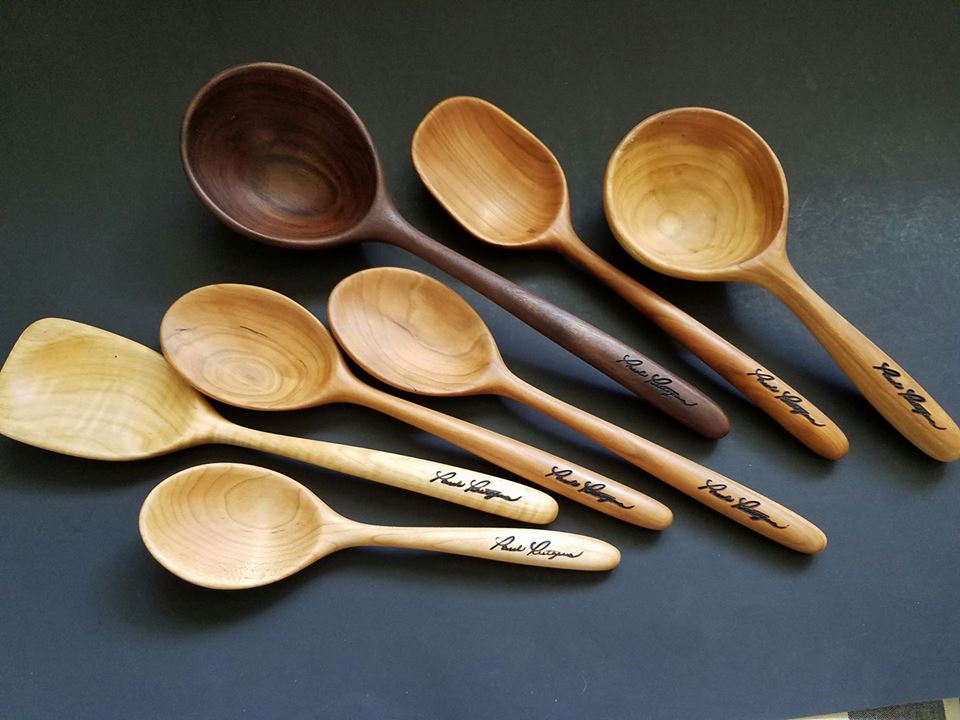 Moms, Dads and Grads Who Love Beautifully Designed Utensils
Hailing from Michigan, Paul Rutgers makes some beautiful spoons for cooking. Give Mom or Dad a beautiful new addition to their kitchen tools or give a college grad their first wooden spoon now that they will be moving out of the dorms. We love the long serving spoons for soups and the cook n' serve spatula for just about anything. See them here.
For the Bourbon and Wine-Lover: 1000 Stores' 2016 Carignan – Batch Blue
It's time to get Dad or Mom into bourbon barrel-aged wine, especially if they already love the smokiness of whiskey. This limited release Bourbon Barrel-Aged Carignan from 1000 Stories is a collaboration between a father and son. The Carignan was named Batch Blue because winemaker Bob Blue and his son Ian worked on the wine together. The wine is their first-ever release of Carignan as a single varietal and offers notes of fruits alongside rich aromas of dark chocolate and earthy herbs. This is not your usual bottle of wine, plus you can find it for less than $20.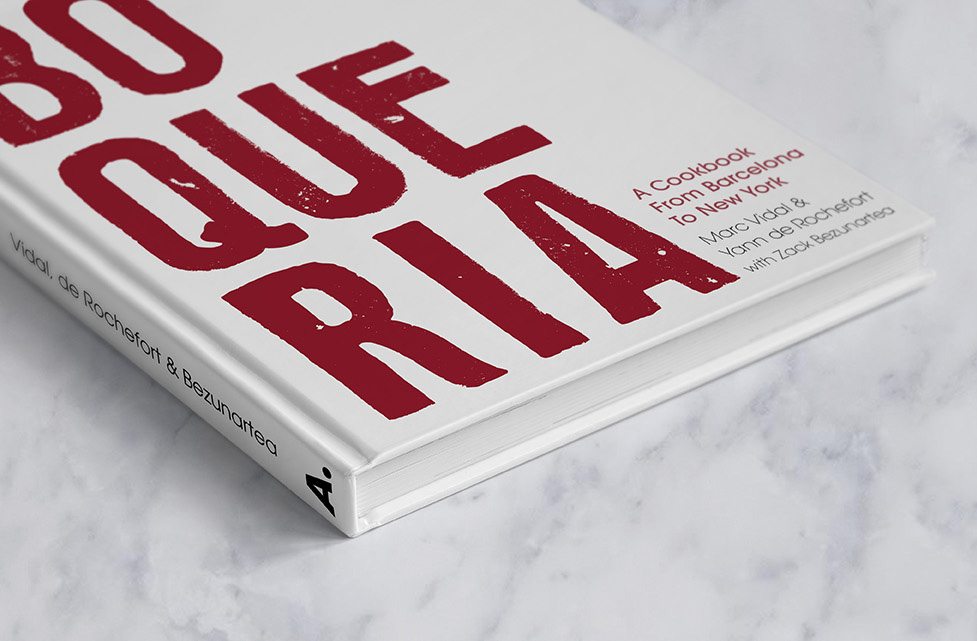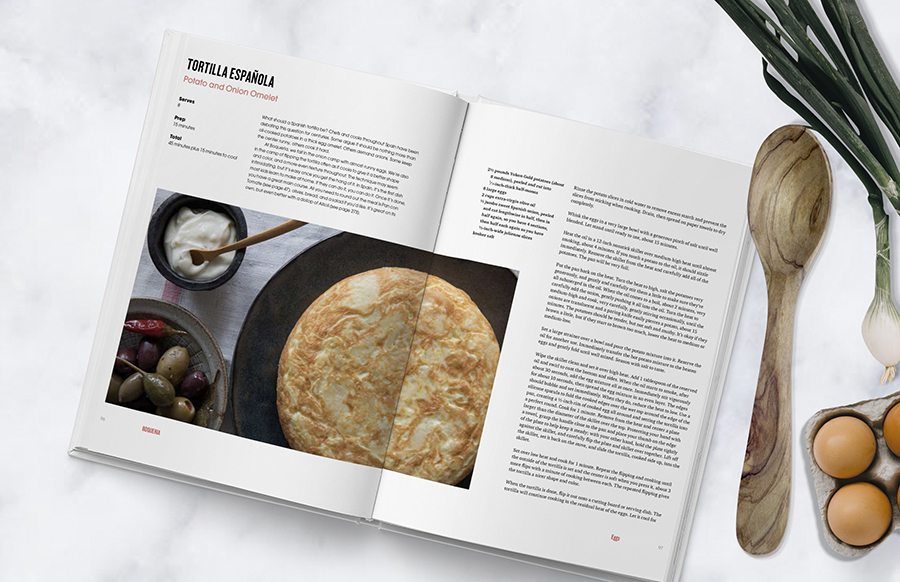 For the Traveling-Food Lover: Boqueria: A Cookbook
In their first book, owner Yann de Rochefort, executive chef Marc Vidal and director of operations Zack Bezunartea tell the story of Boqueria, a tapas bar in NYC, with recipes deeply rooted in Spanish culinary culture, and swing open the doors of the kitchen to reveal an inside look into the bustling life of the iconic restaurant. Restaurant life anecdotes are interwoven with memories of chef Marc's upbringing in Spain. The book is loaded with gorgeous recipes that any food lover that is inspired by travel and international flavors will love. Check out the book here.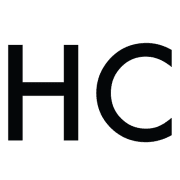 Honest Cooking
The Honest Cooking editorial team handpicks inspiring culinary stories to share with you that we think are beautiful. We strive to create an inspiring place for culinary exploration, salivating recipes, interesting personalities and stories.