On the next rainy or cold day when you're craving comfort food, dig into a bowl of congee with fun toppings.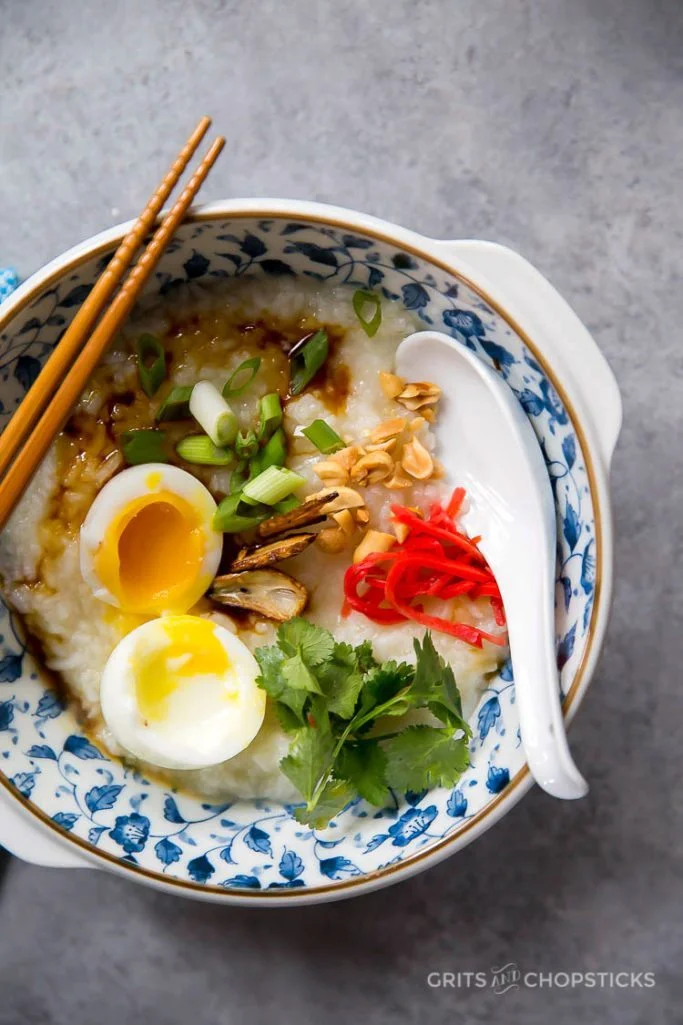 Last night I made this classic Chinese rice porridge and amassed a variety of toppings sure to whet any appetite. There's something so comforting about this dish to me. Maybe it's because every time I eat it, I'm transported to weekend mornings at my childhood home. I think of my dad standing over the hot stove, swirling a big stockpot of congee with a worn wooden spoon. I think of pickled radishes and dried shredded pork, the staple toppings in the congee of my youth.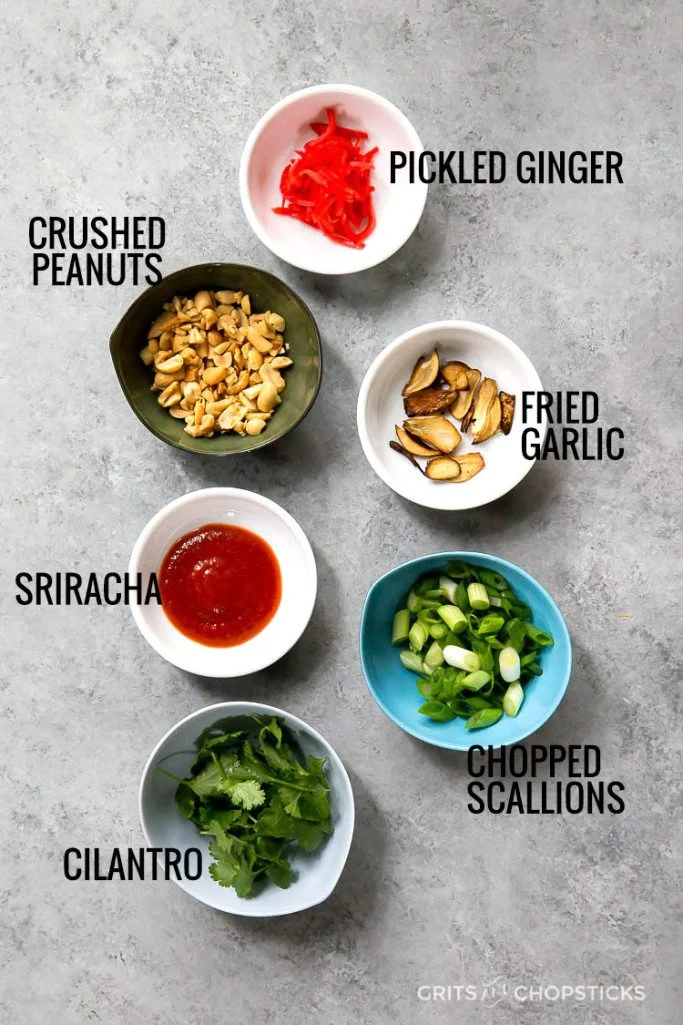 The beauty of congee is in its simplicity — it's just rice, broth (or water, or a mixture of both), heat and time. A bad pot of soggy rice or too-dry rice can be saved by adding the offending rice to a stock pot, covering the whole mess with liquid and simmering for a long, long time until the whole thing becomes a thick slurry of rice porridge. In college, congee was what became of leftover Chinese takeout rice once it stayed too long in the 'fridge and had otherwise become one solid cakey mass. During our weeklong battle with the flu, though, our 'fridge was barren, and so I needed to make my congee from scratch.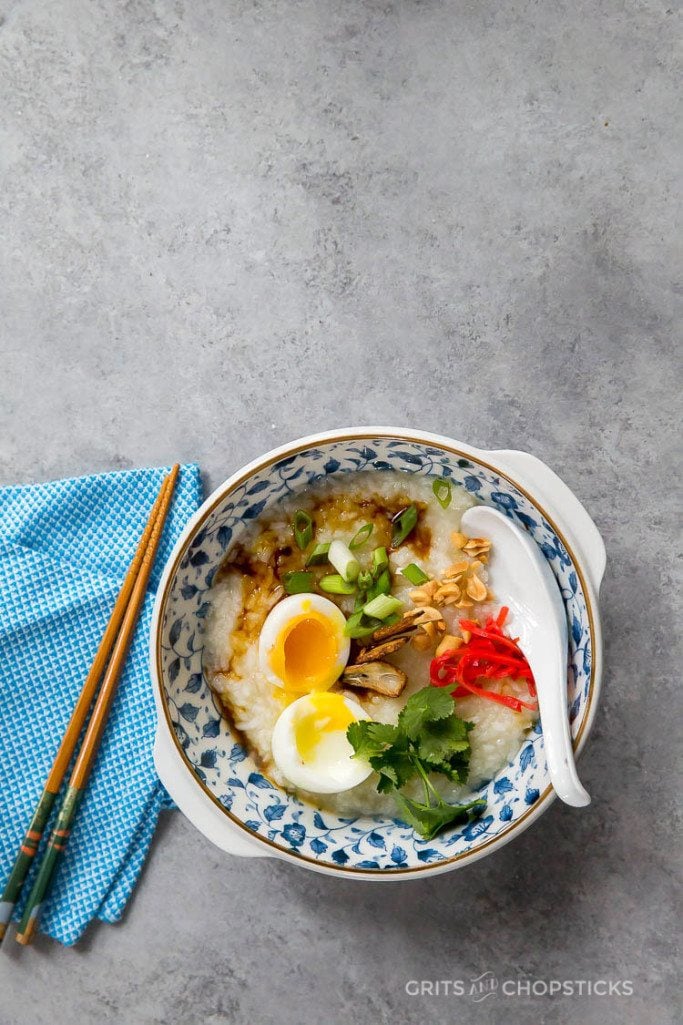 I decided to make my congee in my trusty Zojirushi rice maker, which helpfully has a "porridge" setting on it. I've made regular rice in my Zojirushi countless times. The beauty of the rice cooker is that it takes out all the guesswork in making perfect rice — I just scoop the desired number of cups I want to cook using the included measuring cup, then fill the inner pot with water up to the corresponding markings inside. Congee, though, requires water — lots of it. I usually use about two cups of water for every one cup of cooked rice when I'm making congee from leftover rice.
But yesterday was different. Yesterday I was using uncooked rice. I Googled and thought about it until I ultimately decided to go with a ratio of 3:1 (two cups of broth plus one cup of water to one cup of uncooked rice). I set my rice cooker setting on "porridge," said a little prayer, and went about assembling my toppings.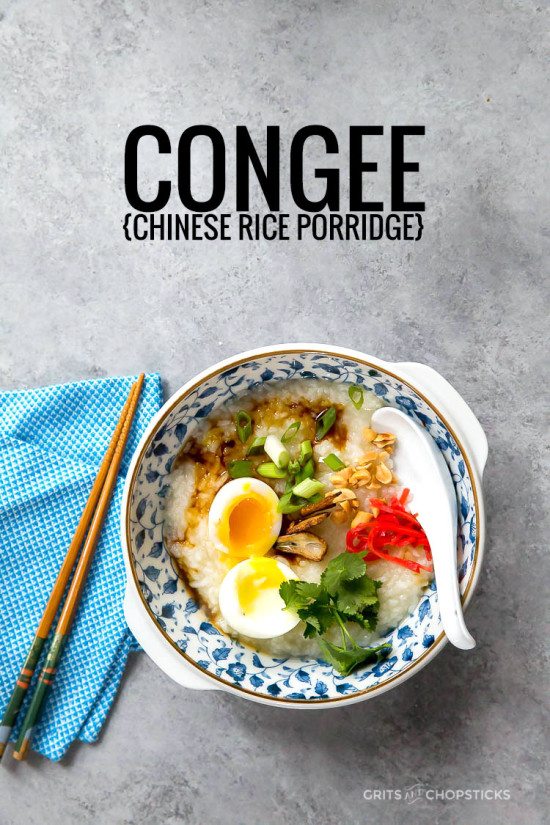 For me, the absolute musts for a good congee is a soft-boiled egg and soy sauce (Bon Appetit's guide here tells me everything I need to know on how long to cook my eggs, and for congee it hovers right at six minutes). Beyond that, I chop some roasted peanuts. I slice and fry garlic in a little bit of canola oil (careful when you're doing it, because it goes from golden brown to scorched earth in mere seconds). I chop the green and white parts of some scallions, and I pluck the stems off of cilantro. Some people swear by pickled radishes and prepared dried, shredded pork (also known as pork floss), but I don't keep those things on hand. We do, however, have a nice bright pink bottle of julienned pickled ginger which is a perfect, acidic addition. I also pull out things like furikake (Japanese rice seasoning), rice vinegar and sesame oil, just for added finishing touches.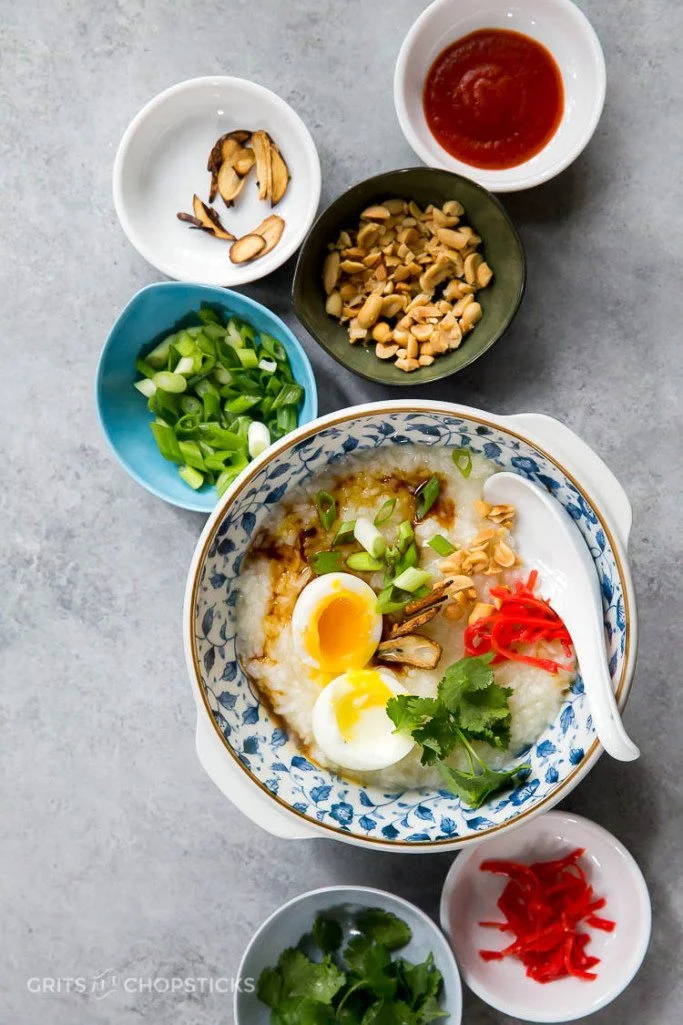 When the kids and hubby arrived at the dinner table to a multicolored array of dishes, I was nervous. I haven't made congee in ages. I'd also breaded some flounder filets in panko and roasted them in the oven to give some extra protein and crunch, figuring that at worst, the kids could eat some fish and call it a night.
See Also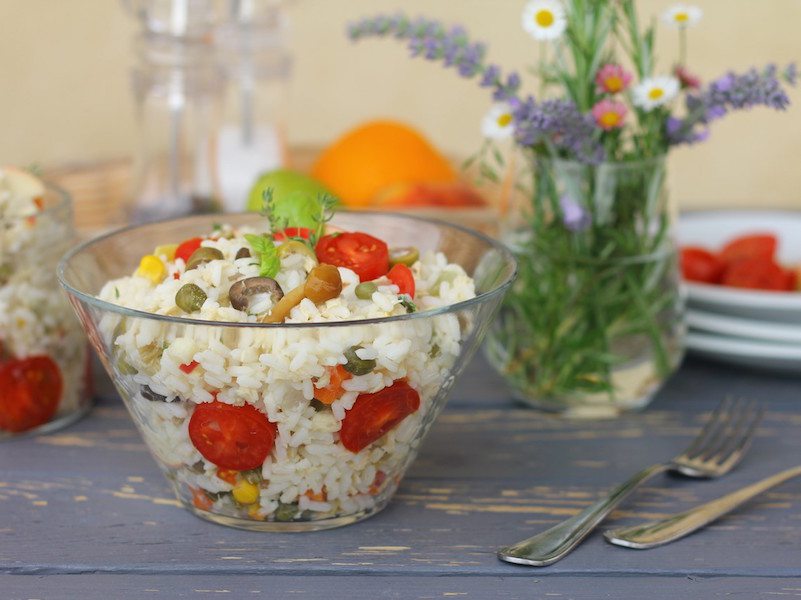 But the kids and the hubby loved it. "Mom, you should write a blog post about this xi fan," Ge Ge said (xi fan is the Chinese word for congee). He also asked me to pack it for him for lunch today, with all the toppings wrapped separately (heaven forbid something get soggy). He only gets 25 minutes for lunch, so later tonight at dinner I asked him how lunch went. In my head, I had imagined him fumbling to unwrap all the little packages of toppings, with peanuts and scallions and ginger scattering all over his kindergarten room table and causing a big scene.
"Oh Mom, all the kids thought it was totally weird that I brought rice soup to school," he said, eyes wide. I grew worried that maybe he'd gotten teased and was embarrassed for having brought such an esoteric lunch to class.
"But I just told them they don't know what they're talking about, and that rice soup is AWESOME."
Attaboy.
Print

Comfort Food: How to Make Congee
---
Author:

Ann Kaufman

Total Time:

1 hour 20 minutes

Yield:

4

servings

1

x
2 cups

uncooked jasmine rice (rinsed and drained)

2 cups

low sodium chicken broth

4 cups

water

2

scallions (green and white parts chopped)

1 cup

fresh cilantro (rinsed and stems removed)

½ cup

roasted peanuts (chopped)

2

cloves garlic (peeled and thinly sliced)

2 tablespoons

canola oil

4

eggs
optional (for serving: rice vinegar, soy sauce, sesame oil, sriracha, pickled ginger)
---
Instructions
Pour rice into a rice cooker. Add enough broth and water to bring the water level up to the "3 cup" line. Reserve remaining liquid.
Set your rice cooker on the "porridge" setting (if there is one); if there is no "porridge" setting, run it through one cycle. After the cycle is complete, lift the lid and stir the rice. Continue to cook the porridge, uncovered (using another cycle) until the porridge is thick and soupy. (Note: when I made my congee the first time using my rice cooker,it turned out pretty watery. I ended up transferring the entire batch of congee to a small saucepan on the stove over low heat, added any remaining water/liquid that I hadn't used — about one extra cup of liquid. Then I simmered it for about 10-15 minutes until I got the consistency I wanted.)
While the rice is cooking, fill a medium sized bowl with ice and water and set aside. Bring a small pot of water to boil. Slowly lower the eggs into the water, one at a time, and boil for 6 minutes. Remove immediately and plunge into the ice water bath.
Heat a small saucepan over medium heat. Add canola oil and let heat for about a minute until the oil is shimmering. Add the garlic, stirring and monitoring frequently. Saute the garlic until just golden brown and immediately remove from heat. Remove the garlic with a slotted spoon and transfer to a paper towel to absorb excess oil.
Arrange your toppings on the table. Crack and peel your eggs. Spoon porridge into bowls and let everyone pick their own toppings.
Prep Time:

20 minutes

Cook Time:

1 hour

Category:

Main
Ann Kaufman
Ann Kaufman is an emotional food enthusiast who writes about food at Grits & Chopsticks. When she's not writing about food, she's caring for her two young children, lawyering and thinking about her next meal.