Brady Evans goes berserk with a batch of fresh local vegetables and her grill.
By Brady Evans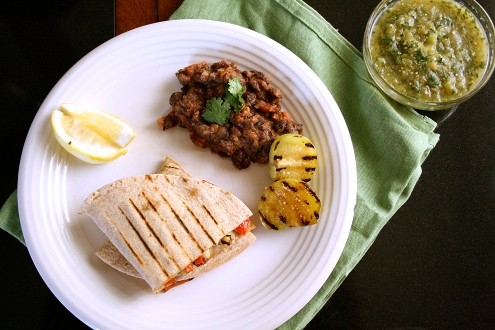 Finally.  Summertime. Real vegetables.  I was getting so tired of onions, potatoes, cabbage, and broccoli.  Now we get brightly colored, highly nutritious, FUN vegetables.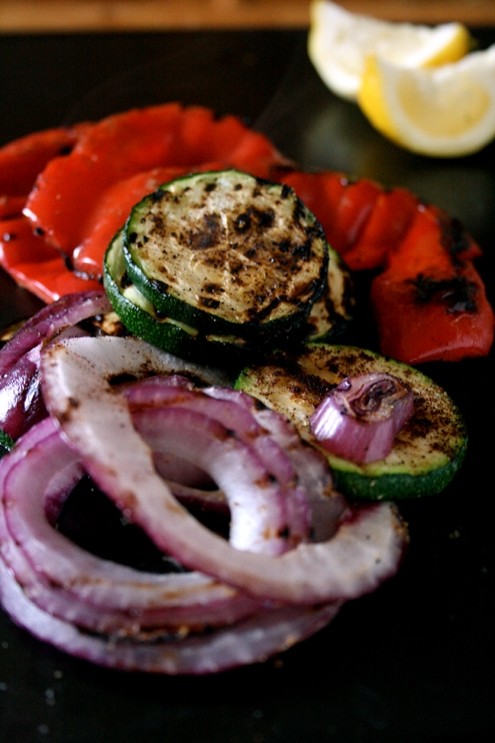 And better yet, they're locally grown.  I get to support my local farmers and the veggies don't have be shipped in days in advance.  That is like an ingredient in and of itself.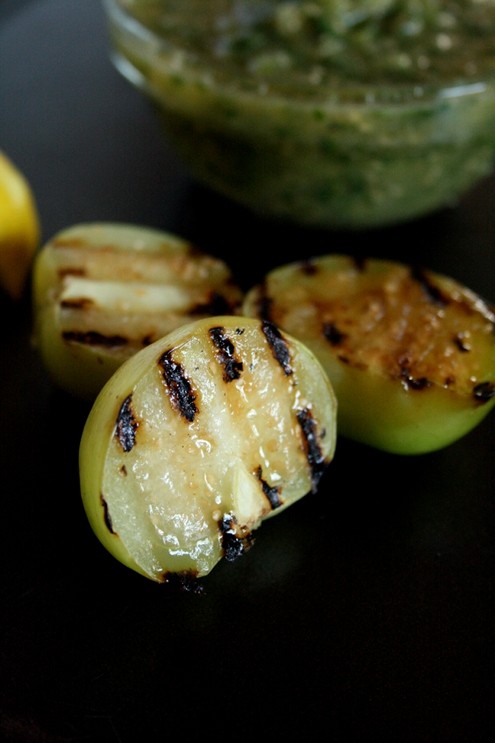 My husband's favorite part of the meal was the tomatillo salsa.  Of course, he asked me what the heck tomatillos were and I responded with a litany about the relationship to a gooseberry (what's a gooseberry?).  His verdict, however, is that they are a cross between a lime and a green tomato.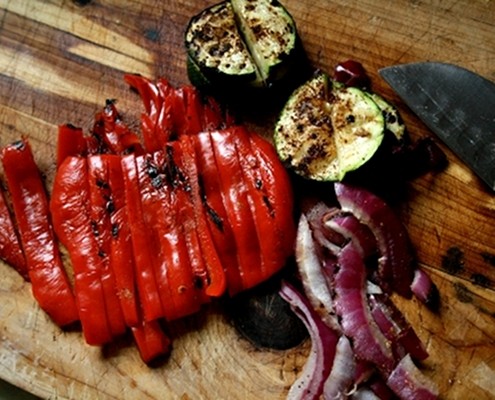 And they are delicious in Mexican food. This recipe is cooked entirely on the grill, from the salsa, to the fillings, to the quesadillas themselves.  The result is better than our local Mexican restaurant and go ahead and make a double batch of the tomatillo salsa – you'll want a midnight snack of chips with that stuff!
See Also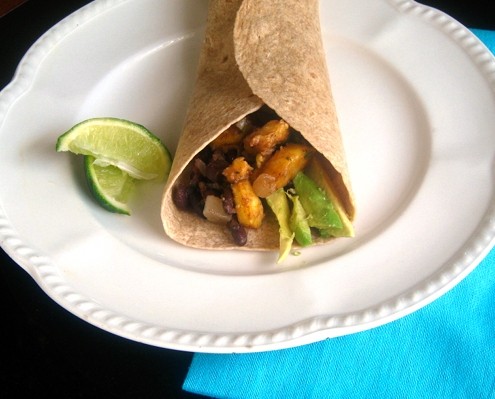 Grilled Vegetable Quesadillas
Prepared on the grill, these quesadillas are filled with veggies and topped with grilled salsa
Author:
adapted from CleanEating Magazine
Ingredients
for the tomatillo salsa
olive oil cooking spray
½ pound fresh tomatillos, husked, cleaned and halved
¼ cup fresh cilantro leaves
juice from 1 lime or lemon
1 clove garlic
pinch salt
for the quesadillas
1 T ground cumin
1 tsp chili powder
pinch sea salt
1 red onion, sliced into rings
1 red bell pepper, washed and halved
1 zucchini, washed and sliced into rounds
colby jack or mozzarella cheese
6" whole wheat tortillas
Instructions
for the salsa
Preheat grill to high and coat with cooking spray.
Place tomatillos cut side down and grill 5-7 minutes or until softened.
Remove from grill and pulse in food processor with cilantro, lime, and garlic. Season with salt.
For the quesadillas
Combine cumin and chili powder in a small bowl.
Sprinkle over prepared vegetables and coat thoroughly.
Arrange veggies in a single layer on the grill and cook until softened, 10 minutes.
Remove veggies from grill and slice zucchini coins in halve and peppers and onions in strips.
Assemble quesadillas by layering cheese, vegetables, and cheese on one half of the tortilla.
Place on grill and fold other half over to create a semi-circle.
Grill on each side 2 minutes or until warm and browned.
Serve with salsa.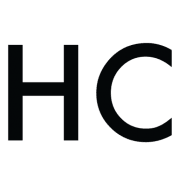 Brady Evans
Brady Evans is a cook who specializes in stretching cooking boundaries towards a more healthy lifestyle. She loves making recipes with unexpected ingredients and share her passion for cooking through her very successful and mostly-vegetarian blog, Branny Boils Over.