Served over pasta in a garlic and herb broth made with rosé instead of white wine, this simple mussel recipe is something you will make over and over again.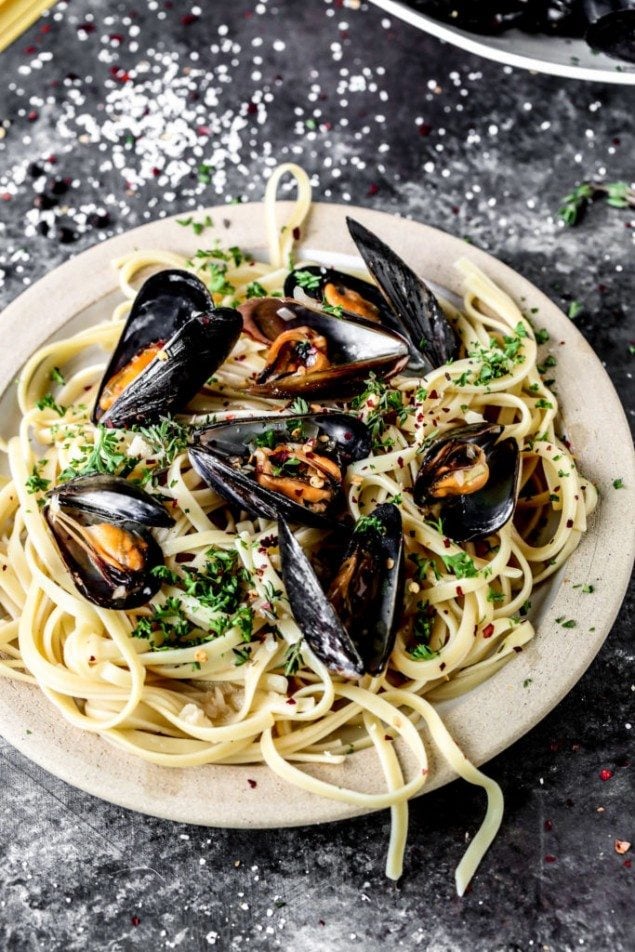 It's been really hard for me to wait so long to post another mussel recipe, because I've been obsessed with making them since finding a local market that can get them for me fresh whenever I ask. (Check out my PRINCE EDWARD MUSSELS PROVENCAL!)
Usually when I make this recipe, I use a white wine. But since beginning my work with Louis Jadot, I've had nothing but their rosé on my mind. When Mom and I were at Costco last week, I picked up a couple of bottles of it, and when I went to make this recipe to shoot (and maybe since I already had a bottle of it open with glass in hand), I knew using the rosé instead of a white varietal would be a really good idea. And so that's what I did and they were amazing.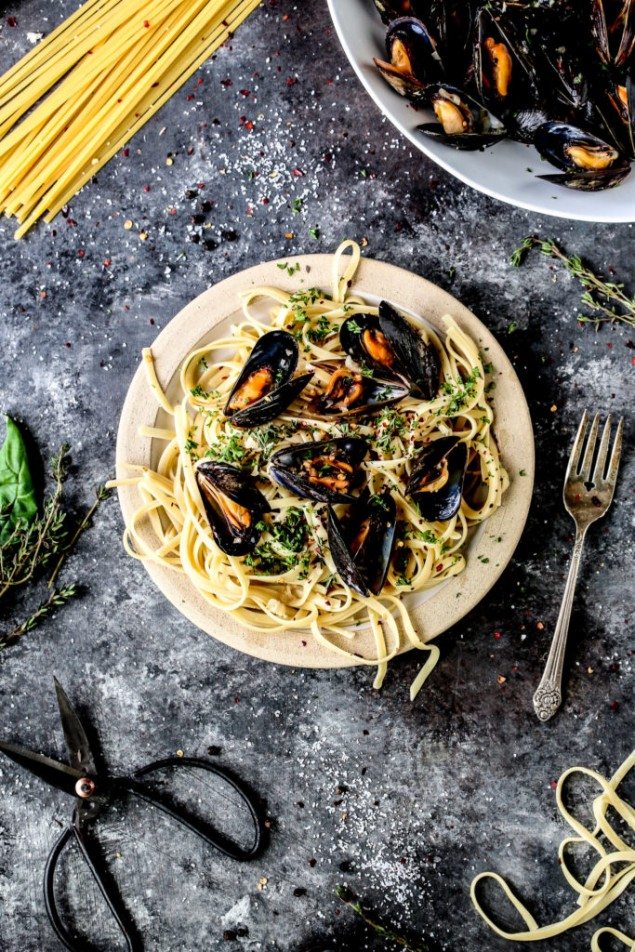 These mussels are the perfect light addition to a super simple and basic pasta. I would seriously eat them every day if I could. With wine in hand of course. ENJOY!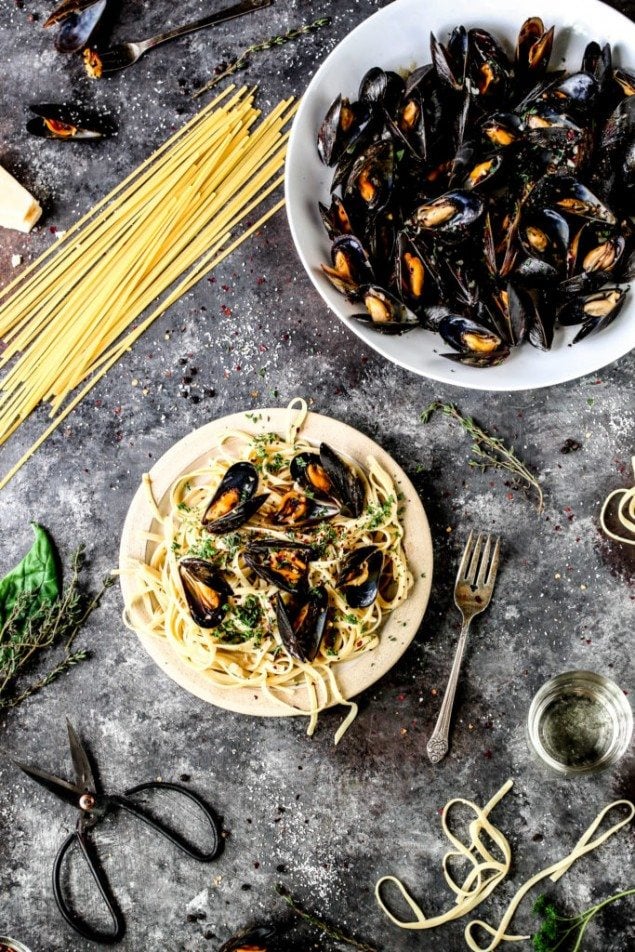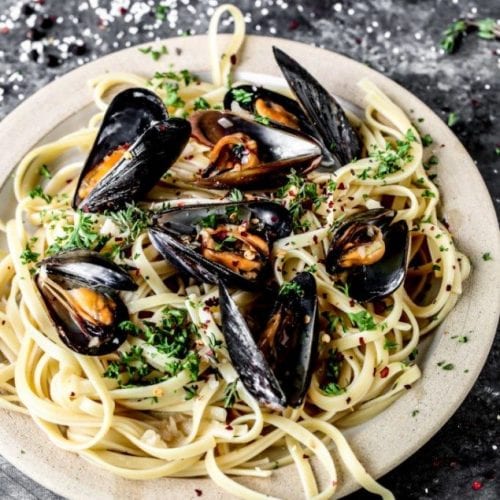 Garlic and Herb Mussels in Rosé Broth
Lindsay Russell
Served over pasta in a garlic and herb broth made with rosé instead of white wine, this simple mussel recipe is something you will make over and over again.
Ingredients
1

pound

linguine noodles

cooked according to the package instructions

2

pounds

fresh mussels

2

teaspoons

olive oil

1

shallot

diced small

2

cloves

garlic

minced

1/4

teaspoon

kosher salt

1/2

teaspoon

black pepper

1/2

teaspoon

red pepper flakes

3

sprigs fresh thyme

1

cup

rosé wine

1

cup

chicken stock

1/4

cup

fresh parsley

chopped

1/4

cup

fresh basil

chopped

1/3

cup

freshly grated parmesan cheese

2

teaspoons

fresh lemon zest
Instructions
Rinse the mussels in cold water and check each one to be sure they are completely closed. Discard any that are open or will not close with an easy pinch.

Heat a large stockpot or Dutch oven over medium heat and sauté the shallots with the salt and pepper for about 5 minutes until the shallots begin to soften and slightly brown. Add in the garlic and red pepper flakes and cook for 1 minute longer.

Pour in the rosé wine and chicken broth and bring to a boil. Add in the mussels and the thyme sprigs and bring back to a simmer, cover, and cook for 5-7 minutes until the mussels have opened and are fully cooked. Discard any mussels that do not open on their own. *Sometimes I need to remove some mussels from the top as they cook to make room for the ones underneath to open. Then, at the end, I add them all back to the pan and give them another quick toss.

Once they are all cooked, remove them from the pan and set aside for a few moments while you reduce the broth. Remove and discard the thyme sprigs. Heat the broth up to a boil and stir constantly for 3-4 minutes until the broth has reduced and slightly thickened.

In a large serving bowl, toss the pasta with the parmesan cheese, lemon zest, and a generous pinch of kosher salt and pepper. Sprinkle the fresh herbs over top. Serve the pasta with the mussels and the broth reduction. ENJOY!
Lindsay Russell
I am a food stylist and photographer, and the recipe developer and blogger behind With Salt and Pepper. I love nothing more than creating and staging beautiful foods made with wholesome and clean ingredients. Let's get cooking!