Fusion: Pulled Tandoori Chicken Sandwich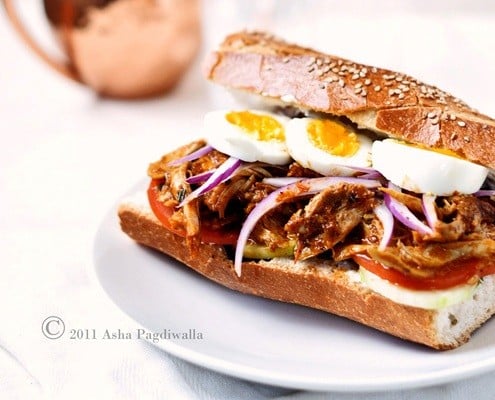 Asha Pagdiwalla with a great fusion of Indian comfort food and western style snacking.
Text And Photo By Asha Pagdiwalla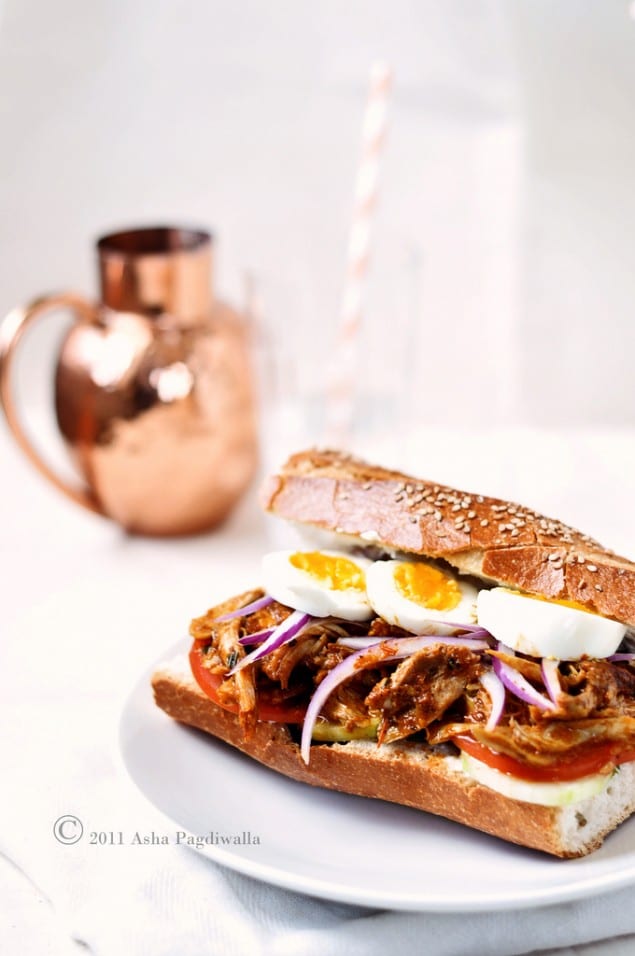 Tandoori chicken is a quintessential Indian comfort food. Well known as it is in it's original form, it is also easily adaptable to the Western palate and meal ideas. Here, I present a true fusion of Indian flavors and everyday food that lets you easily bring a little bit of India into your everyday table!
Fusion: Pulled Tandoori Chicken Sandwich
Asha Pagdiwalla with a great fusion of Indian comfort food and western style snacking.
Ingredients
4 chicken thighs, bone-in, skinless
4 tsp butter
For the marinade:
¾ cup diced red onion
4 cloves of garlic
5 dry red
Kashmiri
chillies (not very spicy but deep red)
¼ cup vinegar
1 T ground cumin
1 T ground coriander
2 tsp ground turmeric
2 tsp ground chillies
3 T olive oil
¼ cup thick, whole milk yogurt
salt to taste
To assemble the sandwich
1 baguette, sliced horizontally
4 T fromage blanc
pulled tandoori chicken (from above)
1 sliced red onion
1 sliced tomato
½ sliced cucumber
1 boiled egg
Instructions
Soak the chillies in vinegar for 30 minutes. Drain and reserve the chillies. Grind all the marinade ingredients to a smooth paste. Coat the chicken thighs generously with all the marinade. Place the thighs in an oven proof bowl and refrigerate atleast 3 hours, preferrably overnight to allow the flavors to soak in.
Remove the chicken and thaw at room temperature for about 30 minutes before you are ready to cook. Meanwhile, preheat the oven to 375 degrees. Place the butter over the chicken pieces. Bake until the meat is fully cooked, about 40 minutes. Taste the marinade and check to make sure the onion is cooked. If not, leave it in the oven for another 10 minutes.
Remove from the oven and shred the meat. Toss the meat in more of the cooked sauce and set ready for the sandwich.
Coat the inside of the baguette with fromage blanc. Arrange all the filling ingredients on the baguette and serve immediately.
Asha Yoganandan
Asha is the Founder and the Creative Strategist of INK, a digital marketing consultancy focused on food and leisure clients.A key social influencer, she has a reach of over 400K across digital platforms. She edits and publishes NOURISHED magazine, a seasonal and quarterly food magazine with international distribution. She writes an acclaimed blog, Fork Spoon Knife, on food and culinary travel related topics. She pens for and has been featured in The Daily Meal, Redbook Magazine, Spenser Magazine, Huffington Post, Good Food Jobs, Food 52, Mashable among others.