Funfetti Birthday Cake Batter Blondies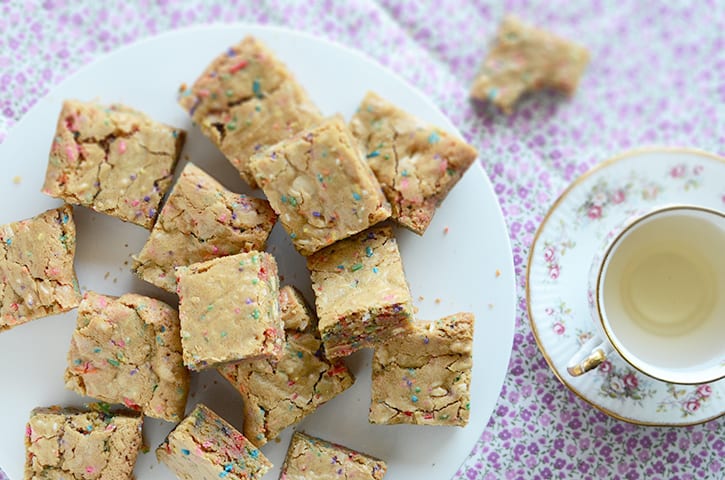 They're fun, festive, and super quick and easy to whip up. Spread them around the office and watch the atmosphere instantly brighten.
By Faith Gorsky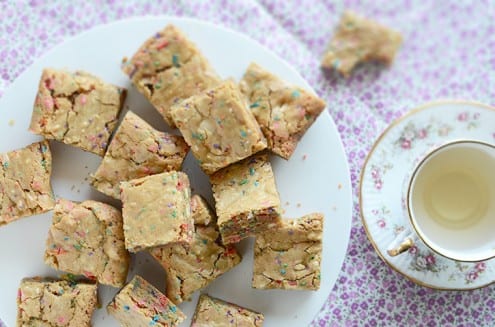 I use butter flavoring in these blondies to give them a "birthday cake" flavor; although it will change the flavor slightly, you can omit it if you want. If you'd like to give butter extract a try, I recommend a "natural" extract such as Frontier Natural Products or Silver Cloud Estates; the Frontier brand in particular is a favorite of mine.
Funfetti Birthday Cake Batter Blondies
They're fun, festive, and super quick and easy to whip up. Spread them around the office and watch the atmosphere instantly brighten.
Ingredients
1 teaspoon canola oil, to grease the pan
¾ cup (85 g) all-purpose flour
½ teaspoon baking powder
¼ teaspoon salt
1/16 teaspoon baking soda
⅓ cup (60 g) white chocolate chips
⅓ cup (60 g) rainbow sprinkles
6 tablespoons (85 g) butter, melted and cooled slightly
¾ cup (150 g) sugar
1 teaspoon molasses
1 large egg
1½ teaspoons vanilla extract
¾ teaspoon almond extract
½ teaspoon butter flavoring (optional)
Instructions
Preheat oven to 350F. Line an 8 by 8-inch baking pan with 2 pieces of parchment paper so that it hangs over the sides. Brush the paper with the canola oil.
Whisk together the flour, baking powder, salt, and baking soda in a medium bowl, then stir in the white chocolate chips and rainbow sprinkles. Set aside for now.
Whisk together the butter and sugar in a separate medium bowl; whisk in the molasses, egg, vanilla extract, almond extract, and butter flavoring (if using).
Stir the dry ingredients into the wet just to combine. (The batter will be thicker than cake batter but not as thick as cookie dough.)
Pour the batter into the prepared baking pan and bake until golden on top and a toothpick inserted inside comes out with just a couple crumbs, around 25 minutes. (If you wait until the toothpick is clean to pull out these blondies, they will be overcooked.)
Cool completely before cutting.
Faith Gorsky
Faith Gorsky is the writer, recipe developer, photographer, and food stylist behind the blog An Edible Mosaic. Her recently-released first cookbook, An Edible Mosaic: Middle Eastern Fare with Extraordinary Flair (Tuttle Publishing), is a collection of authentic Middle Eastern recipes handed down to her from her husband's family during her extensive time spent in the Middle East. Faith loves to travel, especially to places steeped in rich culture and history.