If you're using store bought apple butter make sure it's not too runny or it will compromise the structural integrity of the buns.
By Kimberly Killebrew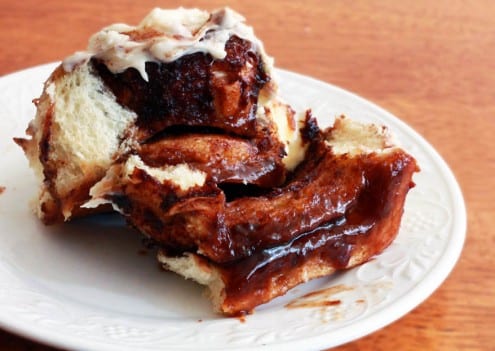 Frosted Cinnamon Buns with Apple Butter
If you're using store bought apple butter make sure it's not too runny or it will compromise the structural integrity of the buns.
Author:
Kimberley Killebrew
Ingredients
For the Cinnamon Buns:
1 cup warm milk
2½ teaspoons yeast
4½ cups all-purpose flour
1 teaspoon salt
½ cup granulated sugar
2 eggs, at room temperature
? cup butter, melted but not hot
1 teaspoon pure vanilla extract
1 cup apple butter (homemade or store-bought)
1 cup packed brown sugar
2 tablespoons ground cinnamon
1 small apple, cut into small, very thin pieces
For the Frosting:
1 (3 ounce) package cream cheese, softened
¼ cup butter, softened
1½ cups powdered confectioner's sugar
½ teaspoon vanilla extract
Instructions
Stir the yeast into the warm milk and let it sit for 5 minutes.
Put the flour in the bowl of a stand mixer, stir in the salt and sugar to combine and make a well in the center. Add the eggs, melted butter, and milk/yeast mixture.
Attach a dough hook and knead the mixture on the bread setting ("2? on a Kitchenaid) for about 10 minutes.
Remove the dough, form it into a ball, lightly spray the stand mixer bowl with vegetable oil, and place the dough ball back in the bowl. Cover loosely with plastic wrap and place it in a warm place until nearly doubled, up to 90 minutes. (I turn on the oven to 350 for about 1 minute, turn it off, and place the dough/bowl in the oven to rise.
Meanwhile, combine the brown sugar and cinnamon in a small bowl and measure out the apple butter. Set aside.
After the dough has nearly doubled in size, punch it down in the center, let it rest for a minute and then place the dough on a lightly floured surface.
Roll out dough into a 16×21 inch rectangle. The dough will likely spring back, let it rest for a minute and roll it back out to size.
Spread the apple butter evenly over the surface of the dough and sprinkle the sugar/cinnamon mixture over it, leaving about a ¼ inch border around the dough. Place the apple pieces evenly over the dough.
Roll up the dough, seam side down, and cut it into 15 equal rolls. Place rolls in a lightly greased 9×13 inch baking pan. Loosely cover with plastic wrap and let the rolls rise in a warm place until nearly doubled in size, about 30-40 minutes.
While the rolls are rising, preheat the oven to 350 degrees F.
Bake the rolls until lightly browned, about 30 minutes.
To make the frosting, combine the cream cheese, butter, powdered sugar, and vanilla extract, beat until smooth.
Spread the frosting over the warm rolls if you prefer more of a glaze. Spread over cooled rolls if you prefer the fluffy white frosting.
Kimberly Killebrew
Raised in Western Europe, widely traveled, and currently residing near Seattle with her husband and children, Kimberly loves preparing and experimenting with a large range of flavors and cuisines. This is reflected in her food blog, The Daring Gourmet, where she invites all to "tour the world through your taste buds." Passionate cook, recipe developer and photo enthusiast, her culinary repertoire includes everything from gourmet to simple comfort food, and, as she puts it, "simply downright good eats."