Fried Beef Hor Fun with Gravy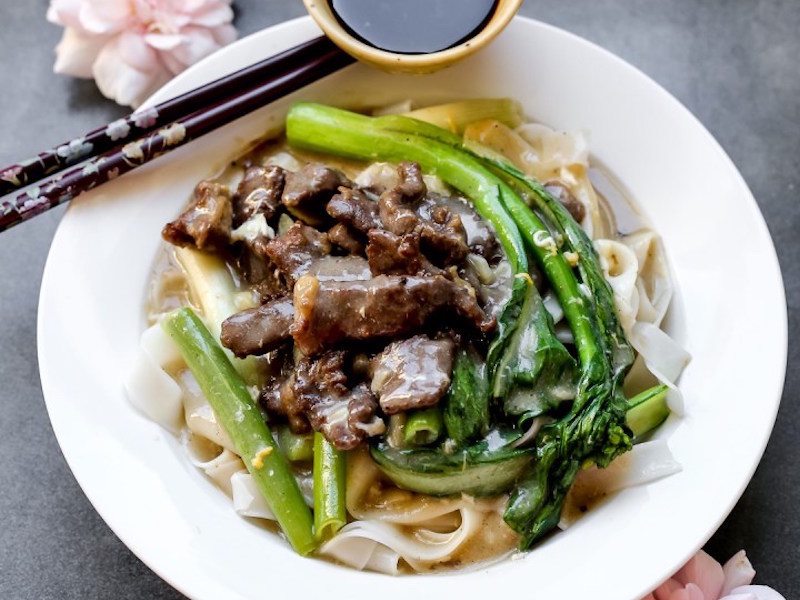 Like most noodle dishes, it may look complicated but once you master how this is prepared it actually is easy to make. A simple stir fry of beef and noodles and you have a nice meal waiting for you.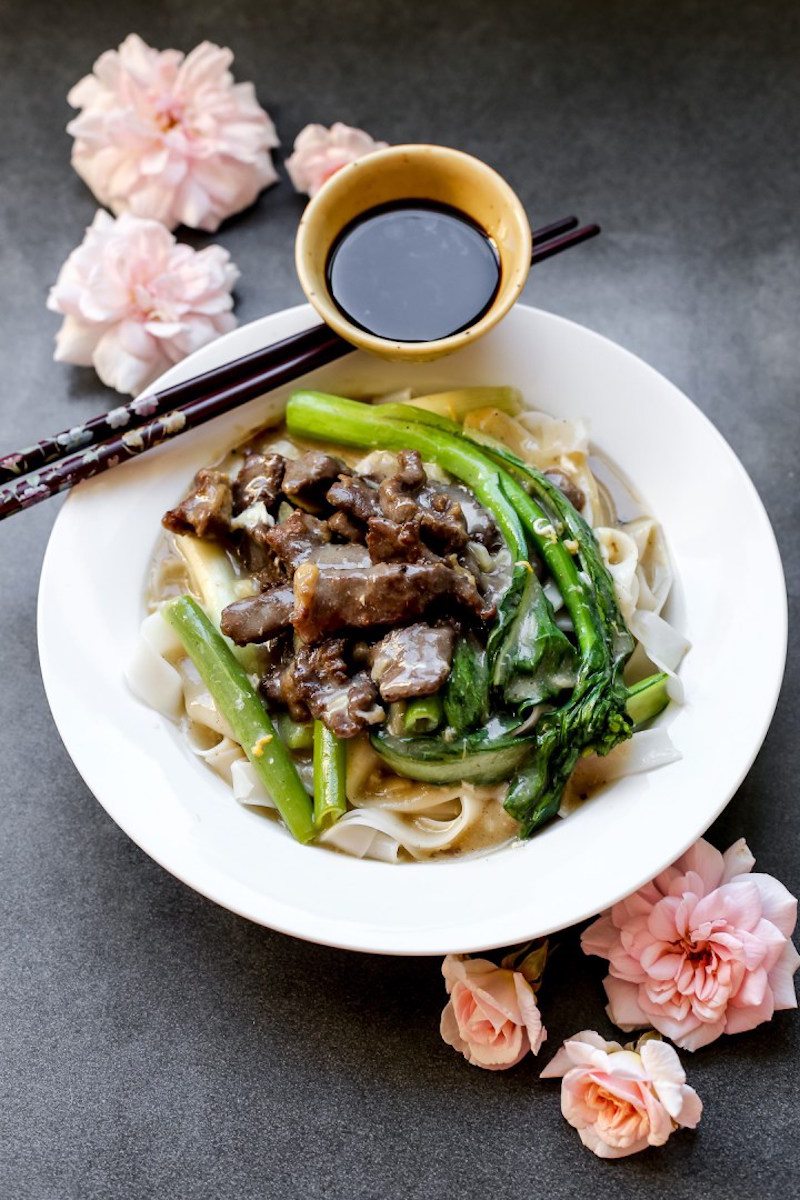 Fried Beef Hor Fun with Gravy is a type of noodle dish made with wide rice noodles drenched on an Asian style gravy served with tender slices of beef and Asian greens. I tried this dish when I lived in Malaysia and was a fan of it together with other noodle dishes drenched in gravy, it's just so satisfying munching on something with a thick savory gravy and this is not an exception, it's delicious and it's so comforting.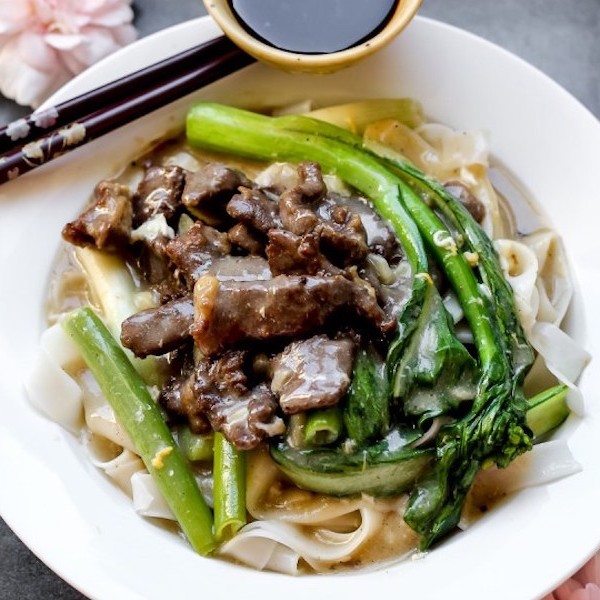 Ang Sarap
Ingredients
Beef
400

g

beef

rump, tenderloin or any steak cut, thinly sliced

½

tsp

baking soda

1

tbsp

cornstarch

1

tbsp

Chinese cooking wine

1½

tbsp

soy sauce

1

tsp

sesame oil

2

tbsp

oil
Vegetables
a big bunch of choy sum

gailan or bok choy
Noodles
400

g

wide rice noodle

sesame oil
Gravy
500

ml

beef stock

1½

tbsp

light soy sauce

½

tbsp

dark soy sauce

1½

tbsp

oyster sauce

1½

tbsp

tapioca flour

3

tbsp

water

1

egg white

1

thumb sized ginger

thinly sliced

4

cloves

garlic

minced

2

spring onions

sliced

white pepper

salt

2

tbsp

oil
Instructions
Beef
In a bowl combine together baking soda, cornstarch, Chinese cooking wine, soy sauce and sesame oil, mix well.

Add the beef and using your hands mix it well to distribute the marinade evenly, set aside for 15 minutes.

Place wok in a stove top and place in really high heat, once it starts to smoke add oil and swirl it around to coat the surface.

Let it reach the oils smoking point then add the beef in single layer as possible, leave it there without mixing for 30 seconds to a minute until brown on one side. Turn to the other side and leave it again for another minute. Now start to stir fry, continue doing so for 2 minutes. Remove beef from the wok.
Vegetables
Blanch vegetables in boiling water for a few seconds then drain and rinse with running cold water, set aside.
Noodles
Soak rice noodles in boiling water in a big bowl for 3 minutes, drain then set aside.

Prepare your wok, add sesame oil and heat it up until it smokes. Add the noodles and let it char, do not stir fry it but leave them on the wok as it cooks. Toss the wok once or twice to turn it over. Remove from wok then set aside, keep it warm.
Gravy
Using the same wok, add oil then sauté garlic and ginger.

Add the spring onions and stir fry for 30 more seconds.

Pour beef stock, light soy sauce, dark soy sauce and oyster sauce then bring it to a boil.

Combine tapioca starch with water, mix well. Gradually add this solution to thicken the sauce.

Add the egg white while mixing the sauce then then beef. Season with white pepper and salt then turn the heat off.

Combining it all together

Place noodles on a plate, pour sauce over the noodles. Place greens on the side then serve with hot.
Ang Sarap
Hi I am Raymund a Filipino living in New Zealand, I'm not a cook nor a chef but I love cooking and it is my passion. My real job is an IT Professional whose devotion is to develop applications (I have a Software Development blog for those who might be interested), my brain is abused at work on a daily basis so cooking at the end of the day acts as my therapy for stress release. I have been cooking since I was 7 years old and since then almost every day I prepare our dinner and weekend meals, I usually try to cook dishes that we had tried and ordered in different restaurants that's why you will see a lot of varieties at my blog Ang Sarap (angsarap.net). I learned cooking mostly by observing my Aunt who cooks for us when I was younger, I learned to bake by assisting my Mom during my younger years and for the native dishes I learned it from my Grandmother.My other passion is photography which explains the photos you see here and travelling which explains the variety of dishes and reviews of restaurants from all over the world.