A fresh, chewy bagel baked with rich cheddar cheese and a hint of spicy jalapeños is a perfect, carb-loaded comfort food, especially when homemade.
By Amanda Powell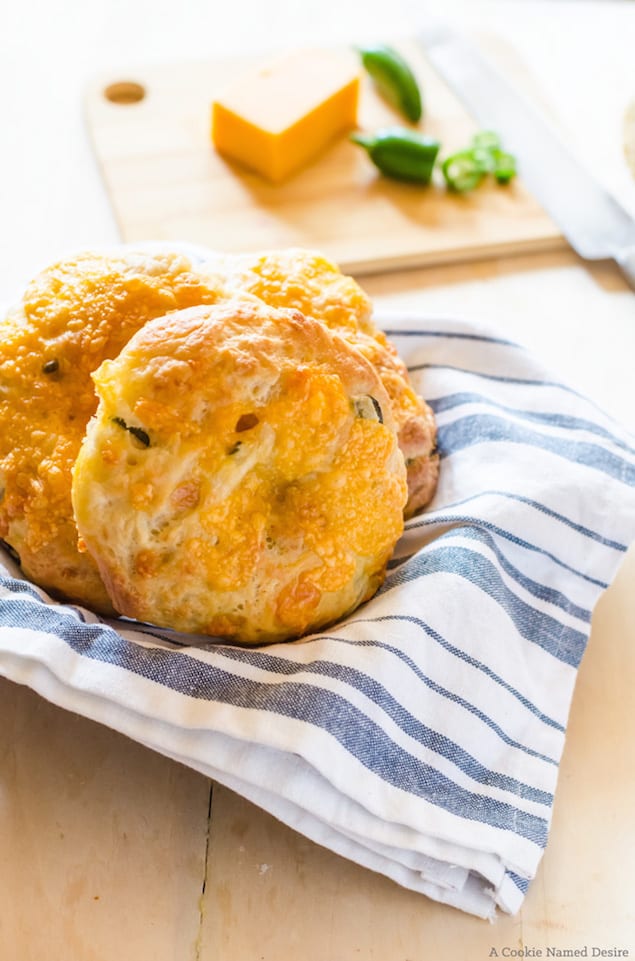 Sometimes you just need some good, carb-loaded comfort food. I used jalapeños from my garden for this recipe. This isn't my first year growing jalapeños, but it is the first year that I grew enough to really enjoy. I am so surprised at how potent homegrown jalapeños are. I sliced and grilled one for burgers one night and still the heat was enough to bring tears. In case you are wondering, I do have a pretty good tolerance for spicy food, but this was just so intense.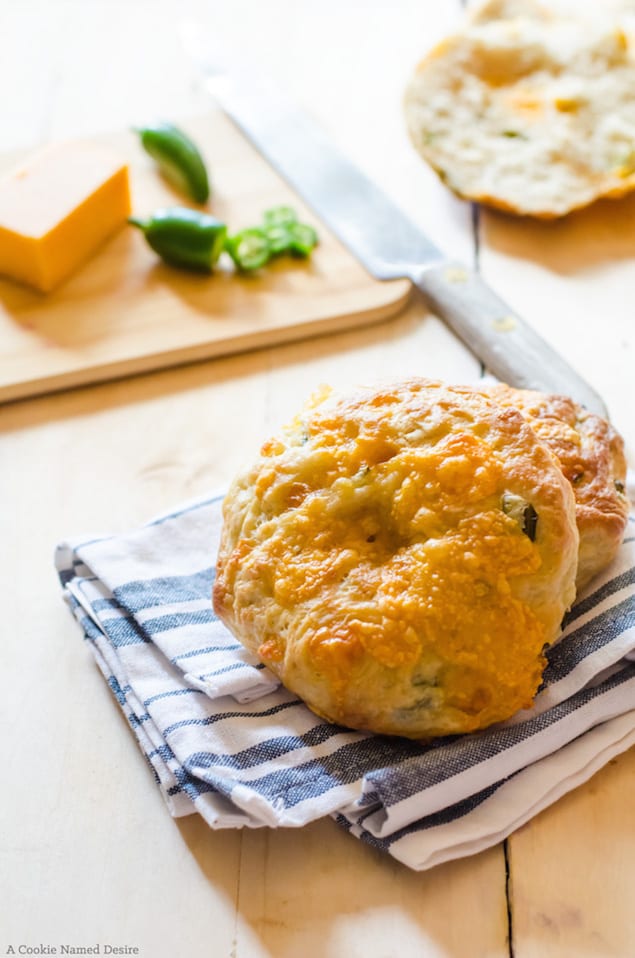 See Also
Fortunately, they don't seem to be so intense once baked in a bagel with a ton of cheese. These jalapeño and cheddar bagels are perfect on their own or used for sandwich bread. When you begin working with the dough after adding the cheddar and jalapeño, it may seem as though there is too much cheese for the dough to handle. Wipe that thought from your mind and work through it. Once you let the dough rise, it will cover some of the cheddar and jalapeños and you might lose a tiny bit of the cheese when boiling (I found the jalapeños stayed in just fine), it won't be enough for you to get upset over. I chose to add the additional cheese 6 minutes before the bagels were done baking. I regret that decision because I prefer when my cheese gets a little brown and toasty. At five minutes, it melts and gets a little bubbly, but almost no browning.
Find my New York Bagels base here.

Fresh Jalapeño and Cheddar Bagels
A fresh, chewy bagel baked with rich cheddar cheese and a hint of spicy jalapeños is a perfect, carb-loaded comfort food, especially when homemade.
Recipe Type:
Bread, Baking
Ingredients
1 recipe for my New York bagels (see link above)
4 medium jalapenos, finely diced
3 – 4 oz sharp cheddar cheese, shredded and diced, plus more for topping
2 tablespoons cornmeal
Instructions
Make the dough for the New York bagels allow to rise for the one hour as instructed.
Deflate the dough and work in the jalapenos and cheddar until it is evenly spread throughout the dough. It may seem as though there is too much, but trust me on this.
Boil a large pot of water, then turn down the heat so the water is at a bare simmer.
Divide the dough into 7 balls. Try to work the balls so that most of the filling is inside the dough, but is it okay if some sticks out. Use a lightly floured finger to push a hole through the middle of the balls and gently spread out the hole until it is about an inch in diameter. Place on a lightly greased baking sheet. Allow to rise for about 30 minutes. Preheat the oven to 425 degrees F.
Boil the bagels for about 1 minute on each side. Sprinkle the baking sheet with cornmeal and place bagels on top.
Bake for about 10 – 13 minutes, and then top with cheese. Bake for another 6 – 8 minutes. Allow to cool for about 15 minutes before transferring to a wire rack to cool completely.
Amanda Powell
Amanda is a self-taught baker and photographer. Her passion for food began when she started college in London and was able to experience authentic food from across Europe. She loves being in the kitchen with her daughter and developing her skills in the kitchen.