Fluffy and Crispy Buttermilk Waffles
A go-to recipe for a relaxing brunch, these waffles have delicious flavor and spot on crisp outsides with fluffy centers.
By Maria Vee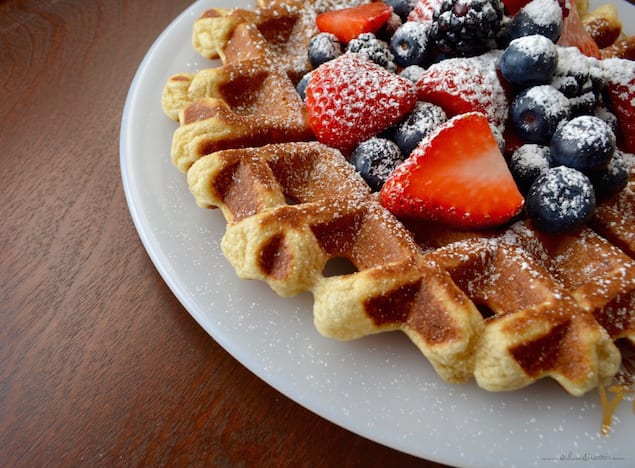 There's nothing like a lazy morning breakfast, especially when these light fluffy crispy buttermilk waffles are being served.
What's there not to love? Even more spectacular is the taste. I've tried buttermilk-less recipes, and I think they all have a noticeable aftertaste. So, you can be sure that if there's a recipe which calls for buttermilk, it's immediately placed in my "to do" folder. The minute I tried this recipe it became my go-to for light fluffy crispy buttermilk waffles.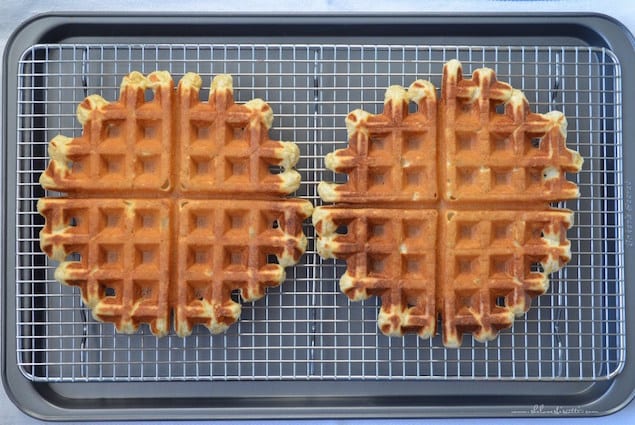 These waffles are ready in less than 30 minutes. I usually measure the dry ingredients the night before, making the whole process quicker in the morning. They also freeze very well so you can also enjoy them during the week, as a snack or as a light supper.
I've adapted this recipe from Martha Stewart Living, with one modification. I've substituted the butter with vegetable oil. On occasion, I've also replaced up to half the amount of all purpose flour with whole wheat flour- depending who I'm making it for.
I love to serve these light fluffy crispy buttermilk waffles with lots of fruit and a generous dusting of powdered sugar. How do you top off your waffles?
For another great breakfast idea, check out my easy oatmeal pancake recipe.

Fluffy and Crispy Buttermilk Waffles
A go-to recipe for a relaxing brunch, these waffles have delicious flavor and spot on crisp outsides with fluffy centers. adapted from Martha Stewart
Recipe Type:
Breakfast, Brunch
Ingredients
2 cups flour, all purpose
1 teaspoon baking soda
1½ teaspoon baking powder
½ teaspoon ground cinnamon
½ teaspoon salt
¼ cup brown sugar
3 large eggs, separated (room temperature)
½ cup vegetable oil
2 cups buttermilk (room temperature)
1 teaspoon vanilla extract
non-stick spray
Instructions
n a large mixing bowl, sift together dry ingredients. Whisk in the brown sugar. Set aside.
In another bowl, whisk together egg yolks,oil,buttermilk,and vanilla. Gently combine with dry mixture.
In a medium mixing bowl, beat egg whites until stiff.
Gently fold the egg whites to batter.
Heat waffle iron. Spray with non-stick spray.
Pour about ¼ - ? cup for each waffle. (I use a large serving ladle and drop the batter in the middle of the waffle iron).
Cook 2-3 minutes or until golden brown.
Place on a rimmed baking sheet and transfer to oven to keep warm. (set oven to 200?/93?)
Serve with your favourite toppings.
Notes
You can replace up to 1 cup of the all purpose flour with whole wheat flour.
Special equipment required: waffle iron
Maria Vee
Hello! My name is Maria, Canadian-born and Italian-raised. By day, I work in a health institution, but by night, I cook, bake, and blog. I guess I get it from my mom, who I truly believe spent most of her adult life in the kitchen (and loved every second of it)! Recently it became important to me to fix up, document, and post some of her treasured recipes; I wanted my own kids to get a taste for the legacy she left behind and to continue to honour the traditions she set up when she was alive. I crave the simple things in life, most of all enjoying some good food with my beloved family and friends.