A flourless almond, rum and dark chocolate cake that is perfect for anytime snacking.
By Rinku Bhattacharya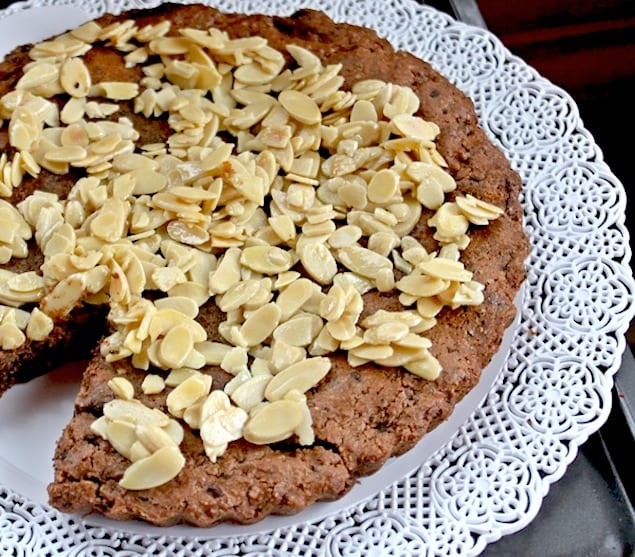 Flourless Rum and Chocolate Cake
A flour less almond, rum and dark chocolate cake that is perfect for anytime snacking.
Author:
Rinku Bhattacharya
Ingredients
1 stick of butter softened
1 cup of ground almonds
¾ cup of sugar (more if you like it sweeter)
1 medium sized potato, boiled, peeled and mashed
3 eggs, separated
1 teaspoon vanilla extract
⅓ cup dark rum
⅔ cup (about 6 oz) grated dark chocolate (at least 70% cacao)
⅓ cup of sliced almonds
⅓ cup of maple syrup
Instructions
Preheat the oven to 335 degrees, grease a 9 inch round cake tin.
In a large mixing bowl, add in the butter, ground almond,sugar and the potato and beat until well mixed. Add in the egg yolks and mix well.
In a separate bowl, beat the eggs until softly peaked.
Add the vanilla and the rum, with the chocolate into the butter and sugar mixture, fold in the egg whites and pour the mixture into the cake tin. Place the cake in the center of the oven and bake for about 40 minutes or so until almost set.
Mix the sliced almonds with the maple syrup and pour over the cake and bake for another 6 to 8 minutes, until the almonds are just a little darker.
Serve the cake warm or cooled.
Rinku Bhattacharya
Rinku Bhattacharya, is a teacher of Indian Cooking and the author of the blog, Spice Chronicles. A busy working mother Rinku is committed to offering a practical approach of flavorful, everyday cooking often with an Indian Accent. An author of three cookbooks, Instant Indian, Classic Foods for Every Region of India made easy in the Instant Pot, Spices and Seasons, Simple, Sustainable. Indian Flavors and The Bengali Five Spice Chronicles. Rinku's passion for food starts with cooking and trying new recipes and extends to pairing and drinking wine with food and trying usual combinations by fusing various culinary influences. Rinku and her family are very committed to a sustainable lifestyle, and she uses mostly local produce for her recipes. She is joined in this effort by her husband who is an avid gardener and her children, Deepta and Aadi.