With this recipe, you get these cookies, super tasty, crunchy and melt in your mouth.
By Roberta Pipito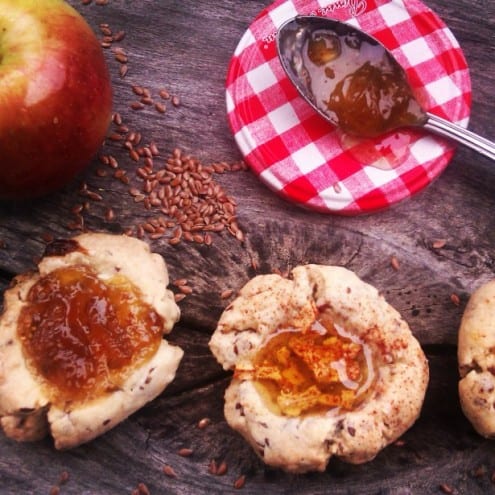 I love to incorporate healthy things into my kitchen adventures as much as possible. My husband bought me some flax seeds the other day. I kept thinking "what am I going to make with this that would be different." I thought muffins at first, but I have seen a lot of people create those. I decided instead to go with a cookie.
With this recipe, you get these cookies, super tasty, crunchy and melt in your mouth.
Ingredients
2 Cups of All purpose flour
1 cup of Powdered sugar
½ cup of corn starch
1 cup of butter, chopped into cubes
1 egg yolk, whisked
1 Tablespoon of Orange zest
3 Tablespoons of Orange Juice (fresh from the orange would be great)
½ cup of Flax seed (more or less optional)
Fig Jam for filling (optional)
1 Apple, diced for filling (optional)
Honey for filling (optional)
Instructions
Preheat oven to 350 degrees. Combine the flour, powdered sugar, and cornstarch. In a bowl place cubed butter in the flour mix. (Now you can use a food processor to help you do this or you can use your hands as I did). You want the mixture to resemble coarse crumbs. Place the flaxseed in the mix now. In a bowl combine egg yolk, orange zest and orange juice and whisk. Add egg yolk mix to flour mix. Stirring until moistened. Knead the dough in the bowl until it forms a ball.
On a Baking sheet with parchment paper begin to roll small to medium ball with dough. Once that is done make a little well, like a thumb print in the center of each cookie. Fill them with you desired filling in this case I used fig jam,apples, cinnamon and honey.
Bake for 12 to 15 minutes until edges start to get golden brown or until edges start to dry up.
Roberta Pipito
Roberta Pipito is a chef, food blogger and wine and beer aficionado. Her work continues to expand in the foodie world, and can be seen on www.homemadedelish.com.