A visit to Morocco offers opportunities for new experiences and flavors, from street food to a six course meal served on a table strewn with rose petals.
By Sheila McGrory-Klyza
To celebrate my fiftieth birthday, Chris and I recently went on a long-awaited trip to Morocco. Morocco is a country that has intrigued me ever since I read the novel The Sheltering Sky, one of my Top Ten, over twenty years ago. I had never been to Africa before, nor to an Islamic country, and it proved to be no less fascinating, enchanting, and bewildering than I had anticipated.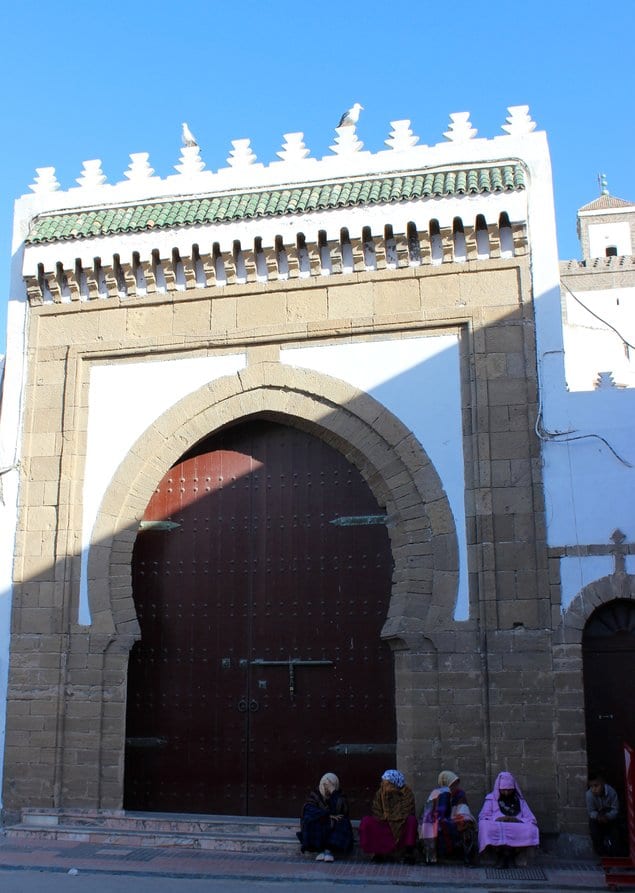 We started out in Marrakech, a city of contrasts: old world and new, wealth, poverty, chaos, and serenity.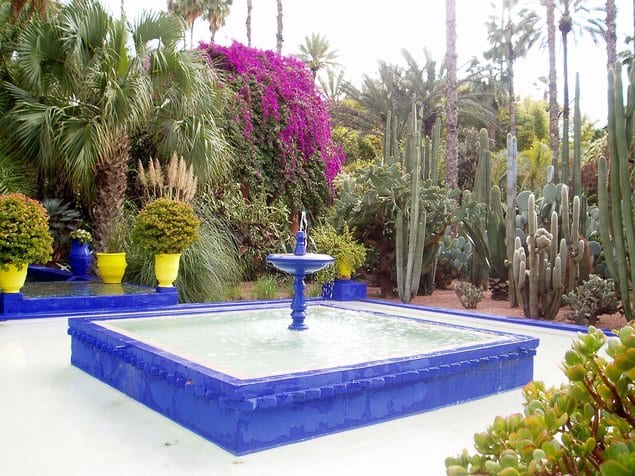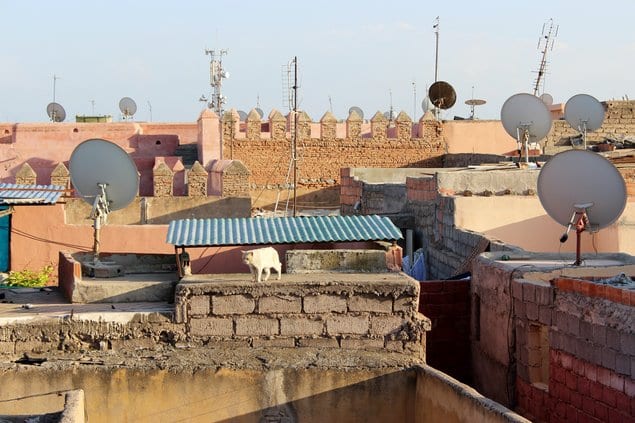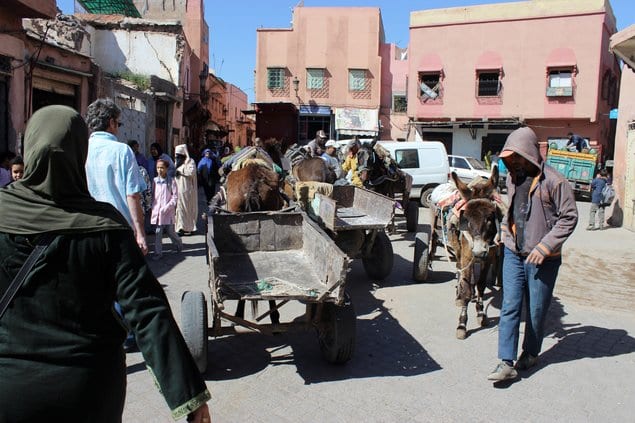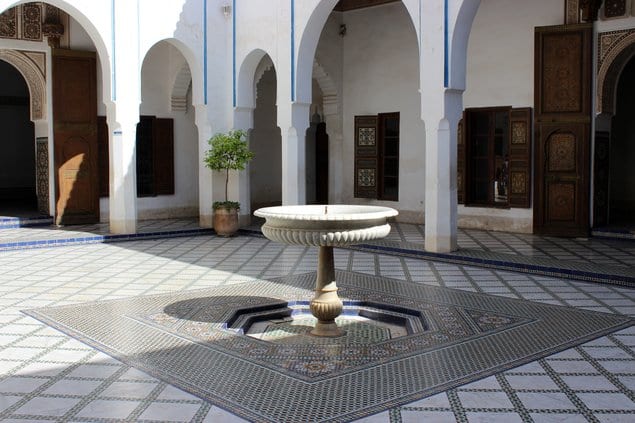 The first thing that struck me (and continued to strike me) was the pandemonium on the streets. Cars, motorcycles with four people hanging on, donkey carts, wheelchairs, and pedestrians all vied for their own space on both major thoroughfares and small passageways. We quickly learned how to navigate the streets and find our way through the labyrinthine medina.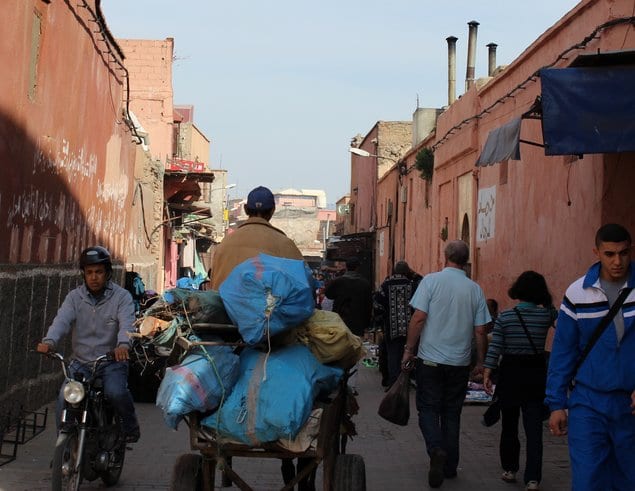 The medina, or old city, is the heart of Marrakech, and Jemaa-el-Fna square is the heart of the medina. Every night this square transforms into a carnival, complete with assorted food vendors competing for customers, fortune tellers, henna artists, story tellers, acrobats, snake charmers, and locals of all ages who come out to socialize.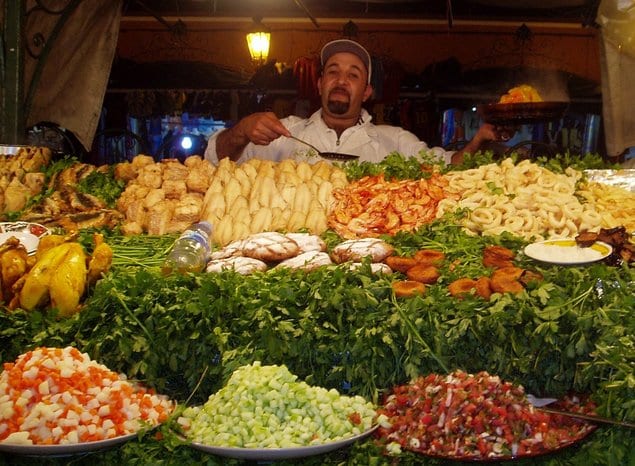 At the end of the day, we would retreat back to our riad, a tranquil oasis in the middle of all this energy. Riyad el Mezouar, a former sultan's palace, is one of the most beautiful places I've ever stayed. It has only five guestrooms and at one point we had it all to ourselves. Entering off of a narrow dead end, guests are immediately transported to another world, breath-taking in its pure elegance.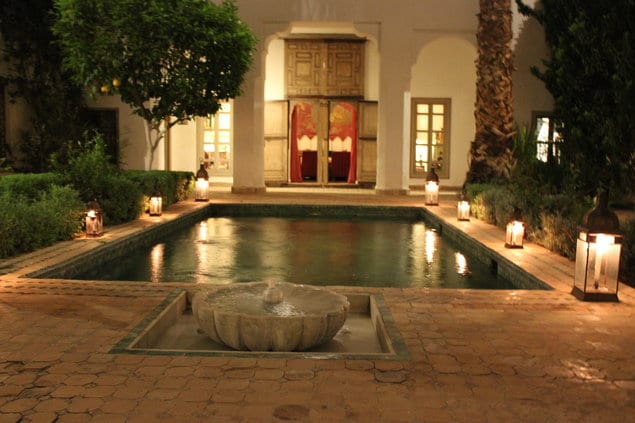 This contrast between the nondescript exterior and stunning interior is reflective of the Islamic belief that what's visible to the outside world is not important; it's the interior, known only to a select few, that really matters.
The breakfast poolside in the central courtyard was sublime, and hearing the early evening Call to Prayer from the rooftop terrace is something I will never forget.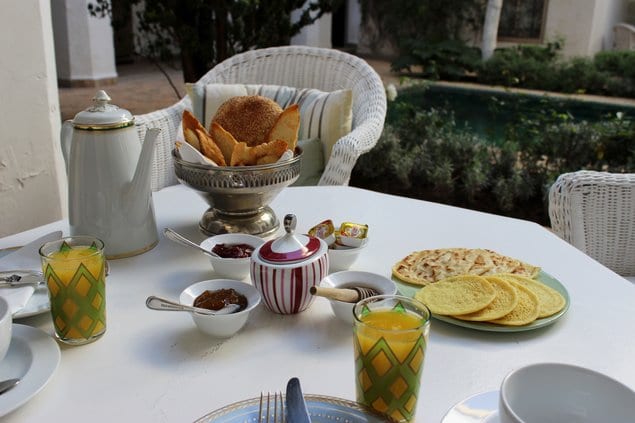 Other especially memorable moments include learning to bargain in the souk (marketplace), touring an historic madrassa while "Another Brick in the Wall" wafted in from next door, getting an impromptu private tour of a fabric dyer's workshop, complete with a visit to the rooftop where the yarn is dried in the sun, and, although we weren't in the market for a rug, more than once finding ourselves sitting in a rug showroom being served mint tea while men rolled out their offerings and we wondered to ourselves, How did we get here? (We did, in the end, purchase one small rug.)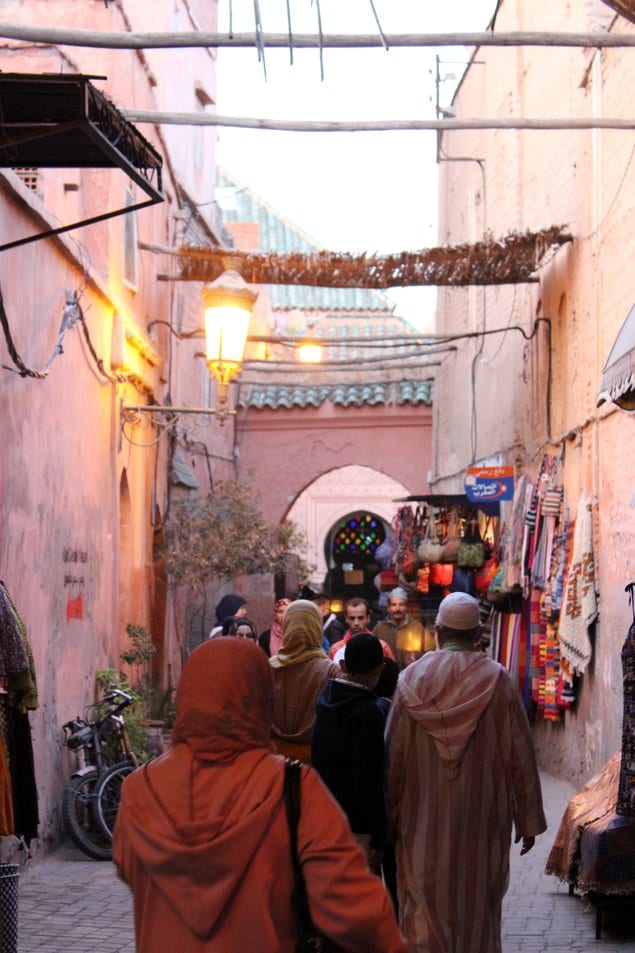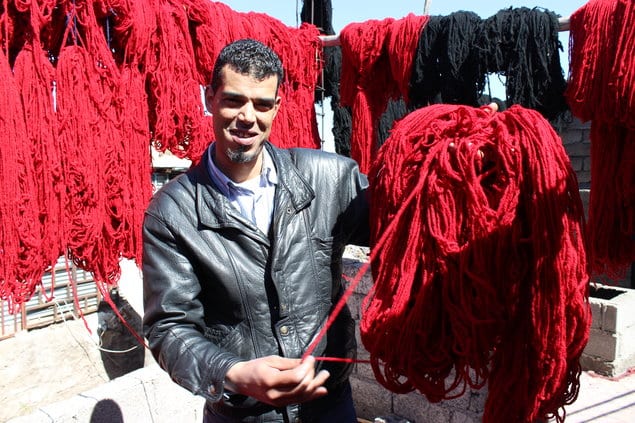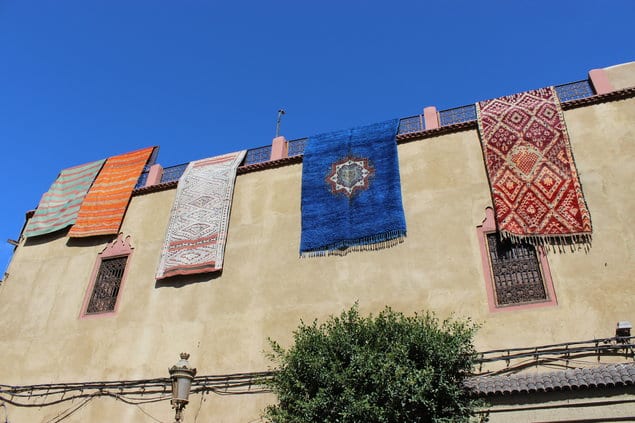 And of course, there is the food. Ferran Adrià recently called Morocco one of the most exciting places in the world to eat. He should know, and I will not dispute him. We ate (almost) everything, from street food kebabs, to a six course meal served on a table strewn with rose petals. And a lot that fell somewhere in between.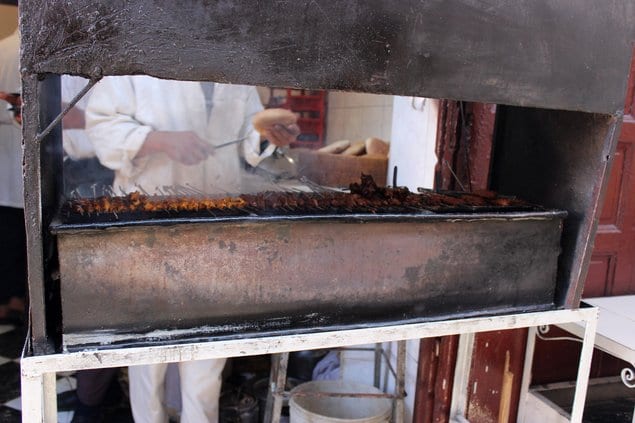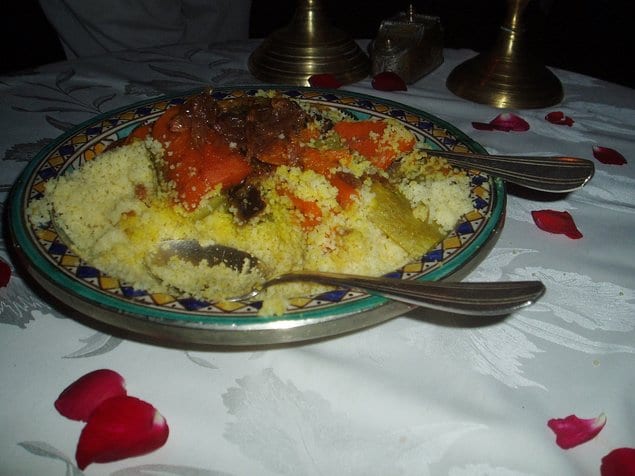 Everything was tantalizing—fresh and vibrant and aromatic with the complex spices that are the essence of Moroccan cuisine.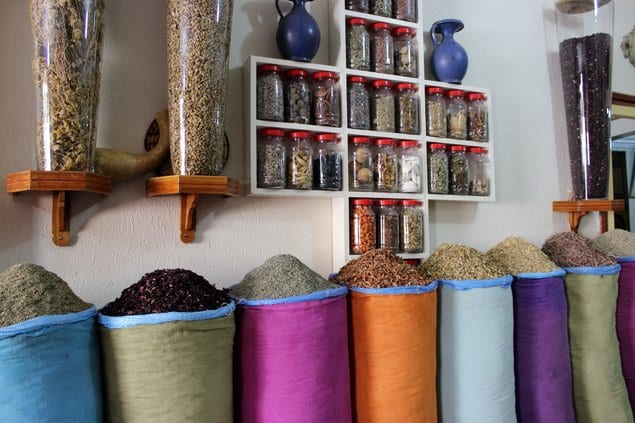 We also enjoyed the Moroccan wines, especially the rosé, which reminded us of Provençal rosé and was a surprise in both its quality and its accessibility (Morocco is very hospitable to non-Muslims).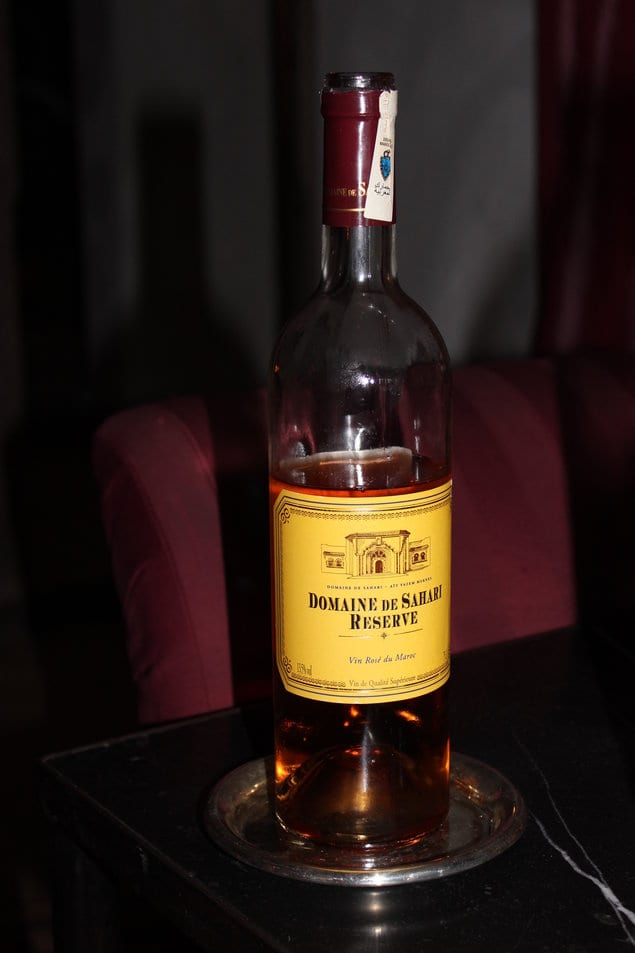 One day we did a cooking class at La Maison Arabe and learned the secrets behind making a tagine. If you're not familiar with this classic Moroccan dish, it's a stew that's slow-cooked in a uniquely shaped clay vessel.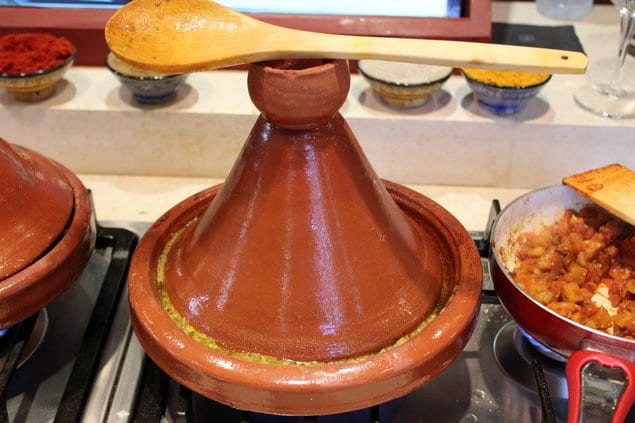 I love tagines but had never tried making one before. The classic combination we prepared, with chicken, olives, and preserved lemons, is something I'll be recreating at home for sure.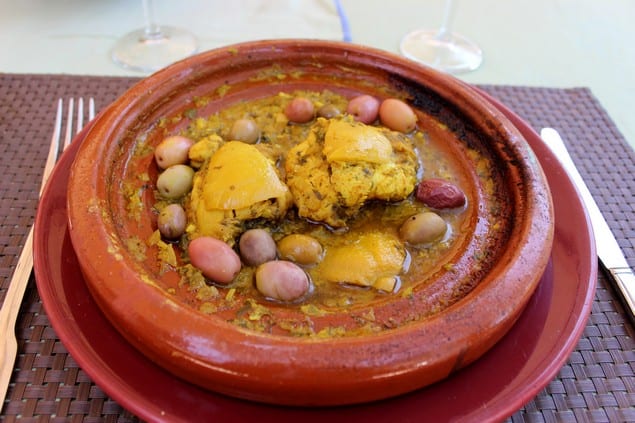 We also made a couple of cooked salads, a popular way to serve vegetables in Morocco. Zalouk Salad features eggplant, garlic, and tomatoes redolent with spices, while the roasted green pepper in Taktuka Salad adds a hint of smoke.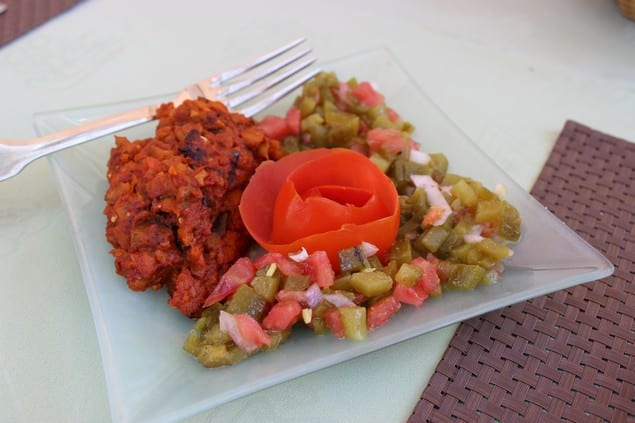 When I travel somewhere new, especially to a place where the food is distinctive, I often try to take a cooking class there. I find that it provides an understanding of the culture that I wouldn't get by simply eating in a restaurant. This time, as part of my birthday present, Chris participated in the class too, a first for him. He did well and kept his sense of humor.
We also paid a visit to a hammam, a traditional Moroccan bath that has evolved from Roman origins. Les Bains de Marrakech is really more like a spa than a typical bathhouse, but the treatments are done in the traditional way.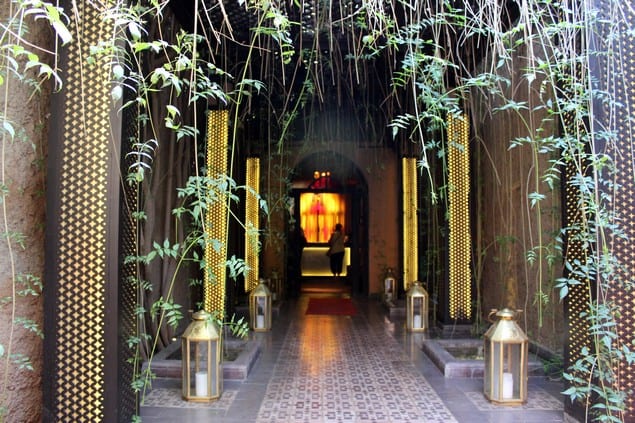 We started out by relaxing in our own private steam room (in a traditional hammam men and women are separated). We were then scrubbed down vigorously with black soap and a coarse "kessa" glove by a strong-armed female attendant. Afterwards she tossed buckets of warm water over us for a rinse-off. Chris's participation in the hammam experience was also part of my present, but he opted to stop after the buckets and went outside to relax by pool. I proceeded to have a ghassoul body mask treatment, followed by more buckets of water, and finally a full body massage with argan oil. Heaven.
Although we were in Marrackech for most of the trip, we did venture to the coast for an overnight in Essaouira.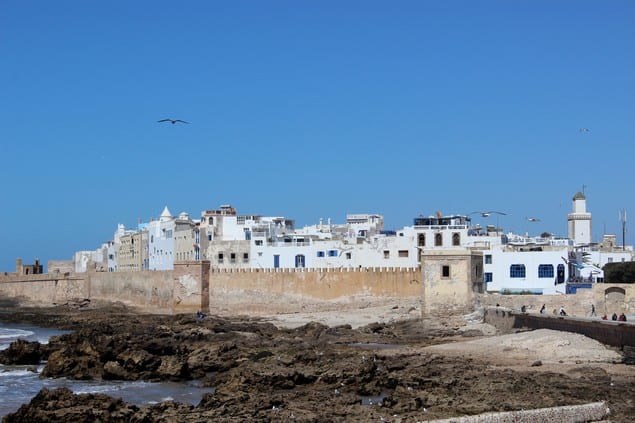 A fishing village/arts and crafts colony, it's become a popular getaway for Europeans and consequently has a Continental vibe. We dined on fish, explored the arts and crafts scene, and I rode a camel on the beach. Ambling along on the back of the camel, with the wind whipping my hair around, I couldn't have chosen a better place to celebrate not so much the end of a half-century, but the beginning of the next one.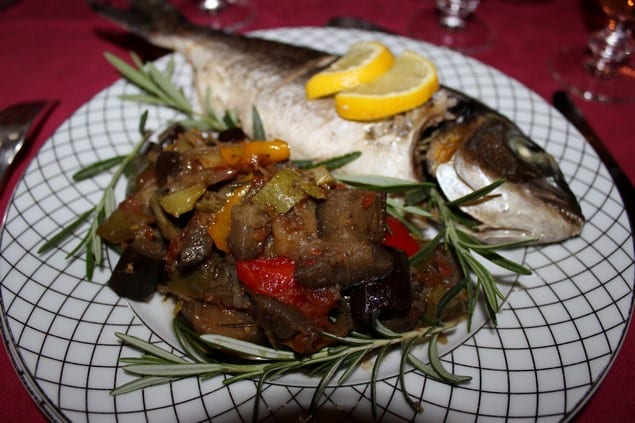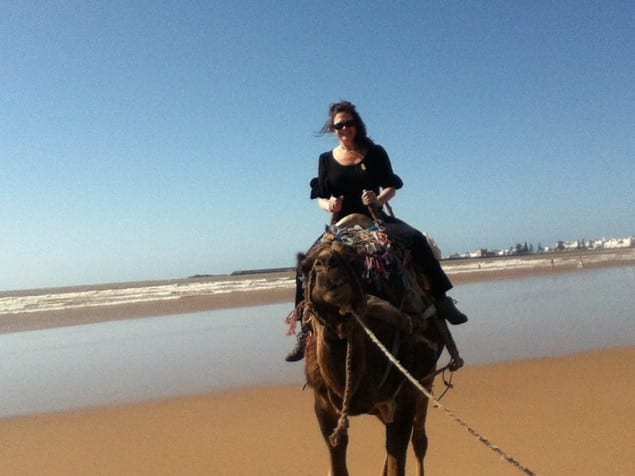 But more than the new experiences, or the food, or the street scenes, it's the people I'll remember most. Like Zou Zou, the proud keeper of a spice shop who gave us an education on the many varieties of spices and herbs used in Moroccan cuisine.
Or Fatiha, the cooking instructor who sang as she demonstrated the best way to peel a tomato.
Or Ahmed, a young man working on his graduate degree in economics while he tends his family's pottery store. He hopes to finish his Ph.D and come to work in America. I bought some intricately painted plates from him and, as I was paying, he handed me a small bowl and said it was a gift. He asked me to think of him when I use it. I will.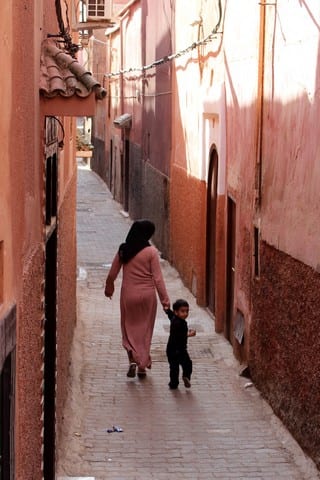 Print

Zalouk Salad
---
Author:

Sheila McGrory-Klyza

Yield:

4

1

x
Description
This cooked eggplant salad, adapted from a recipe by La Maison Arabe, is redolent with the flavors of Morocco.
---
2

medium eggplants

2

cloves of garlic

½ teaspoon

(

2.46

ml) sea salt

2 tablespoons

(

29.57

ml) olive oil

2

large tomatoes

2 teaspoons

(

9.86

ml) sweet paprika

2 teaspoons

(

9.86

ml) cumin

½ teaspoon

(

2.46

ml) black pepper
chile to taste

1 teaspoon

(4.93) white wine vinegar

2 tablespoons

(

29.57

ml) finely chopped parsley
---
Instructions
Peel the eggplant, leaving thin stripes of skin spaced about an inch apart. Dice the eggplant and put it in a frying pan.
Peel and finely chop the garlic. Using the side of a knife, mash it together with the salt and olive oil. Add this mixture to the pan and stir to combine with the eggplant. Cook on low heat, covered, for 5 minutes.
Turn and mash the eggplant with a wooden spoon while it continues to cook, uncovered, until it softens and browns, about 10 minutes.
Peel and dice the tomatoes and add them to the eggplant. Stir to combine.
Add the paprika, cumin, black pepper, and chile and continue mashing and cooking until the mixture is well blended, about 5 minutes.
Stir in the vinegar and remove the pan from the heat.
Sprinkle with parsley before serving (warm or chilled).
Category:

salad

Cuisine:

Moroccan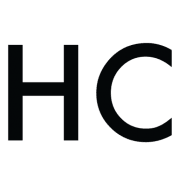 Sheila McGrory-Klyza
Sheila McGrory-Klyza is a writer who is interested in the intersection of food, culture, and conservation. She is mainly a self-taught cook, but has taken a class here and there. She lives in a small Vermont village and is inspired by the bounty of food producers and growers surrounding her. An avid Francophile, she has also lived in France at a few different times, most recently in Paris in 2010. She writes about her food adventures in Vermont and France, and other culinary travel, on her blog The Vermont Epicure.