Fire Roasted Tomato Chutney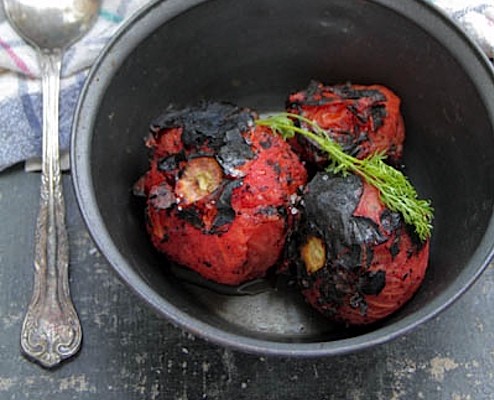 Sweet caramelized tomatoes, fresh herbs, a slight kick from the chili and tang from lemon makes this chutney a great dip or spread.
Text And Photo By Kulsum Kunwa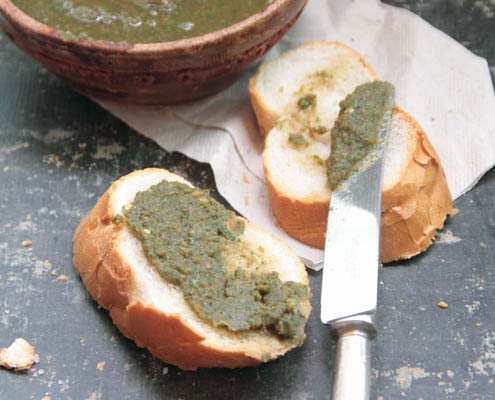 This chutney is one of our family favorites – one that makes it to almost every party we organize and people are always asking for the recipe! Sweet caramelized tomatoes, fresh herbs, the slight kick from the chili and tang from lemon  makes this chutney a great dip or spread. We often serve it up with grilled chicken, or deep fried appetizers as well.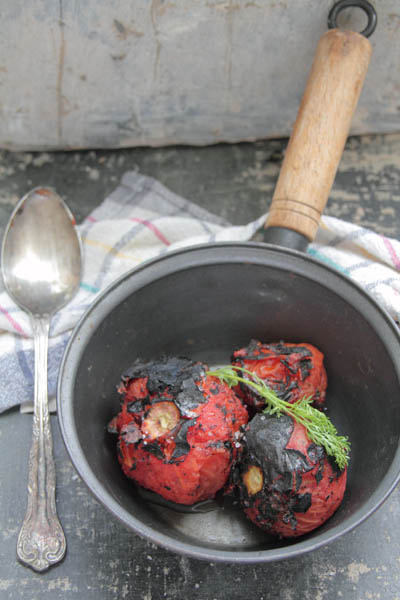 I like it spread on baguette, where the sweet  juices from the fire roasted tomatoes are soaked by the bread while the herb studded pulp adds texture to the chutney. Sure, the beautiful roasted tomatoes turn a dark almost ugly green when blended with herbs but you need to taste it to know it just doesn't matter.
Fire Roasted Tomato Chutney
Sweet caramelized tomatoes, fresh herbs, a little kick from a chilly and tang from lemon. You will fall in love with this easy chutney!
Recipe Type:
Chutney, Dip, Spread
Ingredients
3 red tomatoes, medium size*
1 green chili
½ cup coriander leaves (roughly chopped)
½ cup mint leaves (roughly chopped)
¼ tsp cumin seeds/1/2 tsp cumin powder
½ tbsp lemon juice
Salt to taste
Instructions
Skewer the tomato with a fork and hold it over high flame on (smallest) gas stove burner. The fork with help you to move the tomato around, in case you didn't know. I'm not doubting your intelligence by the way, I just doubt mine. You can also fire roast tomatoes on gas grill, charcoal grill or under a broiler. The skin will start to char and split while you rotate the tomatoes on all the sides. You want to totally blacken the skin. Transfer to a bowl to cool. Repeat with rest of the tomatoes. Once cool, slip off the skin from tomatoes.
Blend tomatoes, herbs and spices together to get a smooth chutney. See those marvelous ingredients turn to ugly green. Finish with lemon juice.
It is best served on the day its made but can be refrigerated upto 2 days.
Notes
Use the kind which are less juicy and have dense flesh.
Kulsum Kunwa
Food Photographer and Writer Kulsum Kunwa, shares her love for Indian food on her blog Journey Kitchen.