This Filipino roll cake is a simple, but oh so delicious, pastry filled with butter and sugar.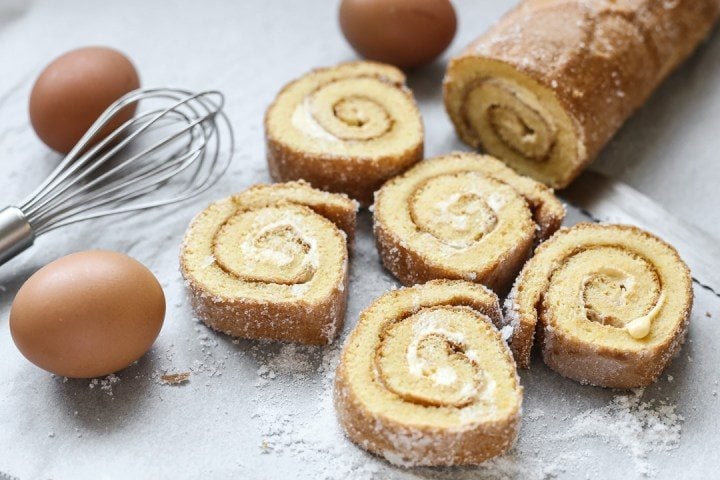 Pianono or pionono is a type of sponge cake rolled into a cylinder similar to jelly roll cake, what sets it apart from other roll cakes is that pianono are smaller in size and typically eaten in one or two bites. It is popular in countries that were invaded by Spain such as Philippines, Puerto Rico, Cuba and other parts of South America. The name came from the Italian name of Pope Pius IX which is "Pio Nono" meaning "Pious Nine".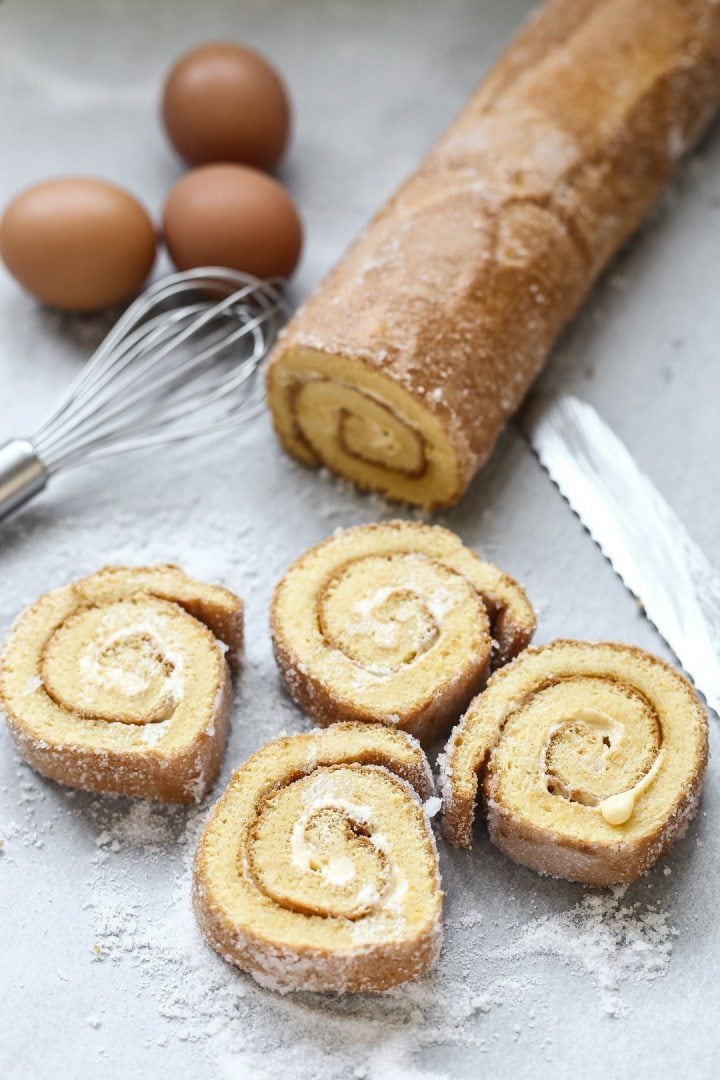 Pionono can be filled with either savoury or sweet ingredients, popular ones are cheese, ham, eggs and for the sweet one's creams, fruits, and jams are the preferred ones. In the Philippines it's quite different, while modern version uses jams the traditional ones uses only margarine and sugar and that's what we are doing today, the Filipino version of the Spanish classic.
If you love learning about Filipino cake as much as we do, then click here for more recipes from the Philippines.
Print
Filipino Pianono Cake Roll
This Filipino roll cake, Pianono, is a simple, but oh so delicious, pastry filled with butter and sugar.
Author:

Raymund Macaalay

Prep Time:

30 minutes

Cook Time:

15 minutes

Total Time:

45 minutes

Category:

Baking, Cake

Cuisine:

Filipino
7

eggs

6 tbsp

flour

1 tbsp

cornstarch

7 tbsp

white sugar

2 tsp

baking powder

½ tsp

baking soda

1 tbsp

vanilla extract
extra white sugar for coating/dusting
margarine
Instructions
Separate the egg whites from the yolk and place in two different mixing bowls.
Using an electric mixer beat egg whites until really fluffy.
Continue to beat while adding sugar by the spoonful. Set is aside.
Sift together flour, cornstarch, baking powder and baking soda.
Beat egg yolks together with the vanilla extract, gently add the sifted flour and beat in low speed.
Fold in the egg/flour mixture to the egg whites until well incorporated.
Prepare a jelly roll pan, line it with wax paper then pour mixture on top and flatten it evenly with a spatula.
Place in a 180C preheated oven and bake for 15 minutes.
Prepare another sheet of wax paper over a work surface, scatter some white sugar (this will be the coating of the roll cake so just add one thin layer) on top of the wax paper.
Once the cake is ready, turn it over on the top of the prepared wax paper on your work surface. Do this while its hot so you can easily remove the wax paper on the bottom.
Spread a good amount of margarine on top, then with the longest side on the other side, roll up the cake towards you.
Slice into sections then let it cool before serving.
Ang Sarap
Hi I am Raymund a Filipino living in New Zealand, I'm not a cook nor a chef but I love cooking and it is my passion. My real job is an IT Professional whose devotion is to develop applications (I have a Software Development blog for those who might be interested), my brain is abused at work on a daily basis so cooking at the end of the day acts as my therapy for stress release. I have been cooking since I was 7 years old and since then almost every day I prepare our dinner and weekend meals, I usually try to cook dishes that we had tried and ordered in different restaurants that's why you will see a lot of varieties at my blog Ang Sarap (angsarap.net). I learned cooking mostly by observing my Aunt who cooks for us when I was younger, I learned to bake by assisting my Mom during my younger years and for the native dishes I learned it from my Grandmother. My other passion is photography which explains the photos you see here and travelling which explains the variety of dishes and reviews of restaurants from all over the world.