The classic frozen Italian dessert gets a seasonal-infusion with winter fruits like figs and cranberries.
By Jovina Coughlin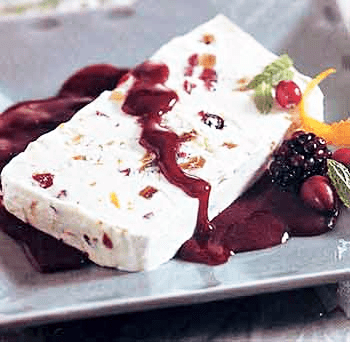 Fig and Cranberry Semifreddo with Blackberry Sauce
The classic frozen Italian dessert gets a seasonal-infusion with winter fruits like figs and cranberries.
Ingredients
8 large egg yolks
⅔ cup granulated sugar
½ cup dry white wine
2 tablespoons grated orange peel
2¾ cups chilled whipping (heavy) cream
⅓ cup dried Calimyrna figs, finely chopped
⅓ cup dried cranberries, finely chopped
¼ cup minced crystallized ginger
Blackberry Sauce
1 16-ounce bag frozen unsweetened blackberries, thawed
¾ cup sugar
2 tablespoons fresh lemon juice
2 tablespoons blackberry brandy (optional)
Instructions
Line a 9x5x3-inch metal loaf pan with plastic wrap, extending the wrap over the sides by 3 inches. Whisk egg yolks, sugar and white wine in a metal bowl to blend. ( I use the electric mixer bowl.) Set the bowl over a saucepan of simmering water; whisk egg mixture constantly until a candy thermometer registers 160°F, about 5 minutes. Remove bowl. Using an electric mixer, beat the mixture until cool and thick, about 5 minutes. Beat in orange peel.
Beat chilled whipping cream in a separate bowl until peaks form. Add egg mixture and gently fold together. Fold in chopped figs, chopped cranberries and minced ginger. Transfer mixture to the prepared loaf pan. Cover with the plastic wrap overhang; freeze overnight. (Can be made 3 days ahead. Keep frozen.)
To make Blackberry Sauce:
Puree all ingredients in processor. Strain into a medium bowl, pressing on solids to extract as much liquid as possible. Discard solids and cover and refrigerate liquid until cold. (Can be made 2 days ahead. Keep refrigerated.)
To serve:
Turn semifreddo out onto platter. Peel off plastic wrap. Let stand 5 minutes to soften slightly. Slice semifreddo. Place slices on serving plates and drizzle Blackberry Sauce over each slice and serve.