Coconut Dusted and Glazed Mini Donuts
Coconut milk in the batter adds a subtle hint of flavor in every bite and keeps these baked cakey donuts moist.
By Kara and Marni Powers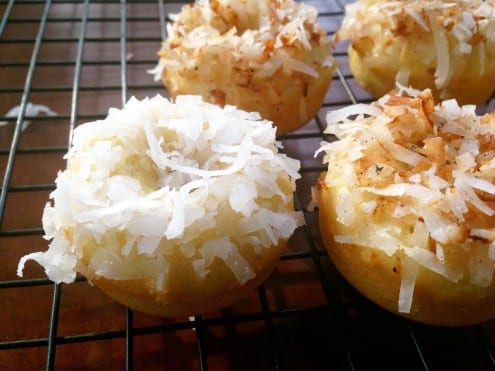 Coconut Dusted and Glazed Mini Donuts
Coconut milk in the batter adds a subtle hint of flavor in every bite and keeps these baked cakey donuts moist.
Author:
Kara and Marni Powers
Ingredients
1½ c all-purpose flour
2½ t baking powder
½ t salt
½ t ground cinnamon
5 T unsalted butter, softened
½ c granulated sugar
1 large egg
½ c light coconut milk
1 t vanilla extract
Coconut Glaze and Topping
1½ c powdered sugar
3 T light coconut milk
1 c sweetened shredded coconut
1 c sweetened toasted coconut
Instructions
Preheat oven to 350 degrees Fahrenheit. Lightly butter a mini donut pan.
In a medium bowl, whisk together flour, baking powder, salt, and cinnamon. Set aside.
In another medium bowl, cream together the butter and sugar with an electric mixer. Add the egg, coconut milk, and vanilla and continue to mix for a 1-2 minutes longer. The mixture will look lumpy. Gradually stir in the dry ingredients and stir until smooth.
With a small spoon, fill the doughnut pan about ⅔ full in each mold. Bake for 10-12 minutes until the rings are slightly golden and firm. Empty them to a wire rack and repeat with the second half of the batter. Allow the donuts to cool slightly before dipping them into the glaze and shredded coconut.
To make the glaze, whisk together the powdered sugar and coconut milk in a bowl until smooth. Generously dip the top halves of the donuts into the glaze, and then dip half of the donuts into the toasted coconut and half in the raw coconut. Use your fingers to evenly coat the surface. Makes 24 mini donuts.
FYI to make toasted coconut, heat a nonstick pan on medium. Add the coconut and stir with a wooden spoon until golden brown, about 4-6 minutes. Set aside to cool before topping.
Kara and Marni Powers
Kara and Marni Powers are twin sister cooks, dining and blogging their way through Boston's North End and beyond. They see the act of cooking and entertaining as a form of creative expression, an art that encourages the mixing of flavors, spices, techniques and stories. Their interest in cooking dates back to their Greek grandmother's open-arms approach, letting them taste her savory creations like her famous spanakopita. Kara and Marni's fascination with food and culture continued during their travels abroad in Europe where they saw firsthand the limitlessness of cooking.