Festive Pomegranate Punch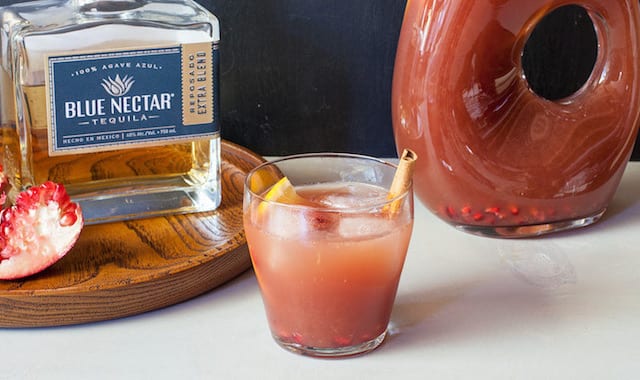 Perfect for a party this festive pomegranate punch is spiked with tequila and a cinnamon syrup.
By Morgan Greenhalgh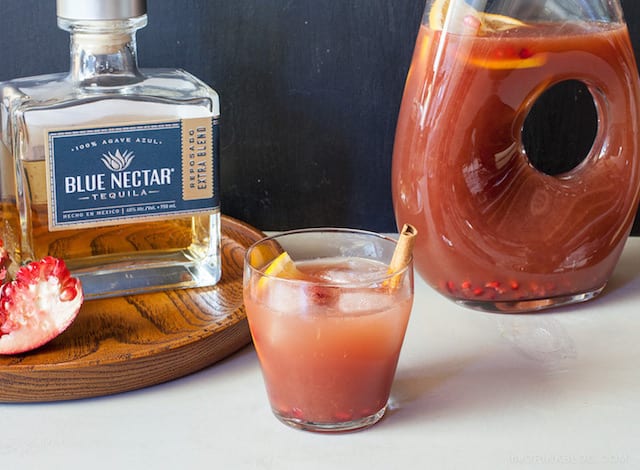 With people gathering to celebrate holidays, life, friends and family, it's a good time to have a punch in your bag of cocktail tricks. Can you make individual cocktails for people? Of course you can! Heck, I even support this. You can also buy a case of beer, open a few wines and chill some champagne. These are all fantastic ways to entertain large groups. A punch though, that gives you a chance to break out the punch bowl! Tequila and Pomegranate Punch!
Now, some people find pomegranate juice a little strong, so I wanted to cut it with something sweet, but also seasonal. Fresh OJ, come to the party!
We had darker tones from the pomegranate and some bright citrus from the OJ — so it had to be something with character, but not overly heavy. Luckily, our friends over at Blue Nectar Tequila sent us some of their Reposado Extra Blend, so I knew we had the perfect candidate. Smokey, oaky, some vanilla, but enough character to stand out with these fall flavors. Yup, this was our alcohol for the punch.
With those three ingredients set, it was just about balancing their ratios and accentuating the perfect fall flavors. Continuing with a recent trend we've had, we made a cinnamon syrup — which is just your basic simple syrup that you make with the addition of cinnamon sticks.
Finally, we added a splash of lemon juice and orange liqueur, because obviously.
Combined together, fall in a glass! Or mug. Or all for yourself!

Festive Pomegranate Punch
Perfect for a party this festive pomegranate punch is spiked with tequila and a cinnamon syrup.
Author:
Morgan Greenhalgh
Recipe Type:
Punch, Cocktail
Ingredients
1 PART POMEGRANATE JUICE
1 PART OJ
1 PART REPOSADO TEQUILA
½ PART ORANGE LIQUEUR
½ PART CINNAMON SYRUP
¼ PART LEMON JUICE
POMEGRANATE SEEDS
ORANGE SLICES
CINNAMON STICKS
GLASS TYPE: PUNCH BOWL WITH ACCOMPANYING GLASSES
Instructions
Mix all liquids together.
Stir to make them nice and happy.
Put into your punch bowl and/or vessel of choice.
No ice please, save that for the glasses.
Add ice to glasses.
Add punch to glasses.
Garnish with pomegranate seeds, orange slices and a cinnamon stick.
Gotta look good.
Serve.
Notes
In this recipe 1 part stands for whatever -- want to make a single glass, say it's 1 ounce. What we did was 1 part was 1 cup, ½ part = ½ cup. Choose your own adventure! Ratios FTW.
Morgan Greenhalgh
Hi there, I'm Morgan! Pleasure to meet you. Behind the camera, that's Alice. She's the strong, quiet type. After a lifetime of love with food, drinks and everything related, we got tired of people asking us "What should I drink this weekend?" Using the power of my English degree (and bartending-certified experience) and her mean photography abilities, we decided to let everyone online know what we're drinking this weekend so they could join in with us! Cheers!