Crunchy Roasted Potatoes with Prosciutto are perfect to bring to the next Holiday Party. Tasty, simple to make, pretty and transportable.
By Judith Klinger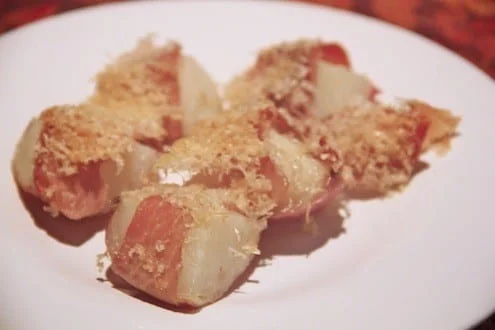 "What can I bring? It is the holiday season after all!" As the words are coming out of your mouth, your brain is flipping thorough your stockpile of recipes.
What can I make that is awesome and quick because you know your ToDo list is more frightening than the thought of a fat man in a red suit stuck in your chimney. Seriously, who came up with that story? An overweight guy squeezing down a filthy dirty chimney?
Crunchy Roasted Potatoes with Prosciutto to the rescue. Tasty, simple to make, pretty and transportable. What more could you ask for?
Crunch Roasted Potatoes Wrapped in Prosciutto
Buon'appetito and enjoy your holidays!
Print
Crunchy Roasted Prosciutto Potatoes
Roasted potatoes wrapped in Prosciutto with a crackling cheese crust.
Author:

Judith Klinger

Prep Time:

10 mins

Cook Time:

25 mins

Total Time:

35 minutes
Scrubbed potatoes cut into bite size wedges
Strips of prosciutto to cover each potato wedge (an average slide of prosciutto will cover 3 to 4 potato wedges)
Grated parmigiano cheese
Sliced shallots
Olive oil
Instructions
Bring a pot of water to a boil, large enough to hold all the cut potato wedges, and lightly salt the water.
Boil the potatoes until they are just about soft. Usually no more than 10 minutes.
Drain and run cold water over the potatoes. This stops the cooking process and it's so much easier to work with cool potatoes instead of scalding hot ones.
Cut or tear the prosciutto into small strips and wrap a strip around each potato wedge.
If you are transporting: wrap the potatoes, and lay them into a plastic container with a cover. The less loose space in the container, the better, but don't crush the potatoes.
I use the 'caterer wrap' to make sure nothing spills or leaks. Using plastic wrap, don't just cover the top of the container, but literally wrap it around the container. Just like they do with suitcases at the airport. Nothing leaks out and nothing seeps in.
Peel and thinly slice 1 or 2 shallots. Mix with the grated cheese. You want a generous coating of cheese, enough to form a crust. Sprinkle a little salt and a generous amount of pepper into the cheese and mix thoroughly.
If you are transporting: put this cheese mixture into a plastic bag and seal it tight.
Ready to Bake:
Coat the bottom of your baking dish with a thin film of olive oil.
Arrange the prosciutto-potato wedges in a single layer in the baking dish. Use a pretty baking dish that can also be used to serve the potatoes.
Sprinkle the cheese mixture over the potato wedges and bake in a 375F/190C oven for approximately 15 minutes. You'll know the dish is ready when the cheese is brown and crispy and the potatoes are hot.
Finish with a drizzle of good extra virgin olive oil.
Judith Klinger
Judith Klinger is a culinary events producer, former Director of Operations for the International Association of Culinary Professionals. Judith and her husband, Jeff Albucher are the creators of Aroma Cucina, an Italian lifestyle blog. She is the author of Cooking Simply The Italian Way.