PARTNER POST – Get creative with any of Castello's uniquely crafted cheeses. Click here for a $1 off coupon to create your own gourmet masterpiece.
A vegetarian and gluten-free sushi roll filled with teriyaki baked tempeh, Wild Garlic Havarti cheese, scallions, carrots, and sesame sautéed shiitake mushrooms.
By Stephanie Kirkos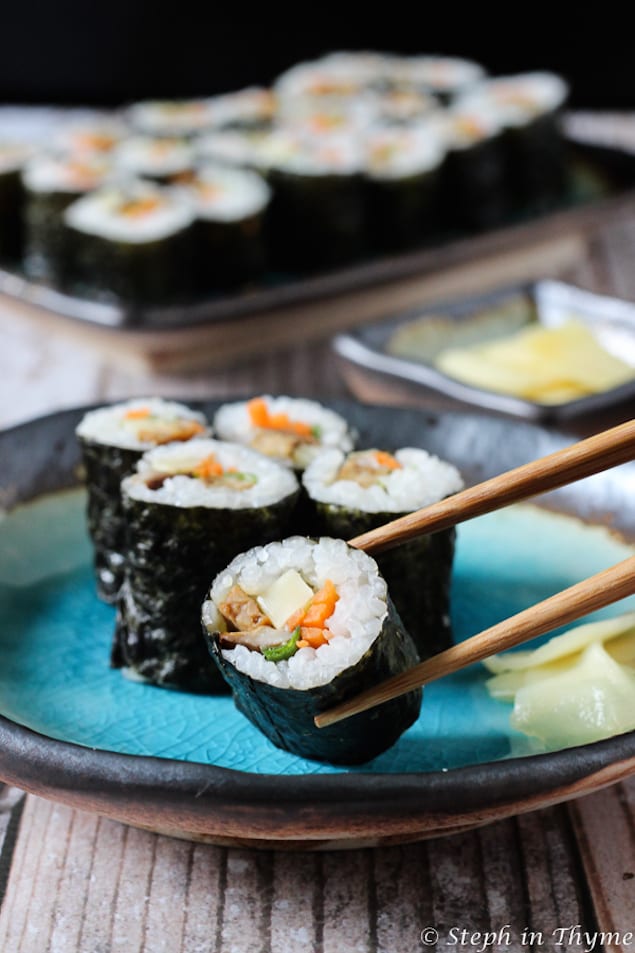 Philadelphia Rolls are sushi menu staples, filled with smoked salmon, cucumber, and cream cheese. I've always loved the creative concept of including cheese in a sushi roll, but the cream cheese texture is too creamy for my taste. I reimagined a Philadelphia Roll more my texture and style. A roll with baked tempeh, sautéed shiitake mushrooms, and crunchy carrots and scallions with earthy, teriyaki, and sesame flavors.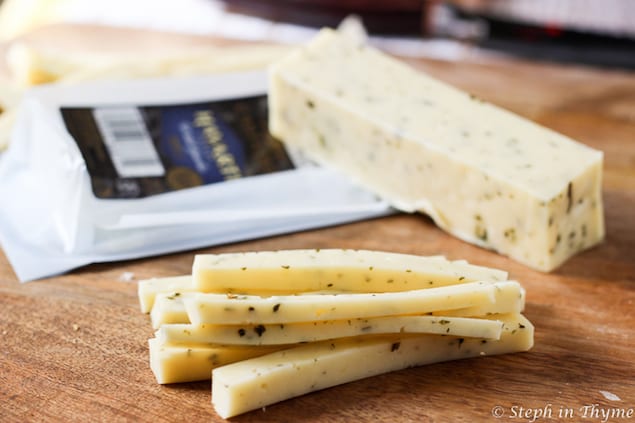 Castello's Wild Garlic Havarti complemented these texture and flavors like a missing puzzle piece needed to complete the full picture. The cheese has a creamy essence, yet firm texture, balancing the chewy tempeh and soft mushrooms. The wild garlic flavor, both sweet and sharp, definitely stands out, but isn't potent or overpowering. I noticed the presence of the cheese with each bite of the sushi roll, impressed with how well and natural it fit.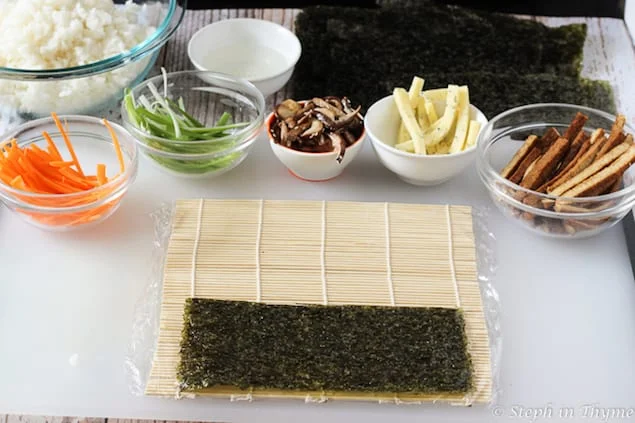 Making your own sushi at home is not nearly as daunting a task as it seems. With a few tools and a bit of practice, anyone can make beautiful, hand rolled sushi at home. It's especially fun as a date-night or gathering with friends. Below I've included some helpful tips to get you rolling:
Ingredients and Tools
Nori, or the seaweed sheets that hold the sushi together, can be picked up from an Asian market or ordered online. I've been seeing nori more and more at my local grocery store, and Whole Foods carries it as well. I recommend using nori that is at least 7? wide and 8? tall.
Not just any rice will do – you want to use Sushi Rice, a white, short grain glutinous rice that is light, fluffy and sticky. It is typically labeled "Sushi Rice" at the store, or "Calrose Rice." You can also use a medium-grain California rice. Just avoid long grain rice, which won't stick together.
Bamboo rolling mats are affordable and typically found in the same places as nori mentioned above. I picked up a kit that also included a wooden sushi paddle. A metal spoon's edges can damage the rice and flatten the light, fluffy texture we want; it could also leave a metallic taste when used to mix in the seasoned vinegar.
Unseasoned rice vinegar is essential for flavoring the sushi rice. Be sure to look at the label carefully as some rice vinegar is sold already seasoned. Making your own seasoned vinegar (called sushi-su) is easy and contains three ingredients – unseasoned rice vinegar, salt, and sugar. Making your own allows you to control the exact taste and sourness, which you can't do with the pre-seasoned bottle.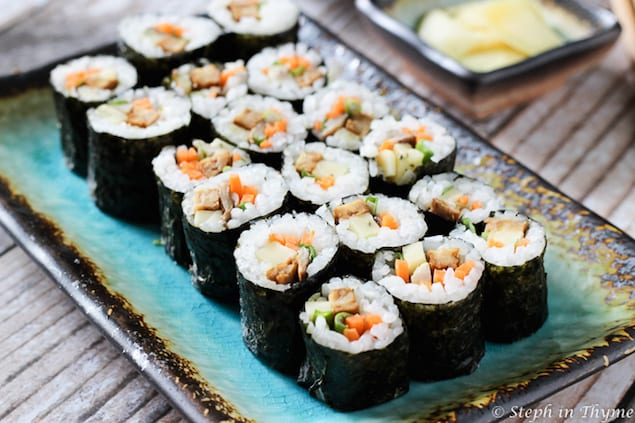 Tips and Tricks – Learning from My Mistakes
Sushi rice can get very sticky. Once it starts sticking to your hands, the effect snowballs – and then you're covered. When I set up my little sushi station, I keep a small bowl with 1/2 cup water and 1/8 rice vinegar. I dip my fingers in this mixture, then shake off the excess, before working with the rice and to clean my hands later. It just makes the process so much easier!
It's sounds silly, but fan the sushi rice as you mix in the seasoned vinegar. You can use a hand fan or a piece of thick cardboard material, mixing with one hand, and fanning with the other. Or, have someone fan the rice while you mix (much easier!). Another option is what I did – set the bowl of hot, cooked rice near a small electric fan set on low. The rice is steaming hot, and using a fan helps to cool it quickly, giving it a glossy shine.
Sprinkle the seasoned vinegar over the cooked rice one tablespoon at a time, rather than pouring it in all at once. Once you sprinkle in a tablespoon, make vertical cutting motions into the rice with your plastic/wooden spoon or paddle, then lift the rice and fold it over with a flipping motion. This helps release the heat and stop any carry-over cooking, while also keeping the rice light and fluffy.
When adding your filling on top of the nori, remember that less is more, especially with the rice. The more you add, the harder it will be to close the roll. When you spread the cooled rice over the nori, you still want to be able to see bits of the nori through the rice. Also, be sure to leave half of an inch at the top of your nori uncovered – this bare piece will help seal the roll together.
Fill your roll with ingredients sliced into long, thin strips. I aim to make my filling ingredients about 3 to 3 1/2 inches long, and about a 1/8 to 1/4 inches wide. If you think you've added too much, err on the side of backing off a bit and either removing some strips, or slicing them a little thinner.
Sushi is one of those foods that makes you feel so proud of what you've created. It's not just a meal, it's an accomplishment. Some of my rolls didn't come out sushi chef, picture perfect…but the act of trying is always fun and memorable. And I get better each and every time.
You want to know the best part about including Wild Garlic Havarti cheese in this roll? Nibbling on the cheese while sipping wine throughout the entire sushi making process. The wild garlic flavor is just enough to make you go, "ooo" without overwhelming and numbing your palate. It went well with a crisp, white wine as I prepared and rolled the sushi.

Feed Your Creativity — Teriyaki Tempeh and Wild Garlic Havarti Sushi Roll
A vegetarian and gluten-free roll filled with teriyaki baked tempeh, Wild Garlic Havarti cheese, scallions, carrots, and sesame sautéed shiitake mushrooms.
Recipe Type:
Appetizer, Main
Cuisine:
Japanese Inspired
Ingredients
Sushi Rice
2 cups sushi rice, rinsed
2¼ cups water
⅓ cup unseasoned rice vinegar
2 tbsp granulated sugar
2 tsp coarse Kosher sea salt
Sushi Rolls
5-6 sheets nori (at least 7" wide, 8" tall)
4 oz gluten-free tempeh
¼ cup gluten-free teriyaki
5 oz thinly sliced shiitake mushrooms
½ tsp sesame oil
1 tsp sesame seeds
2 large carrots, julienned and sliced 3½" long
4 stalks scallions, thinly sliced and cut 3½" long
5 oz Castello Wild Garlic Havarti, sliced ¼" thick
gluten-free tamari, wasabi, pickled ginger for serving
Instructions
Sushi Rice
Place the sushi rice in a large pot and fill with water until the rice is covered. With your fingertips, vigorously swish the rice around the pot until the water becomes too cloudy to see your hand. Drain through a fine mesh strainer, then wash again. Repeat until the water in the pot is clear.
In the same pot, cover the drained rice with 2¼ cups water. Bring to a boil over medium high heat. Cover tightly and reduce heat to simmer. Cook for 15 minutes.
While rice is cooking, whisk the unseasoned rice vinegar, sugar, and salt in a small bowl until the sugar and salt dissolve. Set aside.
Remove pot of rice from heat, keeping the pot covered. Let sit for 10 minutes. Scoop the rice out of the pot into a wide wooden, ceramic, or glass bowl (not metal). Once in the bowl, use a flipping motion with your paddle or spatula to lift the rice, then fold it over onto itself. With your free hand, fan the rice with a piece of thick cardboard or a fan. Or, set the bowl in front of a small electric fan set on low. Lift and fold the rice for 3-5 minutes until you see less steam rising from the rice.
Sprinkle ⅓ of the seasoned vinegar evenly over the rice. Make vertical, cutting motions into the rice and across the length of the bowl with your paddle or spatula, then lift and fold the rice. Repeat for each remaining third of seasoned vinegar.
Cover the top of the bowl lightly with a dish towel (not plastic wrap), then set aside to cool as you prepare the other ingredients. Do not refrigerate, as that will make the rice crunchy.
Sushi Roll
Pre-heat oven to 350 F. Wash the tempeh (about half a brick) and pat dry. Slice the tempeh into thin slices, about 3½" long and a little less than ¼" thick.
Place tempeh in a shallow dish and cover with ¼ cup gluten-free teriyaki. Cover and bake for 15 minutes. Remove the cover and bake for an additional 10 minutes. With a slotted spatula, remove the tempeh from the baking dish and place onto a separate plate to cool (I put my plate in the fridge to cool faster).
As the tempeh is baking, cook the shiitake mushrooms. Heat a medium sized skillet over medium high heat. Add ½ tsp sesame oil and swirl evenly around the pan. Add the thinly sliced mushrooms and toss to coat. Cover and cook for 5-7 minutes, or until softened and shrunk down. Remove from heat and stir in ½ tsp sesame seeds. Place in a separate bowl to cool (I placed the bowl in the fridge to cool faster).
Thinly slice the Havarti into approximately 3½" long strips, about ¼" thick. Julienne the carrots and thinly slice the scallions - both green and white parts - and trim to about 3½" long. Set each aside into their own bowls.
Assembling the Sushi Rolls
Fill a small bowl with ¼ cup water and ⅛ cup rice vinegar. Stir to combine and set next to the bowl of cooled sushi rice.
Wrap a bamboo sushi rolling mat with plastic wrap - this will make rolling and clean-up much easier! Lay the mat on a flat surface, the bamboo pieces running horizontally.
Cut each sheet of nori in half so that each piece is at least 4" tall (it's okay if it's a little longer, some nori run as large as 8½ " tall). Place the nori shiny side down on the bamboo mat, the bottom edge of the nori aligning with the bottom edge of the mat (closest to you).
Dip your fingers in the water/vinegar mixture, shaking off any excess liquid. Take a handful of cooled sushi rice, about ⅓ to ½ cup, and spread it gently across the nori sheet. Cover the nori from edge to edge, but leave the top ½" bare.
Lay a few pieces of carrots and scallions across the center of the rice. Lay a few thin mushrooms across the carrots and scallions. Finally, take 2 pieces of tempeh and 2 pieces of cheese, and lay them across the center on top of the mushrooms.
Place both thumbs at the bottom edge of the bamboo mat (edge closest to you). Lift the mat with your thumbs, then fold it over the filling and roll it in tightly with your other fingers to completely enclose the filling. Gently lift the edge of the bamboo mat folded in with the filling, then continue to roll the sushi roll forward until you reach the end of the mat.
Gently uncurl the bamboo mat to remove the enclosed sushi roll. Wet the blade of a sharp knife with cold water. Slice the sushi roll in half. Slice each half into three equal pieces.
Repeat for all remaining nori. Makes 5-6 sushi rolls, or about 30-36 pieces. Serve immediately with pickled ginger, wasabi paste, and gluten-free tamari.
Notes
Timing Tip: You can save a lot of time by multi-tasking. Cook the rice as the tempeh is baking and mushrooms are sautéing. Cool the tempeh and mushrooms in the fridge (on different plates than the ones you cooked with) as you combine the rice with the seasoned vinegar and prep the other ingredients.
Get creative with any of Castello's uniquely crafted cheeses. Click here for a $1 off coupon to create your own gourmet masterpiece.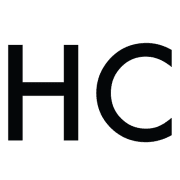 Honest Cooking
The Honest Cooking editorial team handpicks inspiring culinary stories to share with you that we think are beautiful. As an international online culinary magazine with the ambition to truly change the face of online food media we hope to create an inspiring place for serious culinary debate, salivating recipes, interesting food news and international food-fun.