PARTNER POST – Get creative with any of Castello's uniquely crafted cheeses. Click here for a $1 off coupon to create your own gourmet masterpiece.
Cloud-like, fluffy fried dough covered in sweet mounds of powdered sugar. Some cinnamon-sugar apples and a bit of creamy, buttery havarti makes for a delicious twist on these classic favorites.
By Phillip Fryman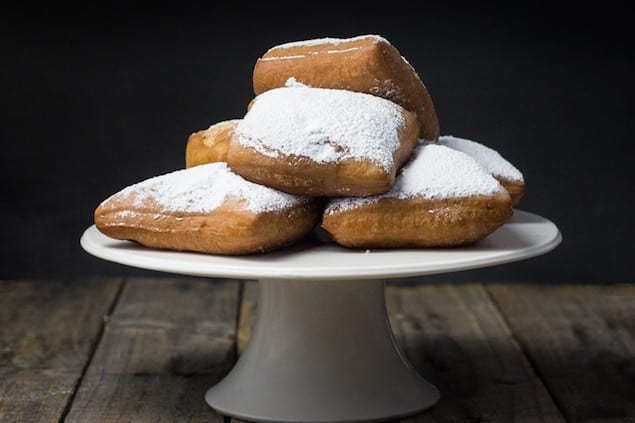 I almost feel like this post doesn't even need any words. The pictures seem to be enough eye-candy on their own.
Seated outside in the vibrant, historic Jackson Square park of the New Orleans French Quarter– café au lait in one hand, benny in the other. A powdered sugar fog slightly blurring your line of sight. This is the true Café du Monde experience that brings so many to this anciently famous NOLA coffee stand.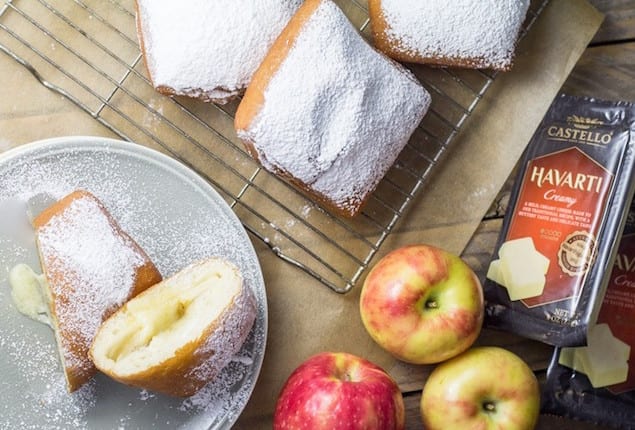 Beignets themselves are a pretty simple idea. Some dough, a fryer, and an endless supply of sweet, sweet daze-inducing sugar.
Around in the States since the 18th century, beignets are a french-founded fried choux pastry. During the earlier days, it's said that the Cajun home cooks would roll leftover yeast bread dough out and toss it into a fryer for a quick breakfast. I'd get up early for that.
A traditional beignet is a thing of magnificent beauty. Light, fluffy like a dream-filled cloud. The sweetness of the powdered sugar (which IS mandatory) brings out the simplistic richness of the yeast-risen dough. These luscious, light treats will just melt in your mouth.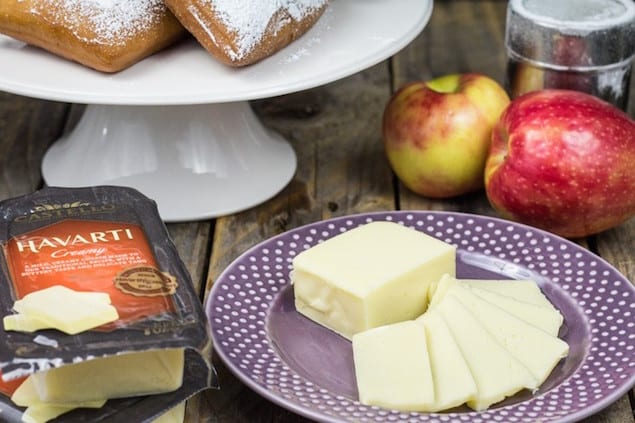 I am usually one of those types that sticks with the traditional, purist varieties of classic favorites. This time, I had an idea that I just had to try. A bit of an experiment. For science, ya know. — Turns out, it was a huge success.
Apples are a pretty common dessert addition. Havarti, on the other hand, may not be your first thought for how to kick up your sweets to a new level.
Havarti is a very soft, extremely creamy cheese. Fairly mild, it turns out that this buttery smooth cheese is perfect to incorporate into the sweeter side of the table. When I partnered with Castello to develop a unique recipe for this versatile cheese, I knew that this was going to be the perfect application.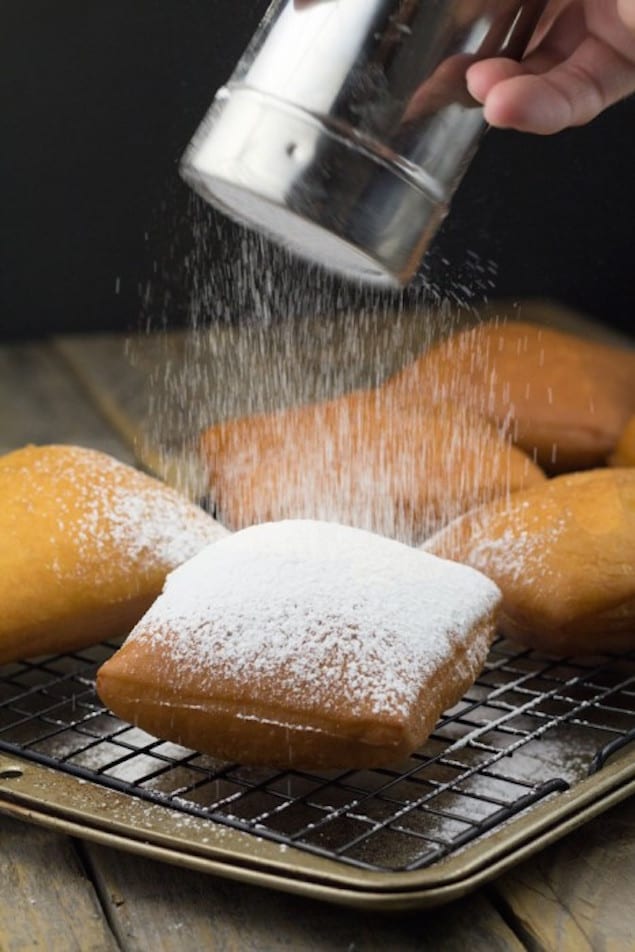 Folded between two thin layers of the yeast-risen, rolled-with-love dough, the cinnamon-sugar coated apple havarti rings melt to become a delicious surprise in the center of these pillow-perfect fried favs. The cheese adds a mouth-watering creaminess to the sweet citrus addition. These will make you wanna slap your Cajun-cookin' mama. [But only after she's shown you how to fry these puppies.]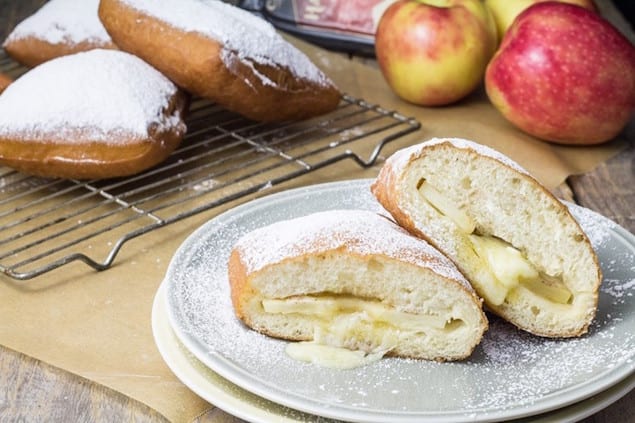 Don't mistake this cheese-stuffed beignet as a savory spin. It is most definitely sweet. I mean, how could it not be with all of that sugar on top, right? Havarti was actually considered to be a dessert cheese by the Danish that blessed us with the recipe. The beautifully mild sweetness lends magically to the sweeter side of your day.
You'll notice the creamy, buttery filling but it wont leave you with an overwhelming bitterness that some more savory cheese would. The Castello Creamy Havarti was the perfect choice for this successful snack experiment.
Perfectly balanced and unique, these beignets are a great way to perk up your next Mardi Gras party, or even just this weekend's brunch. Purists and adventurists alike, these are sure to be a new favorite. Pull up a chair and pour yourself a coffee. You're gonna want to stay for a while.

Feed Your Creativity — Apple and Havarti Filled Beignets
Traditional fried dough beignets with a Southern FATTY twist-- Apple Havarti Beignets. Cinnamon-sugar apples with a bit of creamy, buttery sweet havarti in the center of a light, fluffy traditional beignet. Creamy, sweet dessert recipe.
Serves:
~ 12 apple havarti beignets
Ingredients
Filling
1 apple, peeled/cored/sliced into thin rings
creamy Castello Aged havarti cheese, (see the link above for a coupon)
cinnamon/sugar mix
Beignets
¾ cup warm/hot water
¼ cup plus 1 tablespoon sugar, white granulated
1 plus ¼ teaspoon yeast, active dry
1 egg, beaten
½ teaspoon salt
½ cup evaporated milk
1 teaspoon vanilla bean paste or extract
2 cups bread flour
1 plus ½ cup AP flour
2 plus ½ tablespoons shortening
powdered sugar, to finish
Instructions
Start by adding warm water, yeast, sugar in mixing bowl and let bloom for 10 minutes.
Add egg, evaporated milk, vanilla and combine.
Sift together flours, salt and add about half to the yeast mixture. Combine until roughly mixed.
Add shortening and then remaining flour slowly until combined.
Remove dough from mixer and place on a lightly floured surface for kneading.
Knead dough until smooth. Take care to not over-knead the dough, or it will toughen. Knead only until smooth.
Place in a oiled bowl and cover. Let rise in a warm spot in the kitchen for 2 hours. This step is very important to forming the softness. Don't skimp on the time.
Remove back to the lightly floured surface and roll out to a large rectangle, about ¼ inch.
Core, peel, and thinly slice apples into rings.
Punch out circles of creamy havarti to fit in the center of the apple rings (I used a piping tip to do this - see blog post photos).
Brush away all excess flour on the top of the dough.
Place the apple rings with the havarti in the center on the left rectangular half of the dough, with about an inch between each to allow room to cut.
Sprinkle cinnamon/sugar mixture just over the apples.
Fold the right half over the left. Press between and around each apple slice to seal the dough layers together.
Using a pizza cutter, cut out squares around the apples. Transfer to a lightly floured parchment paper lined baking sheet.
Cover and allow to rest and rise for 30-45 minutes.
Heat peanut oil (vegetable oil works too, but peanut is what I prefer) to 360 F.
Very carefully pick up and fry the beignets. The best approach is to baste the dough with a ladle--
Using the ladle, pour hot oil over top of dough. This helps with the puffing. Flip as needed and continue basting. Cook until beautifully golden.
Drain on paper towels until cooled slightly.
Cover (yes... cover!) in powdered sugar and enjoy while warm for best results.
NOTE: You can freeze these beignets after the cutting process. Place in single layer on baking sheet, place in freezer. After frozen, you can bag the squares together without sticking. To cook, remove to baking sheet and allow to proof/rise overnight in refrigerator or until puffed (2 hours or so) at room temperature. Fry as instructed.
Enjoy! - More recipes and drool-worthy photos on SouthernFATTY.com.
Get creative with any of Castello's uniquely crafted cheeses. Click here for a $1 off coupon to create your own gourmet masterpiece.

Phillip Fryman
SouthernFATTY.com is a Nashville, TN based food blog with everything delicious. Classic Southern favorites with a twist. Loosen your bow tie, mint your julep & stop in for a bite to eat!