The soft goat cheese in this spread is a perfect partner for the mild fava beans and the sharp crispness of the radishes.
Text And Photos By Sarah Kenney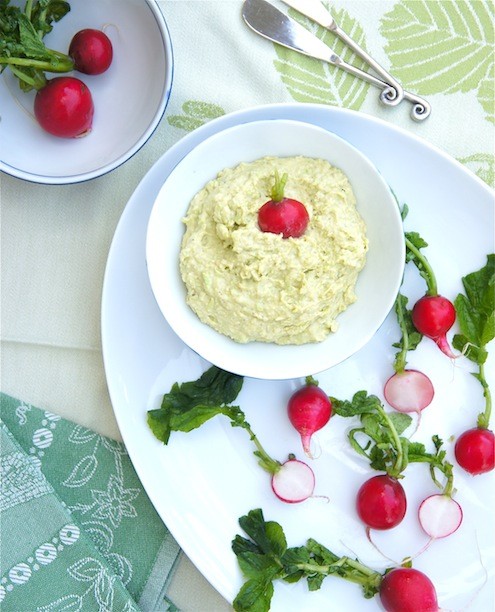 After being so thrilled to find all of those beautiful fava beans at Canino's  Mexican Market here in Houston,  Texas, I knew I was set to make this delicious looking spread I had seen recently.  We had a busy weekend with many activities beginning to wind down for the school year.  I knew there might be some missed meals here and there so I wanted to make something healthy for at home.
The ingredients that went into this dip were simple but so aromatic. It was a wonderful dish to pull together because it is so visually appealing.  The lemon zest and juice with the fresh snippets of tarragon made my nose buds tingle.
The soft goat cheese is a perfect partner for the mild fava beans and the sharp crispness of the radishes.  I just cannot believe I haven't eaten radishes until now.  It has always been one of those childhood activities to sneer at the little red orbs.  They are so good…well…especially spread with this dip.
Fava beans are the prettiest color green. They are fun to shell because the pod is so big that they really "snap" quite satisfactorily!  We had enough of this treat that during the  week we spread it on some crispy fig crackers for a healthy snack.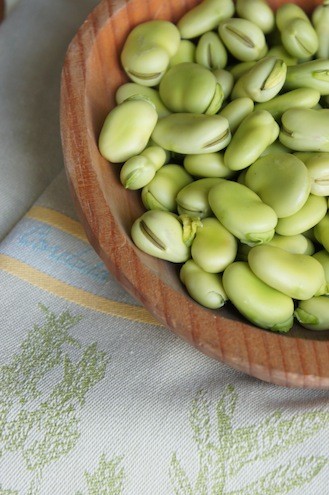 As the school year draws to a close, weekend events help us settle into our new home of Texas.   We  appreciate the diversity of cultures all coming together in this vast city.  We always feel like we've just tipped the edge of discoveries waiting for us here.

Fava Bean And Goat Cheese Spread
Tangy goat cheese and mild fava beans pair together in this creamy healthy spread. Slice up some pretty radishes and carrots and a healthy appetizer is ready.
Ingredients
2 pounds fava beans, shelled
½ cup soft goat cheese (4 oz)
3 tablespoons extra-virgin olive oil
1 teaspoon chopped fresh tarragon
1 teaspoon finely grated lemon zest,
plus 1 tablespoon fresh lemon juice
1 tablespoon water, plus more if needed
1 bunch radishes, halved if large
Instructions
Prepare an ice-water bath.
Bring a saucepan of salted water to boil.
Cook fava beans until tender, 1 to 2 minutes.
Drain, and transfer to ice-water bath. Let cool. Drain, and peel beans.
Pulse beans, goat cheese, oil, tarragon, lemon zest and juice, ½ teaspoon salt, and ¼ teaspoon pepper in a food processor until just combined but still chunky, about 6 or 7 times.
Stir in water.
Add an additional tablespoon water if mixture is too thick.
Transfer to a bowl.
Refrigerate until ready to serve.
Sprinkle with pepper just before serving.
Serve with radishes. (Snippets Notes: I found these imported thin crackers at Whole foods that had bits of figs and hazelnuts in them. I know, it sounds odd but in addition to the radishes, they also added a nice crunch)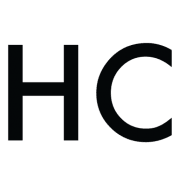 Sarah Kenney
Sarah is an adventurous food photographer and writer who has moved six times with her family from the U.S. to Wales, Japan and back. They are affectionately known as "The Rolling Stones". She is a passionate chef who thinks that their experiences living in Louisiana, Michigan, New York, Missouri, Kansas, and now Texas culminate in shared meals and tales around the table as her family experiences each regions offerings of cuisine and culture. Texas is her current stop and good food and good times are a passion of this southern state. She writes about her foodie adventures in her blog "Snippets of Thyme".