This hearty and fresh farro risotto recipe features spring flavors with peas, mint and pistachio.
By Tian Lee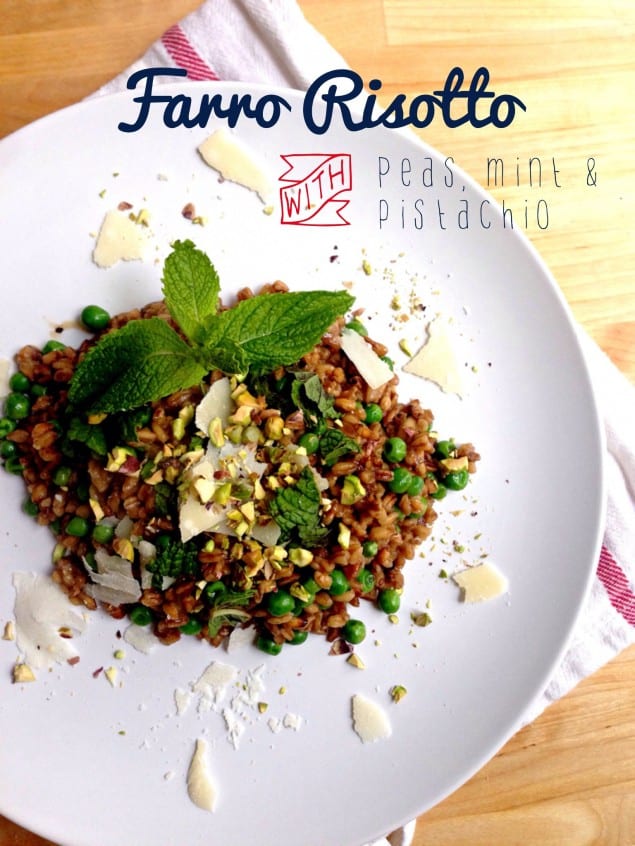 Farro is one of my favorite whole grains. I love its chewy and nutty texture and flavor. Its name is Italian for "emmer wheat," an ancient strain of hard wheat from the Fertile Crescent in western Asia. With a higher fiber and protein content than common wheat, it's a great way to make sure you hit the "whole grain" category in your daily diet and it sustains a hungry belly for quite a while as the grain's complex carbs break down slowly, keeping your energy level stable.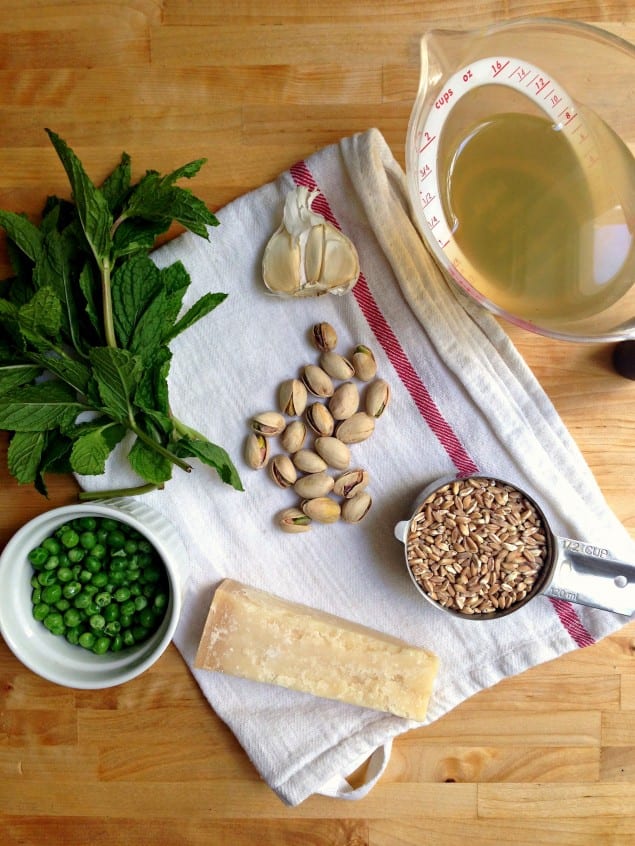 I just came back from a weekend of eating and drinking in Seattle and this was a great meal to make sure we get back on the healthy train (in addition to blending up one of my favorite green smoothies). Also, the sun's been shining this week and I wanted to incorporate some fresh spring and summer ingredients – hence my new recipe for farro risotto with peas, mint and pistachio.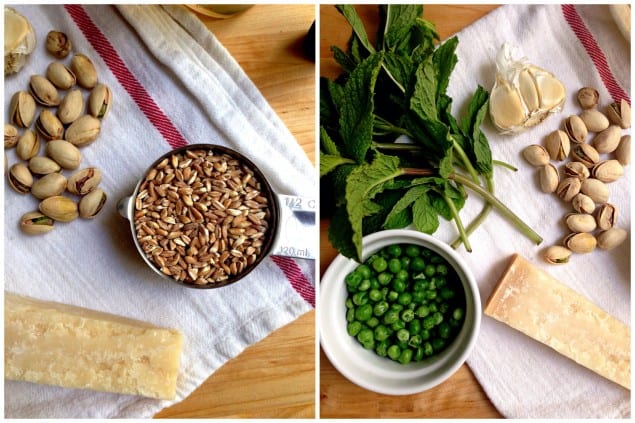 Farro Risotto with Peas, Mint & Pistachio
This hearty and fresh farro risotto recipe features spring flavors with peas, mint and pistachio.
Cuisine:
Vegetarian-Friendly
Ingredients
1 cup pearled farro (pearled means the husk has been removed off the wheat grain)
2 cups chicken broth
2-3 cups water
½ cup pistachios (shelled & chopped roughly)
½ cup frozen peas (thawed)
2 oz aged parmigiano reggiano (shaved; the better the cheese, the better the dish!)
2-3 cloves garlic (minced)
3 tablespoons olive oil
1-2 splashes of white wine
1 small bunch of fresh mint
1 tablespoon butter (optional)
Instructions
Heat up pan to medium heat with olive oil and minced garlic. Saute until garlic is fragrant but not brown and burned.
Pour farro into the pan and toast with oil and fragrant garlic.
Pour chicken stock until it covers the top of the farro and cooks away on medium high heat. Repeat this process about 5-6 times; pouring liquid to cover the farro until the liquid cooks away. Start with two cups chicken broth and continue with two to three cups water until the farro is chewy and soft (and not gritty tasting). (This will take anywhere from 30-40 minutes)
Once farro is ready, there should be a bit of residual broth left that makes the grain look creamy. You can put in 1 tablespoon of butter (this makes it taste extra creamy and rich. 1 tblsp butter = 100 calories).
Pour in thawed peas and warm through.
Rip up pieces of mint leaves toss into farro. Finish with chopped pistachios and shaved aged parmigiano-reggiano.
Notes
*This recipe is easily made vegetarian if you substitute chicken broth with vegetable broth and omit the cheese & butter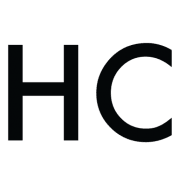 Tian Lee
I'm author of The Juicy Peach Diaries. I believe that being healthy can taste delicious and be awesome. I am not strictly gluten-free, diary-free, or meat-free. I believe we can get all of the nutrients we need from a variety of foods, and that life is all about joy & balance. When I'm not blogging, you'll likely find me on a kayak, in new countries & tasting foods I've never had, or hand-picking fruit on a farm.