Jackie Dodd with some precious advice on how to handle those ever present pumpkins of the season.
By Jackie Dodd
The pie pumpkin season in North America kicks off in late September, early October producing several varieties of this gorgeous orange squash until late fall. Learning the simple steps to roasting this easy to cook vegetable yourself will provide you with an ample supply of pumpkin puree to satisfy your fall baking needs without the aid of a can opener.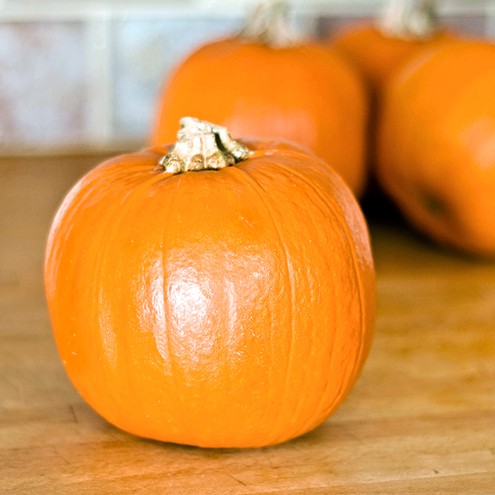 The first question that needs to be answer, when discussing baking with pumpkins is:
What variety can be used? Can you make pie out of those Jack-O-Lantern pumpkins you buy for your kids at the grocery store? What is a PIE pumpkin?
First, you can eat any variety of pumpkin, all are squash and all are edible (DO NOT confuse pie pumpkins with gourds, those are not edible) but not all pumpkins were made to be eaten as pie, so the variety you use will affect your results.
Jack-O-Lantern pumpkins have been breed for decades for qualities that have nothing to do with taste. Although still technically edible, the flavors are not taken into account when breeding and have lead to a watery and grainy texture. Jack-O-Lantern pumpkins are now breed for thick skin that can hold up to carving, as well as a heartiness to survive after being carved, and set outside, housing a candle.
A pie pumpkin is small, about the size of a cantaloupe. They are also known as Sugar Pie, Baby Pam's, Northern Pie or New England Sugar. Most grocery stores will sell pie pumpkins towards the end of October, through November; inquire at your local produce department.
In order to make one standard pie, a single pie pumpkin should be enough.
Steps to Roasting a Pie Pumpkin
Preheat your oven to 400.
Remove the stem by using a butter knife and running it around the edge of the stem to loosen it up then pry it off with the same knife.
Using a large, sharp knife, cut the pumpkin in half down the middle, right through where that stem used to be.
Then scoop out all of the seeds and strings.
Put the pumpkin, cut side down, on a baking sheet covered in tin foil. Make sure the baking dish has sides; the pumpkin may leak while roasting. Cover with foil.
Bake at 400 degrees for 45-60 minutes or until a fork slides into the skin of your pumpkin easily.
Scoop out the inside flesh out of the rind of the pumpkin with a spoon.
If your pumpkin flesh is watery, place on a stack of 5-8 paper towels, top with more paper towels and allow to drain for about 5 minutes.
Jackie Dodd
Jackie Dodd is a California based food blogger who's passion for local ingredients began during her years growing up on farm in Eastern Washington surrounded by apple orchards and peach trees. She is now happy to focus on California produce, and has a passion for baking. Along with her websites, www.domesticfits.com and www.thebeeroness.com, she also writes a column for the Glendale Examiner.