Smooth and nutty, here's why you should try Disaronno, if you haven't already. Check out these easy and delicious cocktail with the Italian amaretto beverage.
I distinctly remember my first taste of Disaronno. It was college friend's 21st birthday and he invited a few people over for a pre-bar drink. It's college, we're broke, and although we attend the Culinary Institute of America, our knowledge of alcohol is still pretty limited. I bring a cake that I expect will pair well with the free bottle of wine leftover from Wines Class or cheap beer. Nope. I've got it all wrong. Instead, he pours glasses of the amaretto liqueur over ice and passes them around. I immediately wonder if he's turning 61 instead of 21.
The first sip washed over my tongue smoothly, bringing sweetness and notes of fruits, while hints of almonds and vanilla wafted up my nose. My friend was ahead of his time. He knew what he was doing. It even paired well with the cake! And this is the night I fell for Disaronno. We even managed to skip the crowded, grimy college bar and stayed in for more cake and another glass of Italian amaretto.
Disaronno is easy to love and easy to incorporate into cocktails or enjoy on its own.
Fun Disaronno Facts
Disaronno has been made since 1525 and it's the world's favorite Italian liqueur, distributed in 160 countries.
Can't do nuts? No Problem! Although almond-forward in flavor, Disaronno doesn't contain any almonds. Not only is it almond-free, it is also 100% nut-free, gluten-free and Kosher-certified. Disaronno for all!
It is perfectly smooth, on the rocks, or with the addition of lemon, proving its versatility in great classics such as the Godfather, Disaronno Sour, as well as other intriguing and innovative cocktails.
No one knows Disaronno's recipe – except for three people. A secret formula was handed down from generation to generation, with no exceptions to who can get their hands on it.
The Disaronno bottle has a unique design and a cap that was inspired by and they partnered with Fashion Houses like Versace, Moschino, Etro & Missoni to create it.
Cocktails
Now it's time to get to know Disaronno through cocktails!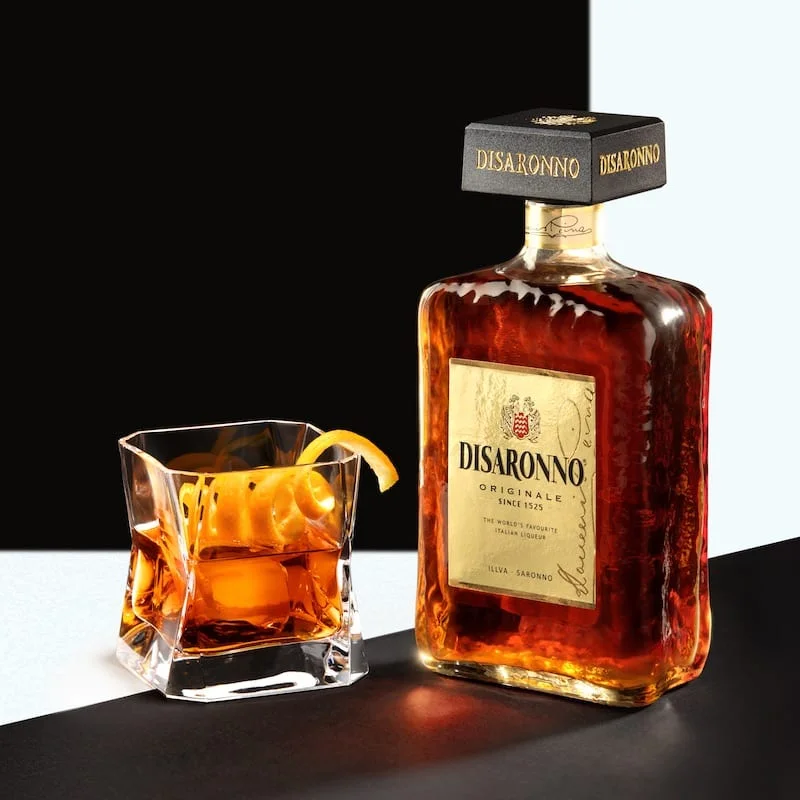 Disaronno Godfather
1 part Disaronno®
1 parts of your favorite whiskey
METHOD:
Pour over large ice and stir.
GARNISH:
Orange twist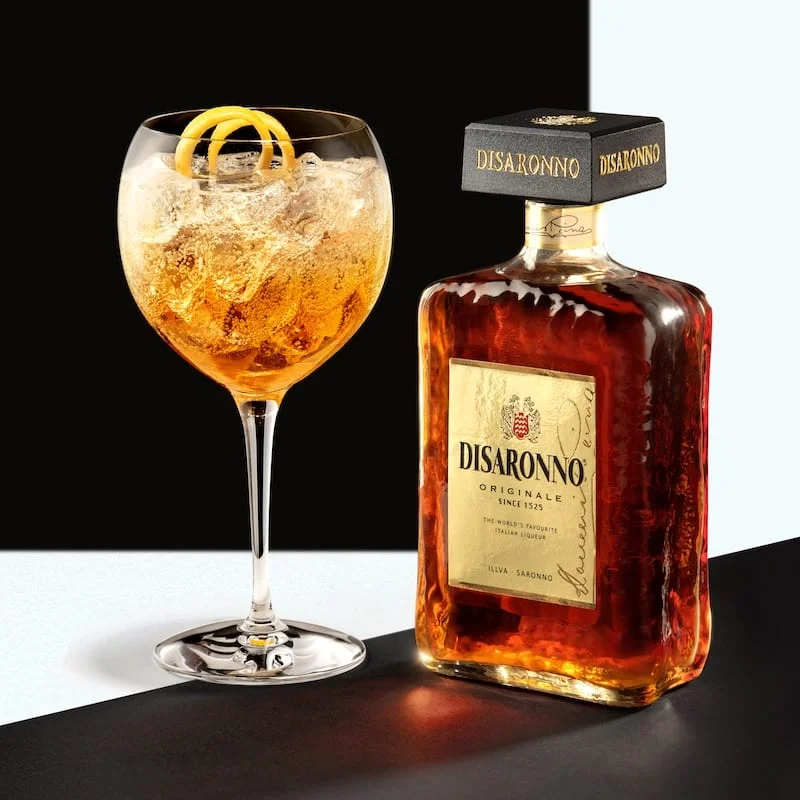 Disaronno Fizz
2 parts Disaronno®
4 parts Soda/Sparkling Water
1 part Fresh Lemon Juice
METHOD:
Pour ingredients over ice and gently stir.
GARNISH:
Lemon slice
Disaronno Italian Sparkler
2 parts Disaronno®
4 parts your favorite Prosecco
1 oz Lemon Juice
METHOD:
Pour ingredients in flute and gently stir.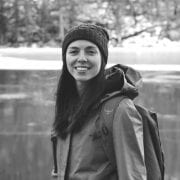 Annelise McAuliffe
Mandatory family outings to the Detroit farmers' market and nightly home-cooked meals cultivated Annelise's respect and curiosity for food. A graduate of The Culinary Institute of America, she spends her free time in New York City recipe testing, eating breakfast all day, and dreaming up international culinary adventures.