Inside the fairy-tale castle Schloss Elmau sits the gourmet outlet Luce d'Oro's, the hotel's 2-Michelin star restaurant.
Perhaps better known for hosting of the G7 Summit in 2015 where former President Barack Obama resided. In 2019 the Luxury Spa Retreat & Cultural Hideaway marks another milestone, rather two. Celebrating a decade of providing a dream destination for guests who seek a world class wellness escape and attaining its second Michelin Star.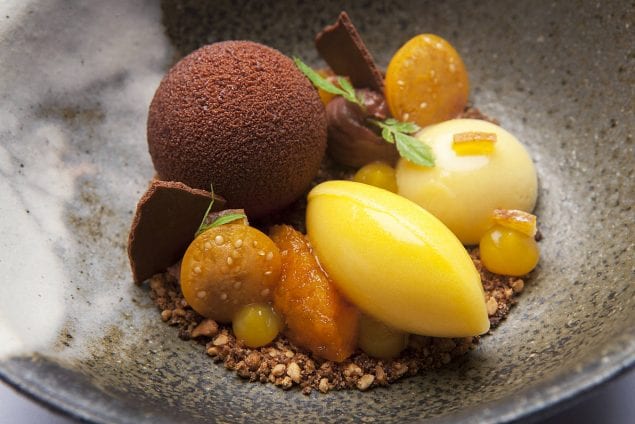 Inside the fairy-tale castle sits the gourmet outlet Luce d'Oro's, the 2-Michelin star restaurant, spearheaded by Executive Chef, Christoph Rainer. Luce d'Oro is not the chef's first introduction to the prestigious Michelin Stars, he was awarded with two Stars in the Guide Michelin and 18 Points in the Gault Millau 2010-2014 in Villa Rothschild and 2014-2017 in the Tigerpalast in Frankfurt am Main. He took over the Luce d`Oro in Schloss Elmau in 2018 which had been awarded with 1 Michelin Star since 2010.
In an original interview with Harper's Bazaar , the article quotes "He's always been one of the top 20 in Germany, trained by the best, including three-Michelin star chef Dieter Muller," shares Mario Corti, culinary director at Schloss Elmau Luxury Spa Retreat & Cultural Hideaway. "You can see it in his hand. It's like art." Rainer takes an experimental approach towards the menu, meshing Japanese flavors with the restaurants' rooted French cuisine.  Working with unique ingredients such as Hokkaido pumpkin, fermented black shallots and Umeboshi pickled plums paired with European ingredients such as dry aged veal or foie gras. In Harper Bazaar he also adds it is"a lighter way of cooking, so that you still feel good after a great meal." Harmonizing Schloss Elamau Luxury Spa Retreat & Cultural Hideaway philosophy to provide a holistic atmosphere to reset the body mind and soul for guests.
ABOUT SCHLOSS ELMAU:
Situated in the heart of the Bavarian Alps, Schloss Elmau is one of the most luxurious spa resorts in Germany. The resort offers 162 rooms and suites, five restaurants, the largest bookstore in any hotel in Germany, and a concert hall. There are six separate and lavish spas, outdoor pools heated 24 hours a day, year-round programs for children and teens, and copious opportunities for hiking, tennis and skiing.
For more information about Schloss Elmau, visit www.schloss-elmau.de.