Fabulous Fusion – Eggplant Macaroni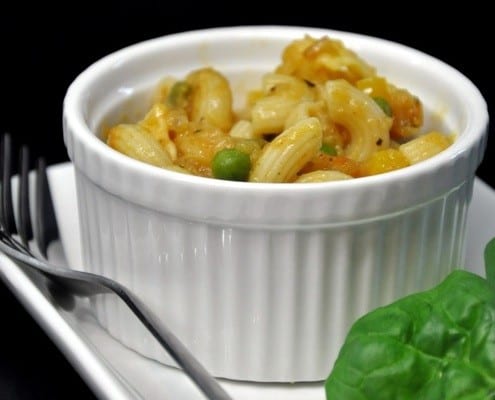 This Eggplant Macaroni is a delicious cultural mix of two cuisines.
By Shuchi Mittal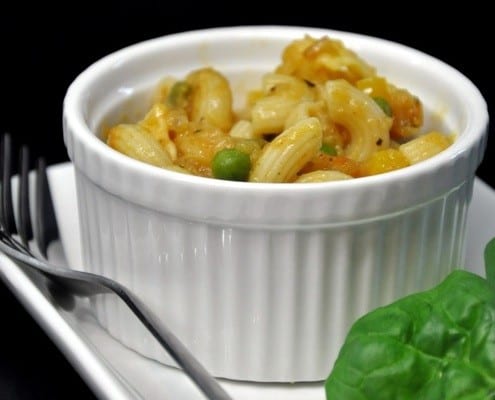 I love eggplant. I love it roasted, fried, barbequed or even in soup. Delicious to the core, it needs no myriad of spices and works ever so well with most vegetables- at least so I think.
In India we have an eggplant dish we call 'Bharta', which when translated into English literally means a 'Mash'. And so it is. It is a mash of beautifully char grilled eggplant with onions, tomatoes and a blend of Indian spices. The more burnt the eggplant is, the better the dish! So that was my inspiration. I decided to use the basics of that dish, without too much oil or spice and let the vegetables do most of the talking. The result- a cultural mix of 2 cuisines, one that overdoses on the spices, and another that's best left without much. I hope this works for you as well as it did for our Sunday dinner! Bon Appetite!
This Eggplant Macaroni is a delicious cultural mix of two cuisines.
Ingredients
1 cup macaroni, boiled
1 medium sized eggplant
1 ripe tomato, finely chopped
1 clove of garlic, crushed
onion, diced
yellow pepper, finely chopped
cup of green peas
teaspoon basil leaves
teaspoon paprika
5-6 fresh mint leaves
2 tablespoons olive oil
Salt & pepper to taste
Instructions
Roast the eggplant by putting it directly on the flame of a stove. Do so evenly for all parts till the skin turns black and begins to flake easily.
Put it in a pot of cold water and leave for a few minutes. You will notice that the skin begins to drop off. Remove all the skin and mash the inside of the eggplant. Keep aside to cool
Heat oil in a pan. Add the garlic and onions and sauté till onions are golden brown.
Add the rest of the ingredients, except the macaroni and the eggplant.
Cover and cook till the tomatoes are tender.
Add the eggplant, along with ¼ cup water and cover to cook for another 4-5 minutes.
Once the eggplant is tender, mash and blend all the ingredients well and sauté on high heat for a few minutes.
Remove from heat, mix in the macaroni and serve hot.
Shuchi Mittal
Shuchi cooks with the heart of a poet. Banker turned chef, she runs the 29. Private Kitchen in NYC focusing on social tasting events, dining experiences and small-scale private events. Using simple & wholesome ingredients, she likes to re-invent homemade Indian flavors into modern tapas & small plates. Her dream? To cook, feed, write, and eventually open her own communal dining cafe - with a published recipe book on the stands.