Add some nutritious ancient grains to your diet with crunchy einkorn wheat berries to top this hearty and comforting mac and cheese.
By Diana Bauman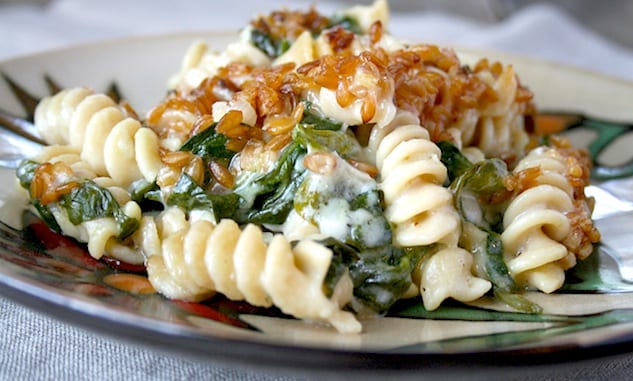 Since learning about the differences between modern and ancient wheats, I've been experimenting more and more with different varieties of ancient grains. Currently, I'm using a lot of einkorn flour, pasta, and wheat berries in my cooking. I enjoy that it has 30% more protein than modern varieties of wheat, has 3 times less gluten, more B vitamins and trace minerals like iron, and especially that it tastes wonderful. Einkorn has a sweet, nuttiness to it that makes both savory and sweet baked treats delightful. Being that we've been experiencing frigid weather in the midwest I've been making heartier comfort foods for my family. We enjoy a good home-made macaroni and cheese so to beef my regular recipe up and give us some added energy during this colder part of the year, I made an einkorn pasta, spinach mac and cheese topped with toasted einkorn wheat berries. Toasting the wheat berries let out a deep, nutty aroma throughout my entire home that left each family member wanting to eat a spoonful of these, still to hard to eat, kernels.

Einkorn Pasta, Spinach Mac and Cheese with Toasted Einkorn Wheat Berries
Einkorn Pasta, Spinach Mac and Cheese with Toasted Einkorn Wheat Berries. A completely comforting and nourishing macaroni and cheese recipe. To save some time in the kitchen, feel free to omit the toasted wheat berries and sprinkle and top with breadcrumbs.
Ingredients
1 cup, organic einkorn wheat berries
2 tbls butter
2 cups water
12 oz package, organic einkorn fusilli
3 tbls salt
4 tbls butter
½ cup onion, finely diced
¼ cup Jovial, organic einkorn flour
2½ cups milk
3 cups cheddar cheese, divided
½ tsp, large granule salt
dash of fresh pepper
3 large handfuls spinach
Instructions
Preheat oven to 375F
In a small skillet, melt 2 tbls butter. Add the wheat berries and cook through, toasting, for 3-5 minutes. It will let out a mouth watering, nutty fragrance. While it's toasting, bring 2 cups of water to a boil in a heavy bottomed sauce pan.
Once toasted, add the wheat berries to the boiling water, lower the heat to a simmer and cook through, uncovered, for 30-35 minutes or until the water has evaporated and the wheat berries are tender.
While the wheat berries are cooking through, bring a large pot of water to a boil, adding 3 tbls of salt. Once the water has come to a rolling boil, add the pasta and cook through for 12 minutes or until al dente. Drain, and set aside.
While the pasta is cooking, in a large skillet or cast iron pan, melt 4 tbls butter. Add the onion and cook through until they just start to turn translucent. Add the flour, and whisk through for about 2-3 minutes.
Slowly add the milk and continue to whisk through until it turns into a sauce and thickens. Add 2 cups of cheese, again, whisking through until it melts and everything comes together into creamy goodness.
Finish by adding a ½ tsp of salt... not too much since the cheese already has salt... and a fresh cracking of pepper.
Once the sauce is done, finish by tossing the spinach with the pasta and then mixing in the creamy cheese sauce.
Pour the creamy pasta into a baking dish and top with the remaining 1 cup of cheese and about ¾ of the cooked einkorn wheat berries.
Bake at 375F for 20-25 minutes, uncovered.
Diana Bauman
As a first generation American, Diana shares her family's traditional Spanish and Mexican recipes at her successful blog Spain In Iowa. She also writes about faith, family, organic gardening, raising backyard chickens and preserving the harvest.