Eggplant and Cauliflower Curry with Tofu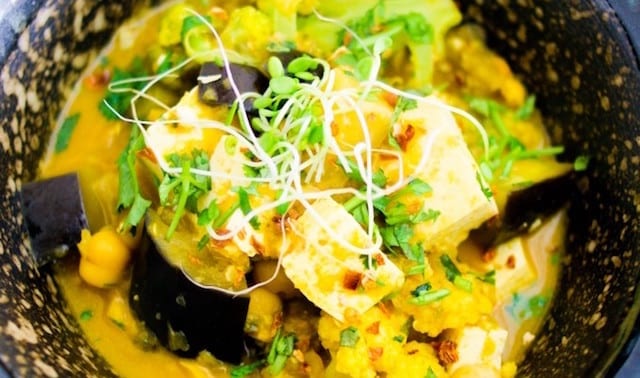 In less than an hour, create a beautiful tofu curry loaded with vegetables like eggplant and cauliflower.
By Kathy Steger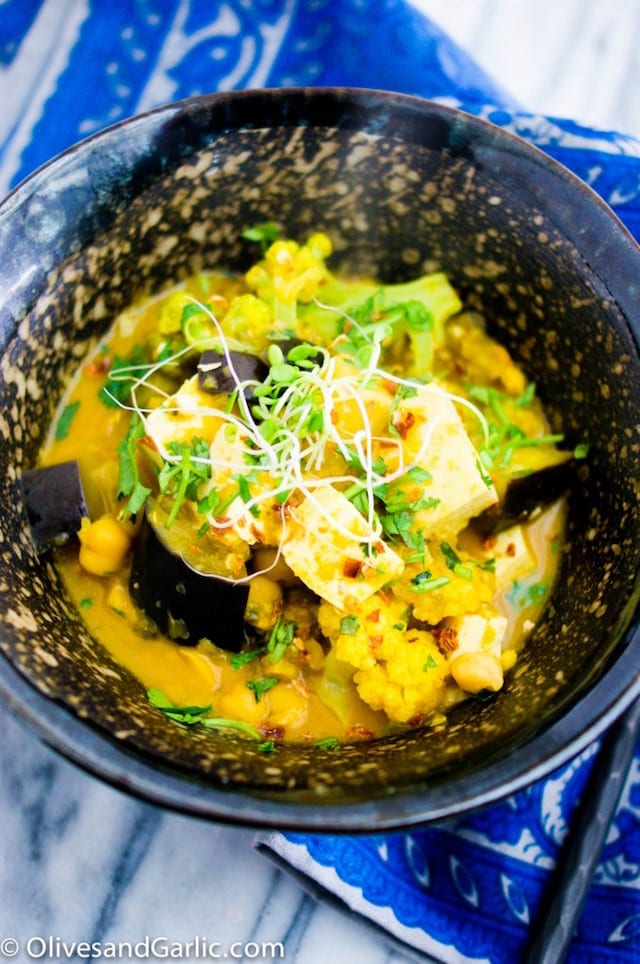 Today I want to share a delicious vegetarian recipe with you that will leave you full and satisfied. This simple curry sauce took me 10 minutes to prepare and the entire dish was done in less than 30 minutes. It's delicious on its own, over rice or with naan bread. For those of you interested in making it a non vegetarian dish I suggest adding shrimp or chicken breast.
Next, be sure to make Coconut Red Curry with Lentils.

Eggplant and Cauliflower Curry with Tofu
In less than an hour, create a beautiful tofu curry loaded with vegetables like eggplant and cauliflower.
Ingredients
1 small eggplant, cubed
1 package firm tofu, pat dry, cubed into 2 inch pieces
½ head cauliflower, cut into florets
1 bunch cilantro, chopped
1 jalapeño, chopped
1 shallot, chopped
4 garlic cloves, smashed and chopped
1 tbsp red thai chili paste
1 tbsp lime juice
1 tbsp ginger, chopped
1 tbsp tomato paste
1 tbsp light brown sugar
1 tsp cumin
1 tsp turmeric
1 can 14.5 oz light coconut milk
Instructions
Heat olive oil in a large skillet, add tofu avoiding overcrowding and fry a few minutes on each side. Tofu will get a light golden color.
To make the curry sauce place all the ingredients from cilantro to turmeric into a blender and pulse until the mixture forms a paste.
Add coconut milk and process until smooth. Transfer to a saucepan and simmer for 10 minutes over medium low heat.
Add eggplant and cauliflower. Simmer another 10 minutes.
Gently fold in tofu. Turn off the heat. Serve over rice, with naan bread or as is.
Kathy Steger
Kathy is a blogger, a career woman and a mom from New Jersey. On her blog, Food Wine Thyme she shares her love for food, travel and family fun. She believes in eating foods that are whole, fresh and homemade.