PARTNER POST — The holiday season is here and it is time to add some Italian flair to your menu with authentic ingredients from Colavita and Perugina's rich Italian chocolate.
Flank steak pinwheels are rolled up with prosciutto and fontina and are nestled on a bed of bright lemon and artichoke risotto. Finish your holiday meal with a stunning presentation of chocolate ravioli.
By Julie Kinch and Debbie Fraser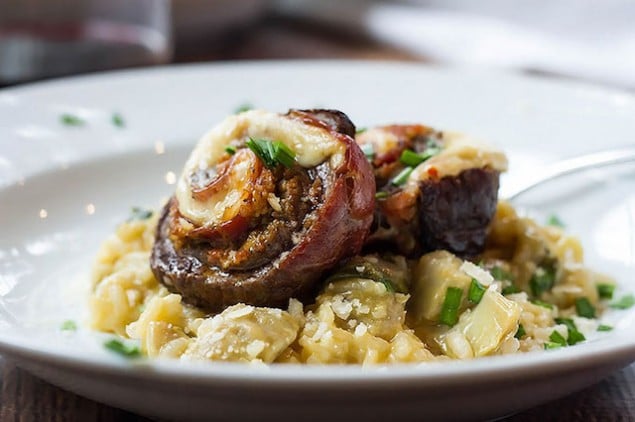 Inspire your holiday menu with Italian ingredients. Creamy artichoke and lemon risotto topped with a tender and cheesy flank steak pinwheel is our main course, and for dessert, a chocolate ravioli stuffed with a sweet mascarpone and raspberry cannoli filling drizzled with a sauce of white chocolate and raspberry liqueur.
Colavita is a family-owned company that has been importing Extra Virgin Olive Oil for over 30 years. Their Extra Virgin Olive Oil is recognized as the #1 Italian brand in the US. It was recently featured on Dr. Oz as Colavita's olive oil was one out of five oils to pass both the chemical and taste tests completed by the National Consumer League according to rules set up by the International Olive Council. We LOVE that.
Colavita authentic Italian specialty products include durum wheat semolina pasta, a full selection of balsamic and wine vinegars, traditional and organic pasta sauces, and olive-canola blended oils. They are the ingredients of choice for chefs in home, restaurant, and professional kitchens.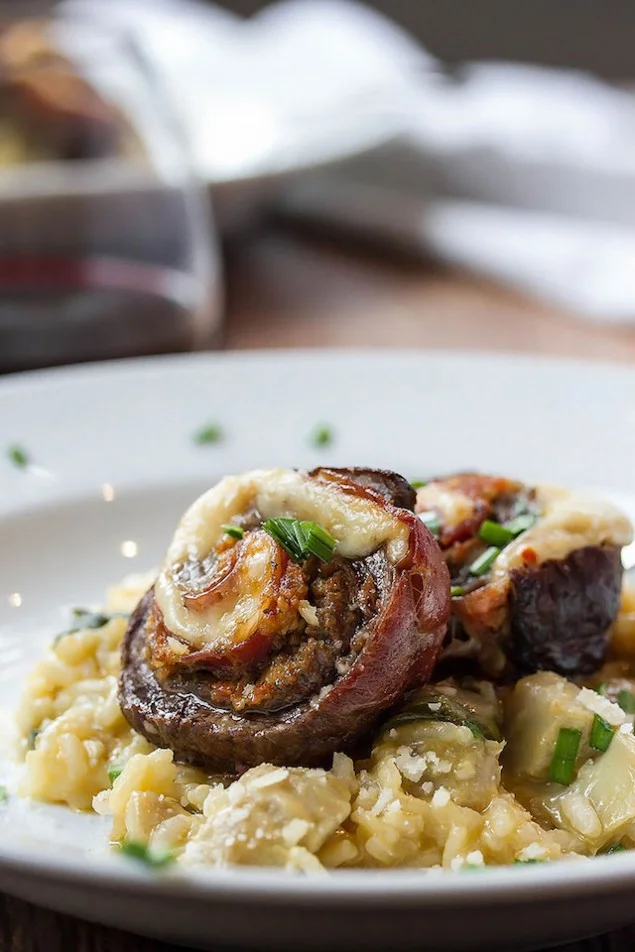 This artichoke and lemon risotto made with Colivita's Arborio Rice, Marinated Artichokes in Extra Virgin Olive Oil, and Roasted Garlic Extra Virgin Olive Oil is a seriously impressive dish. Its creamy, cheesy and packed full of marinated artichokes and lemon flavor.
This would be an absolute perfect dish for a dinner party this season. As I mentioned, its very easy, but it looks so beautiful and elegant on the plate. A dish you would be proud to serve. In fact, Kevin and I are having friends over for dinner on Friday and I think I might make this dish.
Italian Holiday Table: Flank Steak with Artichoke Lemon Risotto
Author:
Julie Kinch & Debbie Fraser
Cuisine:
Italian Inspired
Ingredients
Artichoke and Lemon Risotto
1 lemon
1 jar Colavita Artichoke Hearts in Extra-Virgin Olive Oil
2 tablespoons Colavita Roasted Garlic Extra-Virgin Olive Oil
1 medium onion, finely chopped (about 1½ cups)
1 garlic clove, minced
Coarse salt
2 cups Colavita Arborio Rice
1 cup dry white wine
6 cups chicken stock, homemade is the best
1 bay leaf
3 cups baby spinach
1 cup grated fresh parmesan cheese
2 teaspoons chopped chives
Freshly ground pepper
Flank Steak Pinwheels with Prosciutto and Fontina
750g -1 kg flank steak
1 garlic clove
2 tbsp Colavita Roasted Garlic Extra-Virgin Olive Oil
¼ cup sun-dried tomato pesto
7-8 slices prosciutto
175 g fontina cheese, sliced
1 tsp each salt and pepper
Instructions
Prepare the Flank Steak
Lay the flank steak out on a cutting board or similar and pound it until its about ¼ inch thick. Don't go through the steak! Rub 1 tbsp Colavita Roasted Garlic Olive Oil over both sides of the steak. Sprinkle both sides with salt and pepper.
Mince garlic into a paste rub on one side of the steak. Let sit in fridge for an hour
Preheat oven to 350F
Pull the steak out of the fridge and spread the tomato pesto over the garlic. Lay the slices of prosciutto to cover the steak. Follow with the fontina cheese.
Roll the steak up length-wise like a jelly roll and tie it up with butcher twine.
Make the Risotto
Remove 3 teaspoons grated zest from 1 lemon; halve the lemon, and squeeze out the juice. Set zest and juice aside.
Open the artichokes and drain them. Slice each artichoke heart into quarters. Set aside
Bring stock and bay leaf to a simmer in a medium saucepan over medium-high heat; reduce heat to low.
Add the oil to a medium sized pot over medium heat. Add onion, garlic, and a pinch of salt; cook until the onion is slightly softened, about 6 minutes. Add the artichokes and the Colavita Arborio Rice. Give it a stir. Pour in the wine, and stir until wine has almost been absorbed.
Add enough hot stock (about 1 cup) to just cover rice. Cook, stirring, until stock is almost absorbed. Continue adding stock, ¾ cup at a time, waiting for each addition to be absorbed before adding the next; cook, stirring, until rice is tender but still slightly firm in the center, 20 to 25 minutes. Remove from heat, and discard bay leaf.
Season with salt and pepper. Add parmesan cheese, lemon zest, and the lemon juice; stir until the cheese is melted and rice is moist and creamy. Serve immediately, garnished with chives and lemon zest.
Cook the Flank Steak
Heat up an oven proof skillet (cast iron works great for this) to medium-high heat. When the pan is nice and hot, add a little oil to the pan and brown all sides. Remove the meat from the heat and transfer to a cutting board, but keep the pan hot. Slice into pieces about 1 inch thick. Try to keep the butcher twine around each slice. Place back into the skillet and place in oven for 5 mins. Remove from oven when the cheese is all melted and the steaks are nice and browned.
To serve, spoon some rice into a bowl or onto a plate, sprinkle with parmesan cheese and fresh chives. Top with 2 flank steak pinwheels but make sure to remove the butcher string before you serve.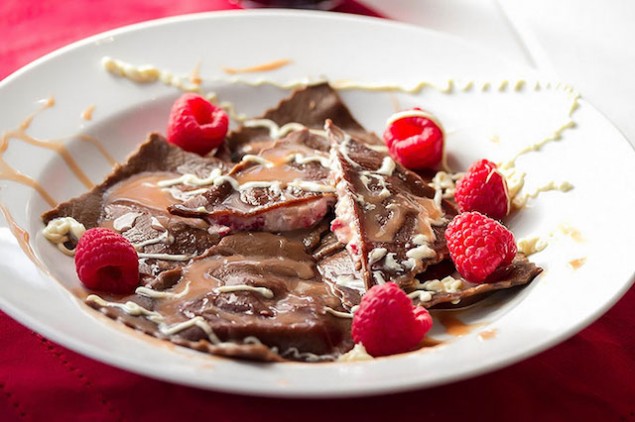 Since 1907, Perugina has been committed to the art of creating only the highest quality chocolate bars, pralines, hard candy, and panettone. Perugina products are all made in Perugia, Italy and exclusively imported and distributed in the U.S. by Colavita.
This dessert is a little more time consuming, but well worth the effort. This dish is made with Perugina's 51% Cacao Chocolate Bar, Extra Virgin Olive Oil, and White Chocolate Bar. The chocolate in the ravioli is subtle but adds a flavor dimension to the pasta that is interesting and awesome! Not too sweet either, but when filled with the creamy raspberry cannoli filling, its the perfect balance of sweet and savory.
As good as these are, you don't want to make too many at once. You only need a four or five ravioli per person and they taste best when fresh. However you could always make a bunch and freeze them as they freeze quite well.
Italian Holiday Table: Chocolate Ravioli Dessert
Author:
Julie Kinch and Debbie Fraser
Cuisine:
Italian Inspired
Ingredients
Raspberry Cannoli Filling
¾ cup ricotta cheese
¼ cup mascarpone cheese
½ tsp cinnamon
¼ cup powdered sugar
1 cup fresh raspberries (or ¾ cup thawed raspberries)
Chocolate Pasta
2 oz Perugina 51% Cacao Chocolate Bar
1 ½ cups flour
2 eggs
2 tbsp Colavita Cold Pressed Extra-Virgin Olive Oil
White Chocolate Sauce
1.5 oz Perugina White Chocolate Bar
2 tbsp raspberry chocolate liqueur or plain raspberry liqueur
Instructions
Make the Pasta
Add the flour and salt to a large bowl and make a well in the middle. Add the eggs and the oil to the well. Mix the eggs and oil into the flour.
Melt the chocolate in the microwave or in a glass bowl over hot water. Add the melted chocolate to the flour mixture and mix well.
Knead the dough well until the dough gets very smooth. If its too stiff just add a little bit more oil. Only about half a teaspoon at a time. Then cover with saran wrap and let it rest for an hour on the counter before you use it.
Make the Filling
In a medium sized bowl, add the cheeses, raspberries, sugar and cinnamon. Stir well, cover, and set aside in the fridge till you are ready to use it.
Make the Ravioli
Cut the pasta dough into quarters. Put one of the quarters through the pasta maker to make a long sheet of pasta. Alternatively you can roll it out into a long rectangle.
Lay the dough on a flat surface and spoon a tablespoon of the filling into the middle of the rectangle and all the way down the sheet about 3 inches apart. Beat the egg and brush it in a square shape around each mound of filling.
Roll another quarter of dough in the pasta maker or with a rolling pin. Place the second sheet on top of the second, covering the first one. Press the top layer against the bottom layer firmly around the filling to seal it.
Cut out the pasta squares and discard the scraps. Continue until all the pasta is made.
Boil a big pot of water while you make the ravioli. When you are ready to cook it, drop the pasta into the boiling water and cook for about 5 mins or until the ravioli floats.
While the pasta is cooking, make the white chocolate sauce by melting the chocolate in a glass bowl and then adding the liqueur to it and mix well. Set aside. If it gets cool and hard, just heat it up a little to melt it again.
Place a few of the ravioli on a plate and sprinkle a few raspberries on top and then the white chocolate sauce.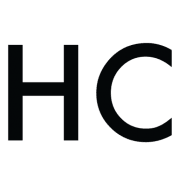 Julie Kinch & Debbie Fraser
Were a mother daughter duo that love food and love to cook. We also enjoy a good cocktail, especially when we are cooking together. We believe health, nutrition and fitness are so important so we make healthy dishes made with real, whole food, but we also like to indulge a little here and there.