Crunchy peppery arugula is a match made in heaven with creamy eggplant and a tangy dressing.
By Sawsan Abu Farha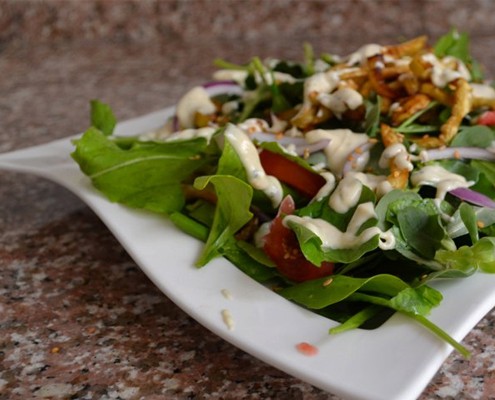 I love  arugula. It is the perfect combination between crunchy and peppery.It makes the perfect back ground to a refreshing salad or maybe three. Need something to add crunch to your cheese sandwich? You made pizza and think of topping it with some greens to make it healthy or healthier?
Arugula comes to the rescue every time.
This particular salad is another result of my research in the name of science. We had this at a little italian restaurant we love, it combined crunchy peppery arugula, creamy eggplant, tangy dressing and I just knew I had to try to recreate  this at home.  
Eggplant arugula salad with tahini dressing
crunchy peppery arugula, creamy eggplant, tangy dressing
Ingredients
1 bunch of washed arugula leaves
1 red onion cut into thin slices
1 medium tomato deseeded and cut into strips
1 medium eggplant peeled and cut into strips
1 teaspoon (5 grams)toasted sesame seeds
For the dressing
juice of half a lemon
2 tablespoons (30 grams) of tahini
a pinch of salt
enough water to thin it out
Instructions
Add the tahini to the lemon juice and salt and whisk, it will slowly turn to a lighter color and become thicker.
Slowly add the water and whisk till you get it to a drizzling consistency
Set aside
Fry or grill your eggplant slices and season them with a pinch of salt while still hot.
Toss the arugula, tomatoes and onions then arrange in a serving plate
sprinkle with sesame seeds and drizzle with tahini sauce