Soon to be located in San Sebastián, Paulo Airaudo is starting his new solo path where he'll experiment with new directions in the kitchen in his most personal venture: opening a signature restaurant in the luscious region of Donostia-San Sebastián.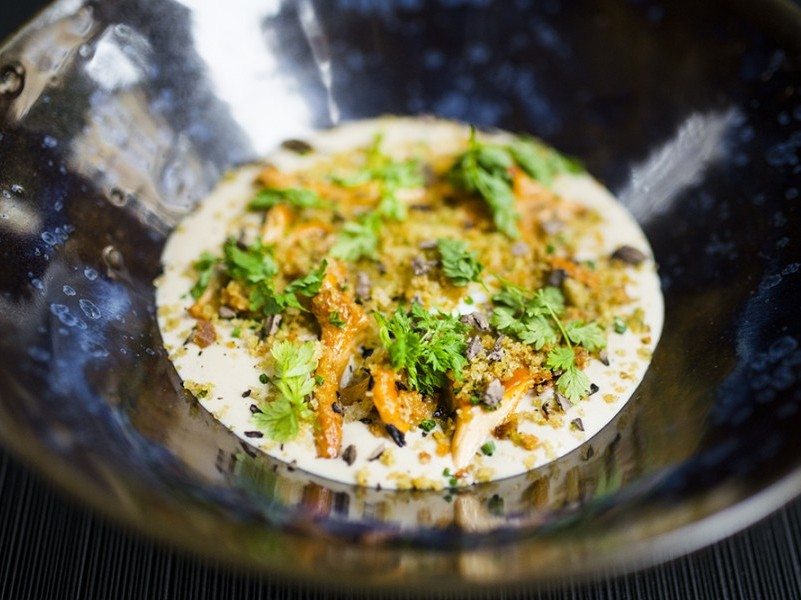 Airaudo announced his departure from La Bottega in Geneva, his last co-created project that accoladed him with a Michelin star soon after opening, now to start a new solo path in Spain. This new direction in his career involve events and collaborations of all kinds to add exotic and new experiences to his already unique style.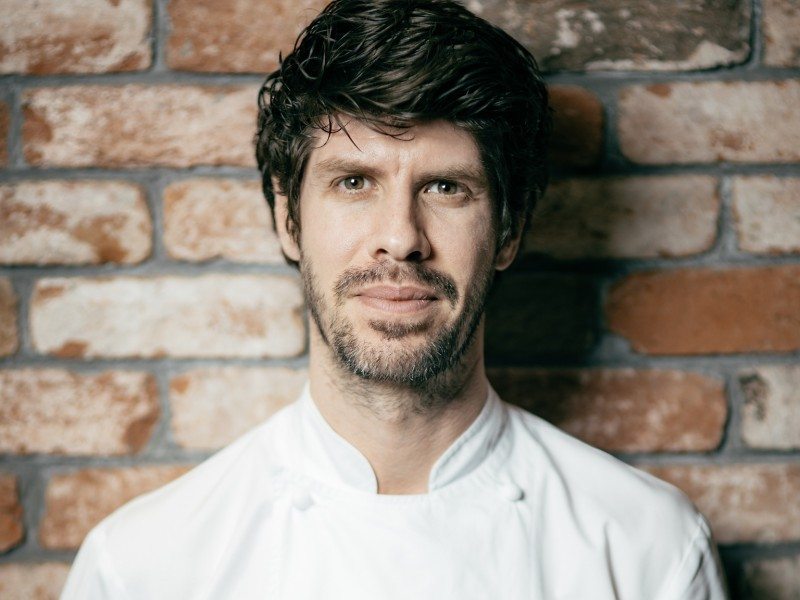 Italo-Argentinean Star Chef Paulo Airaudo.
The following recipe is just but an example of what awaits in his new restaurant.
Print
Mushroom velouté
50

gr Butter

100

gr Shallots

300

gr Mushrooms

200

gr Chanterelles trimmings

160

gr Cream
Salt & Pepper
Bread crumbs
150

gr Bread Crumbs

20

gr Garlic

30

gr Parsley
Sea Salt
Chanterelle Escabeche
250

gr Water

75

gr Champagne Vinager

75

gr Olive oil

5

gr Thyme

8

gr Garlic

2

gr Coriander seeds

6

gr Salt

3

gr White peppercorn

50

gr Chanterelles
Other
14

gr Sautéed Chanterelles

8

gr Fresh Chervil
Instructions
Soft boiled egg
Cook the egg in a water bath to 75 ºC for 14 minutes.
Mushroom velouté
In a medium size pan, cook and leat sweat the butter the sliced shallots, mushrooms and chanterelles until golden.
Add the cream and cook for more 1 min. Set aside for 2 minutes.
Blend until soft and creamy, pass through fine chinoise, add salt and pepper and reserve.
Bread crumbs
Crush finely n a blender 150 gr of fresh bread. Deep fry the bread, until it is golden brown. Set aside on kitchen paper to drain the excess oil.
Chop the garlic and parsley and season the bread with it. Add sea salt to taste.
Chanterelles Escabeche
Bring to a boil all the ingredients except the chanterelles. Add the chanterelles, place in a container and let cool down.
Presentation
In a bowl, place the soft-boiled egg and cover with the velouté.
On top of it place the sautéed chanterelles & escabeche, the bread crumbs and finish with fresh chervil.