Food-focused travelers will find fresh ingredients, a growing downtown scene, and innovative culinary minds in Boise and all at lower prices and with smaller crowds than large cities.
By Annelise McAuliffe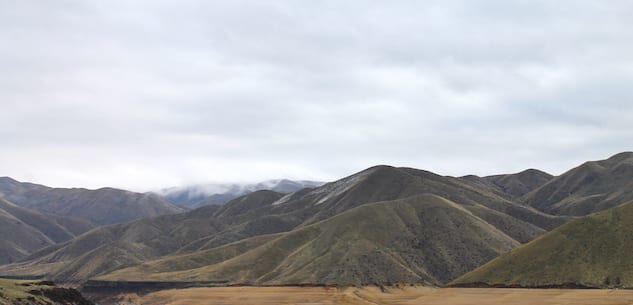 Boise, Idaho is the place to be if you have a creative food mind. Prices are lower than large cities, people are friendly, fresh ingredients are abundant, and interesting drinks of all kinds, including wine, are being made. We dove into the city for a long weekend to find some quick favorites to visit if you are in town. Of course not everything could be sampled and explored so be sure to get adventurous and deviate from this plan. Not to mention, new eateries and watering holes are regularly opening.
The Local's Breakfast
Goldy's Breakfast Bistro seems to be a local favorite that is packed even on a weekday morning. You can find a variety of classic meat, potato, and egg breakfast dishes to start your day. After, head to the nearby Basque block for your cultural fill.
In a brand new space, shared with Boise Fry Co., Guru Donuts is a sweet-smelling shop to entice eaters of all ages and help you reach "donut nirvana". Locally sourced ingredients, such as flours, are mixed into their daily-made donut recipes so you can feel extra good as you indulge. As is seemingly a common theme in Boise, great customer service will welcome you the second you walk in the door, no matter how small and sugar-crazed you may be. Owner, Faith, will answer any question and with a smile. On an all-too quick visit, we sampled the Chai Caramel donut as well as the Hipsterberry. Both were amazing, but the vegan Hipsterberry donut made with coconut milk and flax seeds, although you could never tell, won the heart's eternal devotion. This is a great breakfast or snack to grab and then go catch a peek at the Idaho State Capitol.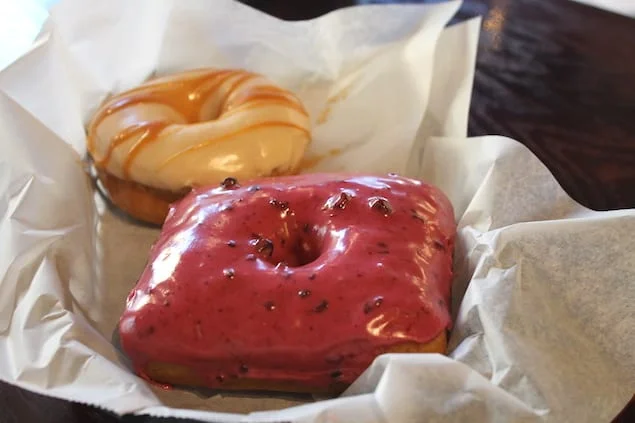 Flying M Coffeehouse is a quick walk from downtown and sure to be hopping on a weekend morning. They freshly bake a variety or breakfast items and sweets daily to accompany your onsite-roasted cup of joe. If you are into cozy, hip coffeeshops, be sure to head to Flying M.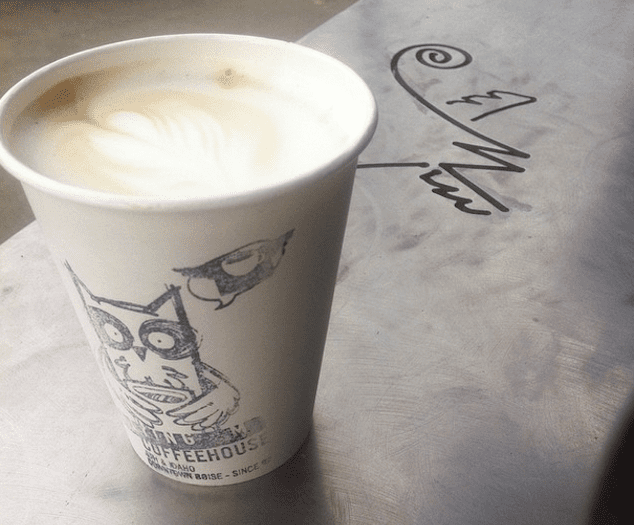 Lunch Favorites
Keep things casual for lunch and head to The Dish, a bistro-style eatery serving bold comfort food. While their menu is ever-changing, we could never forget the Lamb Belly BLT with curry aioli, mango chutney, tomato, and arugula on grilled flat bread. The comfort food is on point with cheese curds, beet home fries, and seductive beignets. After lunch, take a walk over to Freak Alley near West Bannock Street for a look at curated graffiti art.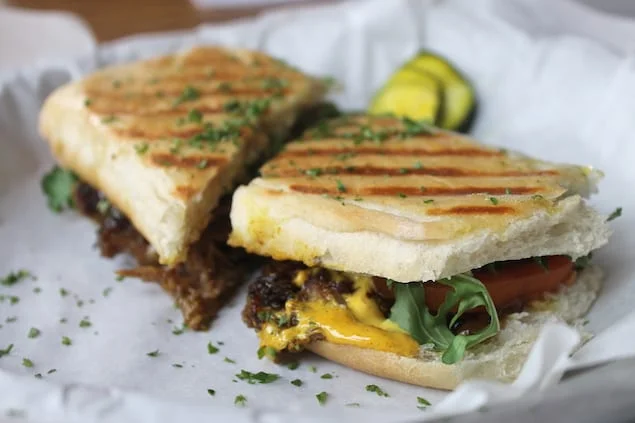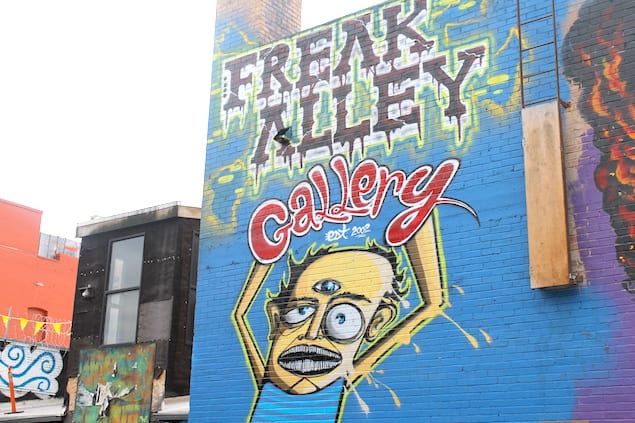 Sweets
Opened in 1901, the Idaho Candy Company is a quick stop for affordable, locally made Boise favorites that are perfect to take back home with you. We tried a few of the iconic sweets from the shop like the Idaho Spud, a potato-shaped candy filled with marshmallow, covered in dark chocolate, and peppered with coconut.
Take a drive a few minutes outside of downtown for a bite of ice cream on your way to a hiking trail, a stop at the dam, or a visit to the Old Idaho State Penitentiary This cold treat, The Baked Potato, you would only order in Idaho at The Westside Drive-In,so have a bite while you can. Coated in cocoa powder, the ice cream dish contains no potato, but looks surprisingly similar.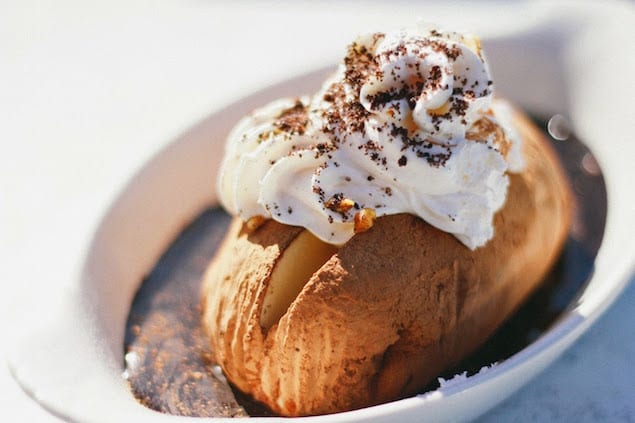 Traveling Triplets
The Business Meeting Spot
Located inside Hotel 43, is Chandler's, a steakhouse fit for fancy dates and business meetings with a welcoming, patient waitstaff. While the food may be standard steakhouse fare with Idaho ingredients, you will find a unique 10 Minute Martini that is a must-try. Likewise, the spot has won Wine Spectator awards for their impressive wine list. On some weeknights you will also be graced with the sounds of a small jazz band.
Innovative Cocktails and Bites
The Modern Hotel and Bar was the buzz of the town with the people of Boise. While we cannot attest to the accommodations, although they also received rave reviews, we can speak for their food and bar program. The smart space gathered travelers and locals on a Saturday night for innovative cocktail and bites. The bartenders were even willing to go off menu and concoct something as a surprise based off drinkers' preferences. We only wish we had time to return and check out their brunch.
Modern Dining to Blow You Away
Slightly outside of downtown, State & Lemp will thrust you into a dining adventure you may not forget. The small space with only 18 seats beckons you to get to know your neighbors to the tune of a beautiful tasting menu that changes about once a month. The meal was so enjoyable, you can find an entire article here.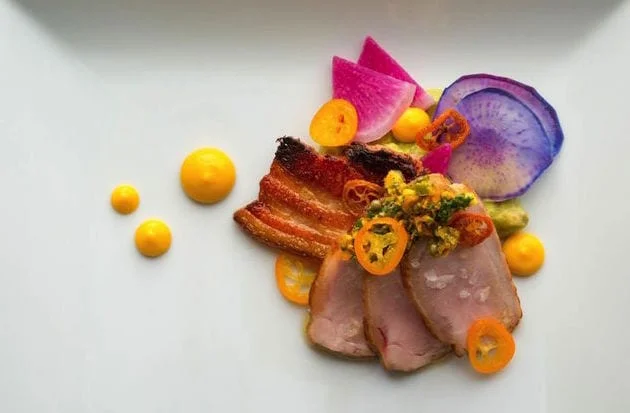 Guy Hand
For Sips of Local Wines, Beers, Cocktails (And Beyond)
Be green and stop by Bittercreek Alehouse and Red Feather Lounge before dinner for low-power happy hour. With 39 beers on tap, a book of cocktails, and the lights turned down to save energy you will have a great time sipping local favorites or favorites of the locals. Nibble on an Idaho smoked trout platter and get a taste of the nearby seafood industry. Want to know what happens to your food waste after you leave the table? Ask to see the worms they have thriving in the basement and reducing our uneaten waste.
Check out Cinder Wines' for an impressive taste of just some of the bottles that can come from the newer Snake River Valley region.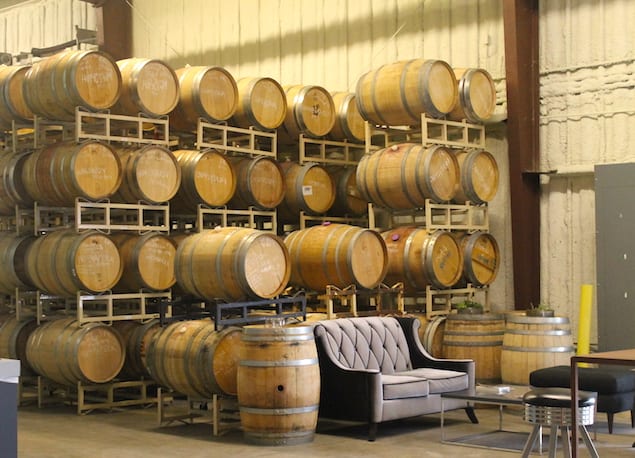 For further wine exploration, take a walk to Bodovino. Grab a glass and taste away! This is your chance to sample one to five ounce pours of wines "on tap" that are dispensed through a machine from the bottles. These are wines from around the world that you haven't heard of or may not have the opportunity to try in another setting.
Downton, located on the Basque Block is Bardenay, a restaurant and distillery. Take a peek at the distilling process while you enjoy drinks made with their spirits. Fun fact, Bardenay was the first restaurant-distiller in the United States.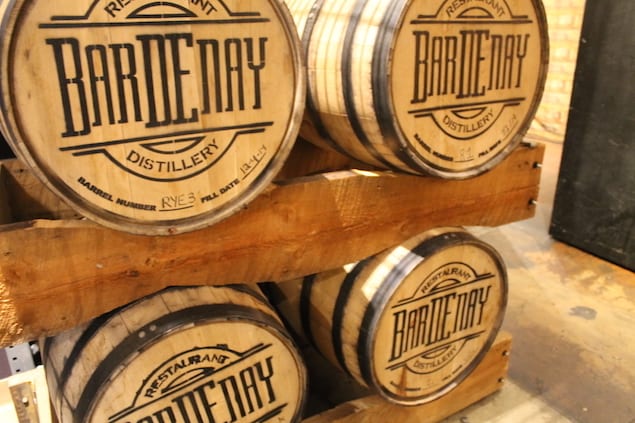 A Bite of Basque Culture
With a large population of Spanish-Basque, Boise has a rich culture and food scene that is meant to be discovered, tasted, and enjoyed. Head to the Basque Museum or one of the many Basque restaurants in the area. A favorite of the trip was The Basque Market, serving paella and tapas with regional wines and ciders, too. For more info on the Basque culinary scene, head here.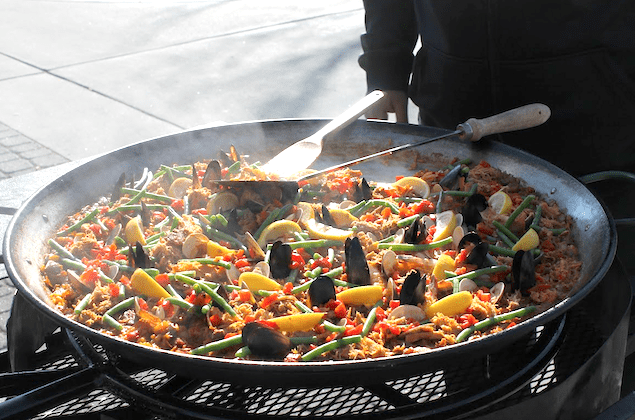 Idaho-Italian Food
Boise loves it's local ingredients and that isn't forgotten when you dine at Àlavita, an Italian restaurant. Dive into their menu of daily-made fresh pastas and appetizers like a personal favorite, the creamy burrata. Find out more about their menu, here.
In close proximity to outdoor adventures, travel to Boise and have your fill of a unique culinary food scene.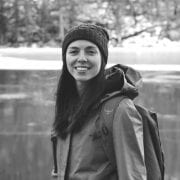 Annelise McAuliffe
Mandatory family outings to the Detroit farmers' market and nightly home-cooked meals cultivated Annelise's respect and curiosity for food. A graduate of The Culinary Institute of America, she spends her free time in New York City recipe testing, eating breakfast all day, and dreaming up international culinary adventures.