When you're having the kind of meal that is crying out for bread to go alongside it, why not make your own? This no-knead rosemary focaccia bread takes just one hour to make from start to finish.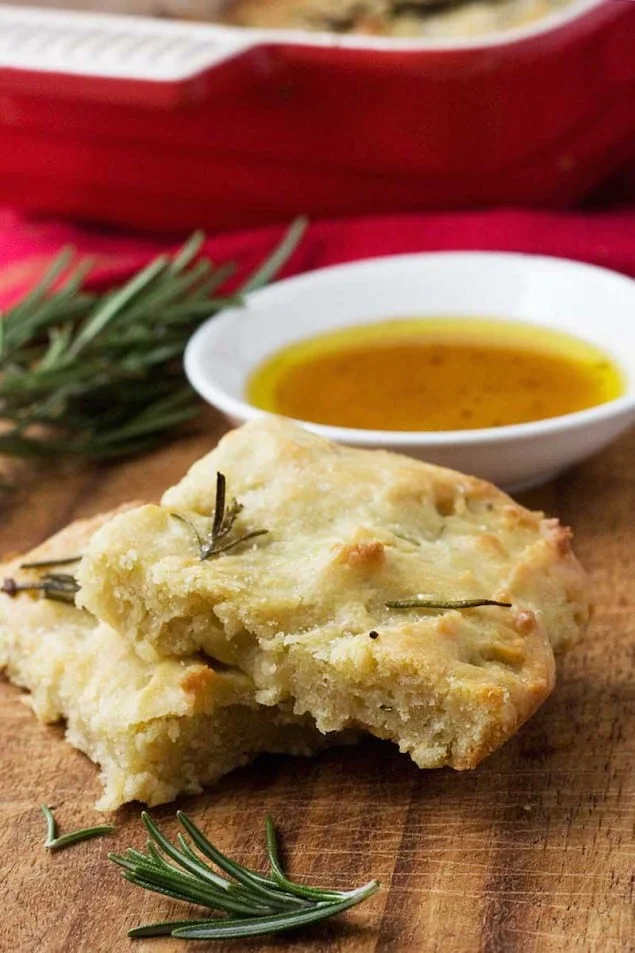 I find there are two kinds of people in life when it comes to food trends (or anything really). Trailblazers who have the ideas and try them out … and the rest of us.
Well, I don't know about you but I'm definitely in the 'jump on the bandwagon five years after everyone else has already tried it' camp! Nothing wrong with that, of course. You still get to try out a great new-to-you idea, and I always find there are plenty of other 'lagger-behinders' to keep me company!
Anyway, I more than suspect that I'm catching on zillions of years later than the majority with this no-knead rosemary focaccia bread – but I'm not making any excuses because it's absolutely delicious. And so quick and easy to make.
It goes perfectly with a simple spaghetti Bolognese, or roasted veggies with chicken or fish, or a baked chicken dish with lots of sauce to mop up. I always drizzle it with olive oil and sprinkle it with salt before eating it, and it tastes just perfect.
So I'm very excited to have discovered this recipe for my own homemade version, no matter how late I am to the party.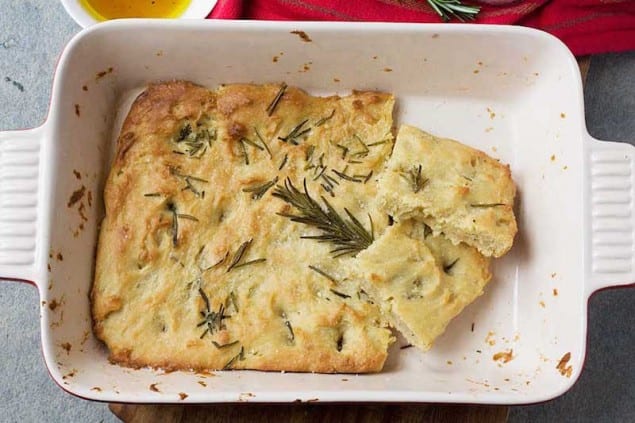 The first time I made it I did try to bake it in a cast iron skillet, but realised that it was too big for the amount of dough I'd made. If you do decide to use an oven-proof skillet, just make sure you use a small one (no more than 8 inches in diameter), or double the amount of dough you make.
The wonderful thing about this bread (well, one of them, because there are many wonderful things about it!) is that you can have it on the table within an hour of getting the packet of flour out of the cupboard. No small thing for bread, which usually needs hours of tedious kneading and proving.
See Also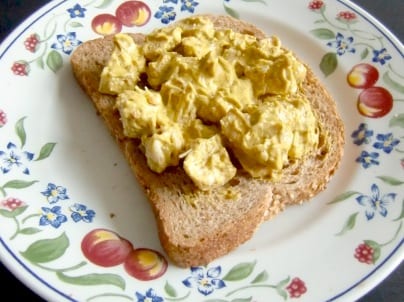 I chose to keep my bread pretty simple this time, with just a bit of sea salt and fresh rosemary speckled through it and sprinkled on top. But there's no reason why you couldn't mix crushed garlic into the dough, or sundried tomatoes. Or how about scattering parmesan on top before baking? This bread can be as versatile as you'd like it to be.
The addition of the olive oil through the dough and on top of this no-knead rosemary focaccia bread leaves you with a lovely crunchy top and a soft and fluffy middle. You can't imagine how delicious it tastes dipped in olive oil and balsamic vinegar straight out of the oven!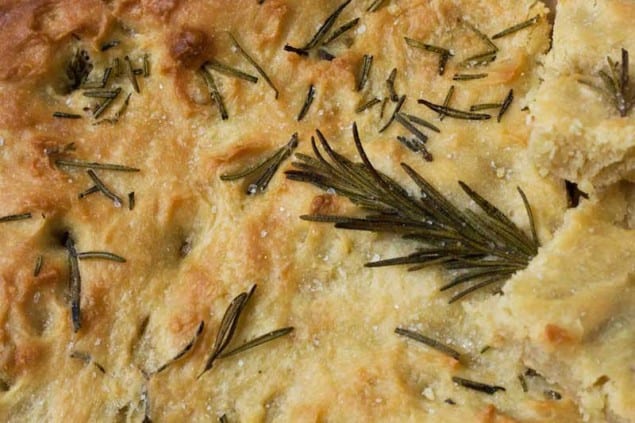 Print

Easy Rosemary Focaccia Bread
---
Description
When you're having the kind of meal that is crying out for bread to go alongside it, why not make your own? This no-knead rosemary focaccia bread takes just one hour to make from start to finish.
---
½ teaspoon

sugar

¾ cup

175ml warm water

1½ teaspoons

rapid-rise / fast-acting yeast

1¾ cups

about

240 grams

strong bread flour

½ teaspoon

salt

2 tablespoons

olive oil (plus extra for drizzling and dipping)
about

2 tablespoons

fresh rosemary (chopped)
balsamic vinegar (optional – for dipping!)
---
Instructions
Preheat the oven to 205C / 400F
Pour the water on top of the sugar in a large bowl, then swirl to dissolve the sugar.
Add the yeast and swirl again, then leave for 5 minutes to dissolve.
Add one cup of the flour to the sugar/water/yeast, along with the olive oil, and stir with a wooden spoon until all the flour is combined.
Add the rest of the flour and stir vigorously until a ball of dough forms.
Add a tiny bit more flour if the dough is still really sticky. Then, with floured hands, turn out onto a well-floured board or clean work surface and fold in about half of the rosemary.
Press the dough into a pan or skillet (about 10 x 7 inches or equivalent, or 8 inches in diameter), pushing it right to the edges.
Push your thumb into the dough in a few places to make indentations, then sprinkle over the rest of the rosemary and drizzle over a bit more olive oil (roughly a tablespoon).
Bake for about 20 minutes or until the bread is golden and has pulled away from the sides of the pan.
Serve warm with a dish of olive oil and balsamic vinegar (optional but highly recommended!).
Helen Buxton
Hi, I'm Helen. I'm originally from the UK but currently live between the UK, Greece and Australia with my husband (it's a long story!) We'll get settled eventually! I love nothing better than to travel the world … and sample the local street food. I absolutely love (attempting to!) put together flavours and fresh ingredients from all over the world – just so long as the recipes are easy peasy to make!