A comforting dish, this easy paneer bhurji is a perfect vegetarian sandwich filling and delicious served with roti.
By Shweta Arora
Paneer Bhurji is a spicy and easy paneer dish made by cooking crumbled paneer cheese with onion, tomatoes, and Indian spices. It can be served with Indian flat-breads like roti, chapati, paratha or naan. It's the perfect kind of recipe when you want something quick and delicious. This bhurji can also be used as a stuffing for your paratha or a filling for your sandwich.
Paneer is a great source of protein for vegetarians. I love paneer and could probably eat it almost everyday. This Paneer Bhurji dish is perfect if you are just venturing the cooking world. Its really really easy and requires no fancy cutting or cooking techniques. Just remember for making the perfect and best bhurji 1. use fresh and good quality paneer 2. soak it in warm water for making it soft, drain and them crumble 3. Make Bhurji fresh and serve immediately.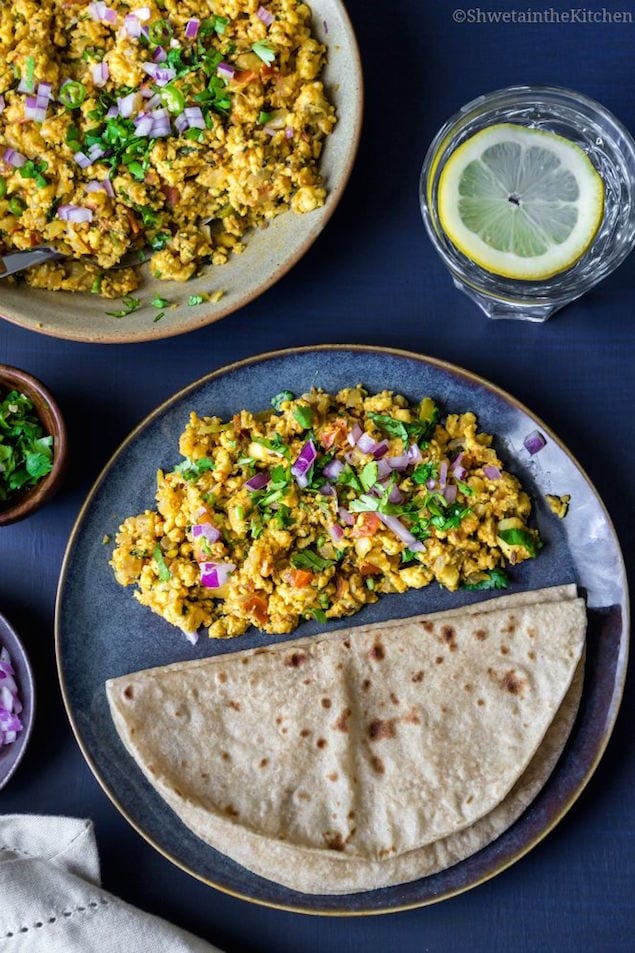 Easy Paneer Bhurji
A comforting dish, this easy paneer bhurji is a perfect vegetarian sandwich filling and delicious served with roti.
Ingredients
2 tbsp oil or butter (used 1 tbsp oil and 1 tbsp butter)
1 tsp cumin seeds
1 block of paneer crumbled (400 gms)
1 medium onion finely chopped
2-3 green chillies finely chopped
2-3 garlic cloves minced (or 1 tsp garlic paste)
1 inch ginger piece grated (or 1 tsp ginger paste)
2 medium tomatoes finely chopped
¼ tsp turmeric powder
1 tsp red chilli powder (or to taste)
1 tsp garam masala (or to taste)
juice of half lemon (or to taste)
handful of coriander leaves finely chopped
salt and pepper to taste
Instructions
In a cooking vessel heat oil and butter. Once hot and butter has melted add the cumin seeds. When they splutter add onions and sauté. Cook till they just turn translucent and then add the green chillies, ginger and garlic. Cook till the onions turn completely translucent and raw garlic smell disappears. (don't brown the onions). Now add tomatoes, salt,pepper and turmeric powder. Cook till tomatoes become soft.
Next add the chili powder and garam masala. Cook the masala for 2 mins then add crumbled paneer and mix well. Cook for 2-5 mins and then add the lemon juice and coriander leaves.
That's it, our spicy and easy Paneer Bhurji is ready. Serve it hot with some freshly made Chapati (Indian flatbread) or bread. Enjoy!!
Shweta Arora
Author,photographer and editor for my Food Blog - ShwetaintheKitchen. Follow me on my journey to create delicious homemade recipes from various cuisines. Bon appétit!