This hearty One-Pot Stuffed Pepper Soup is easy, healthy, and scrumptious. It's the perfect busy weeknight meal.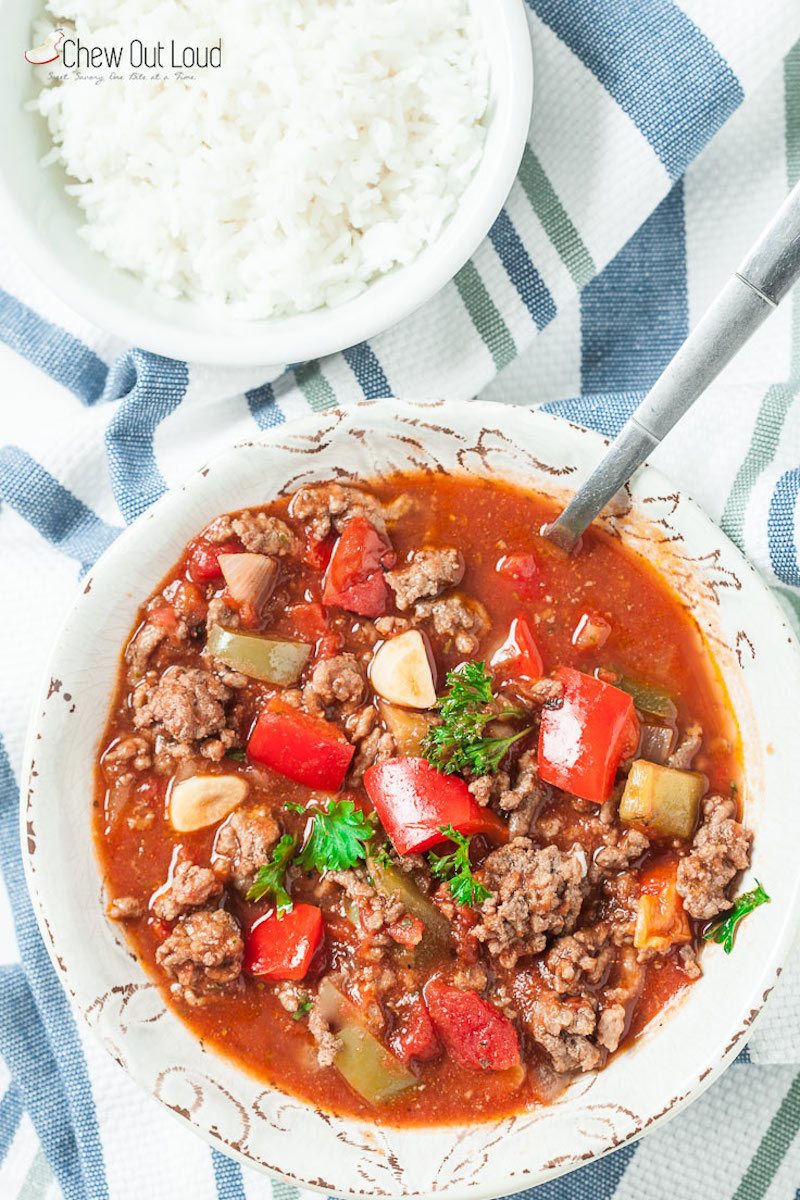 This Stuffed Pepper Soup was one of our favorite meals last month, when we were trying not to pine over the loss of breadsticks on our month-long stint with Whole30.
The Littles enjoyed hearty bowls of this flavorful soup with big scoops of fluffy rice. And though I'm a rice geek, this stuffed pepper soup is more than satisfying on its own. Hubby and I were totally content with this soup sans rice.
Reasons this One-Pot Stuffed Pepper Soup gets immediate raves:
It's supremely comforting, especially on a chilly evening
It's entirely healthy and guiltless slurping
It comes together in less than an hour
Leftovers are fantastic
About #4…I'm all for leftovers, particularly on busy weeknights. You can easily switch it up a bit by adding other grains, noodles, or potatoes to renew the dish for the next day.
Here's to guiltless, delicious goodness all in one easy pot.
Enjoy.

One-Pot Stuffed Pepper Soup
Ingredients
2 lbs lean ground beef
2 TB olive oil
1 onion, diced
6 garlic cloves, chopped
2 red bell peppers, seeded and diced
2 green bell peppers, seeded and diced
2 cans (14.5 each) fire-roasted diced tomatoes with juices
32 oz good quality beef broth
2 tsp ground cumin
2 tsp dried oregano
kosher salt and freshly ground black pepper
Garnishes: freshly chopped cilantro, parsley, and shredded cheddar cheese
Optional: 2 cups long grain white rice cooked
Instructions
In a large heavy pot or Dutch oven over medium-high heat, brown the beef until cooked through. Drain in a colander. Meanwhile, add olive oil and cook onions over medium-high heat, stirring, 2 min. Add garlic and stir another minute. Add peppers, 1 tsp kosher salt, ¼ tsp black pepper, and continue stirring for 2-3 minutes.
Add the diced tomatoes with juices, broth, cumin, oregano. Bring to a simmer. Cover and simmer 30 minutes. (If you haven't cooked the rice yet, now is a great time to do so.)
Add back the browned beef and stir into the soup just until warmed through. Taste and season with additional salt and pepper as needed. Ladle soup into individual bowls, with a large scoop of cooked rice, if using. Garnish with cilantro, parsley, or shredded cheese.
NOTES
*This soup is just as delicious with or without the rice; you can also use brown rice, but plan for a longer cooking time. Be sure your rice is cooked before adding to soup, and only add it at the end, right before serving to prevent broth turning starchy. Also, don't cook the rice in soup, or it will absorb all the liquid.
*If desired, add 1-2 TB sugar to taste (if you don't care about keeping Whole30, I'd suggest using a bit of sugar, as it helps offset the tangy-ness of tomatoes.)