This cake is ideal to serve as tea cake for your guests during Chinese New Year, but of course also on Valentine's Day.
By Ann Low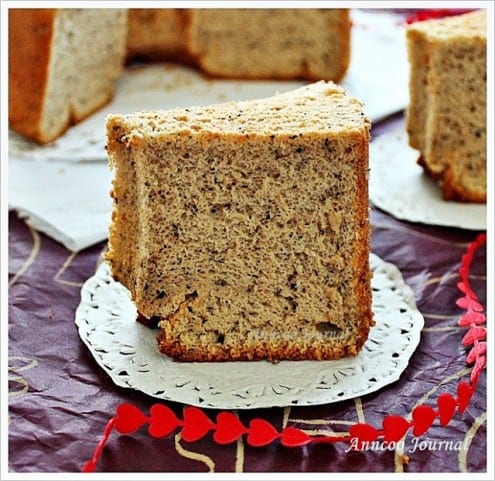 Earl Grey Tea Chiffon Cake Recipe
This cake is ideal to serve as tea cake for your guests during Chinese New Year, but of course also on Valentine's Day.
Ingredients
Ingredients
55g Plain flour
2 tbsp Almond ground/meal
3 Egg yolks (large size egg - 70g each)
20g Sugar
50g Canola oil
80ml Fresh milk
2 Earl Grey tea bags
Meringue
75g Sugar
¾ tbsp Corn flour (7g)
3 Egg whites
Instructions
Heat up fresh milk (not boiled and off heat), add Earl Grey tea leaves in it. Cover and leave to cool then strain tea leaves through a fine sieve and set aside (keep tea leaves).
Sift flour twice and mix well with almond meal. Combine egg yolks and sugar in a bowl and mix well. Add Earl Grey tea and canola oil and blend together. Add flour mixture and mix well with a hand whisk and lastly add in the tea leaves. Mix well again and set aside.
Make meringue - Combine sugar and corn flour. Beat egg whites until foamy. Add half the sugar and flour mixture and continue beating for a few minutes, then add remaining sugar and flour mixture and beat until egg whites are glossy, with stiff peaks.
Gradually pour all the egg mixture into the meringue at low speed then stop machine. Using a rubber spatula and fold the mixture well.
Pour batter evenly into the ungreased chiffon cake pan. Gently bang the pan on the table top to release air bubbles.
Place cake pan in the oven and bake for about 30-40 minutes then switch oven to lower grill for 5 minutes.
When cake is done, remove from oven and turn the pan over. Leave cake to cool in pan.
Once cake has cooled completely, carefully run a knife around the sides of the cake to loosen it.
Ann Low
Ann Low is the author of Anncoo Journal, and loves to bake and cook for both family and friends. She acquired a strong passion for culinary skills from a very young age by watching her grandmother prepare delicious meals for the family. Ann believes that baking is an art and she wants to share her baking and cooking experiences with everyone in the world.