Dutch Baby Pancake with Spiced Concord Grape Sauce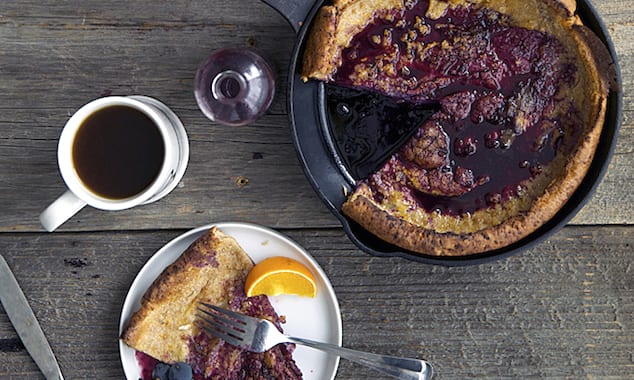 Light, yet still slightly crunchy, the height this baby gets is all from the eggs in the batter. Top with sweet concord grape syrup or your favorite seasonal fruit.
By Lynsey Walker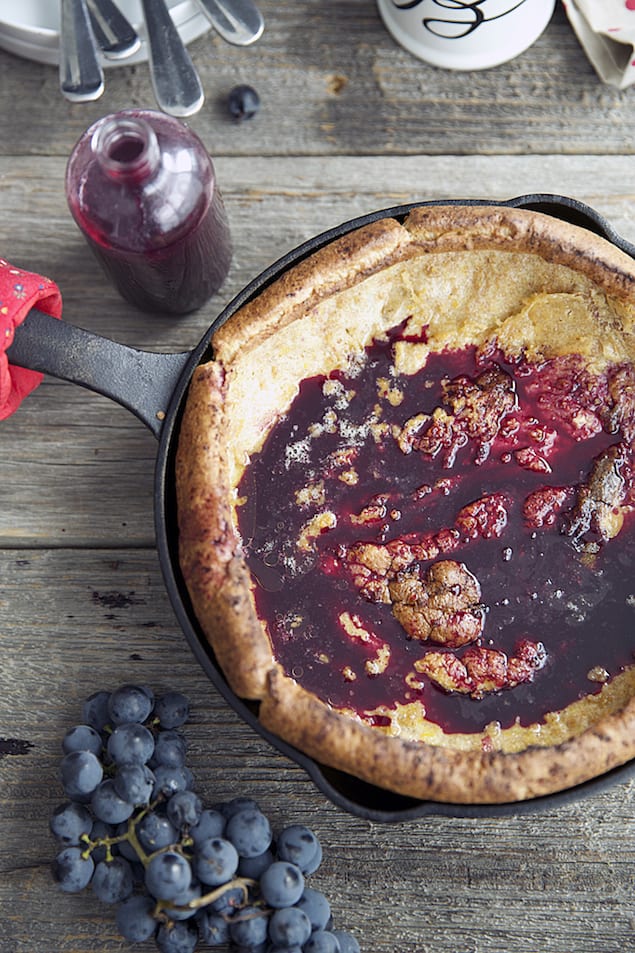 I can't remember the first time I stumbled upon this recipe, but one thing is for sure I have been holding on to it for this very occasion…. I mean could there be any more perfect way to celebrate your half-Dutch husband's birthday?
Also worth the wait? The giant Dutch Puff (apparently, it's other name) that emerges from the oven after it's done baking. Light, yet still slightly crunchy, the height this baby gets is all from the eggs (all three of them) in the batter. Another interesting fact: the batter has not a drop of sugar, which means your topping of choice has got to be amazing to compliment the flavour. Icing sugar is the norm, but how can you resist all the fruit that is in season right this second.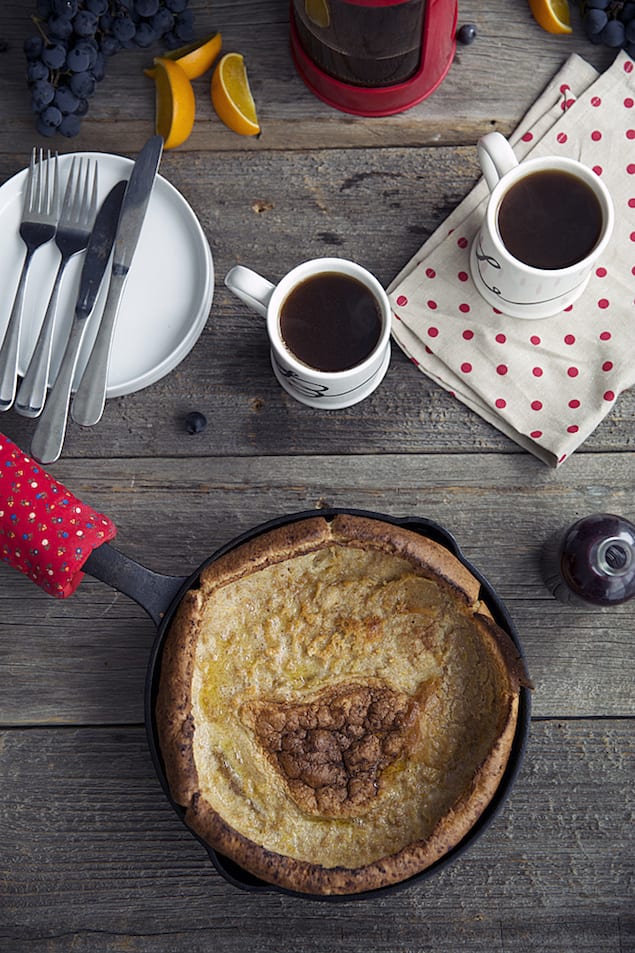 These beautiful concord grapes were one such splurge. I had full intention of making this with apples, totally on-trend for the season, but then…. well…. concord grapes!! Have you eaten them? They are the exact sweet spot where your childhood and adult life intersect, somehow reminiscent of both PB&J and edible wine all in one tiny little purple globe.
See Also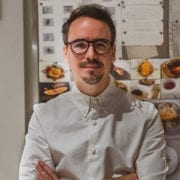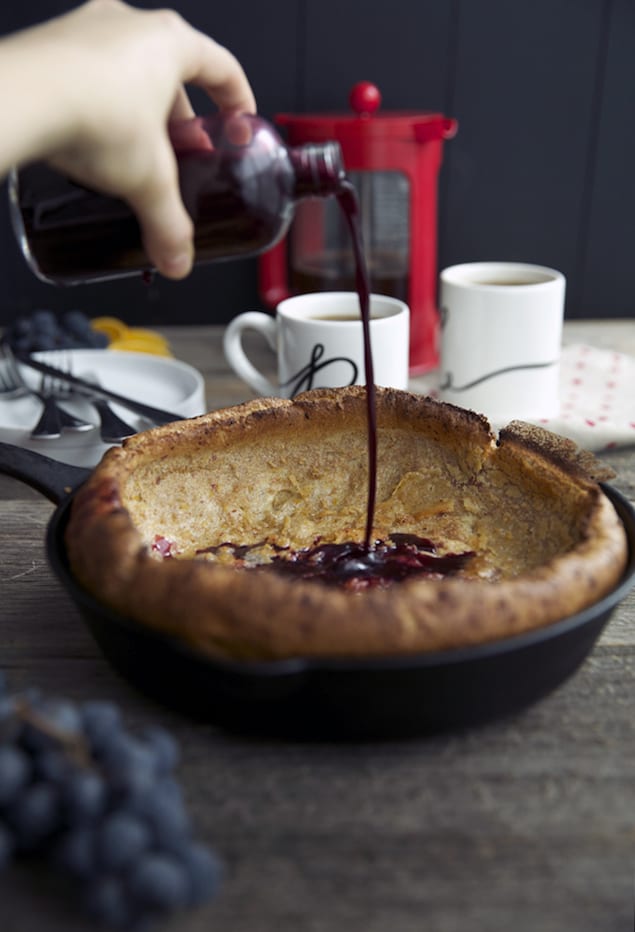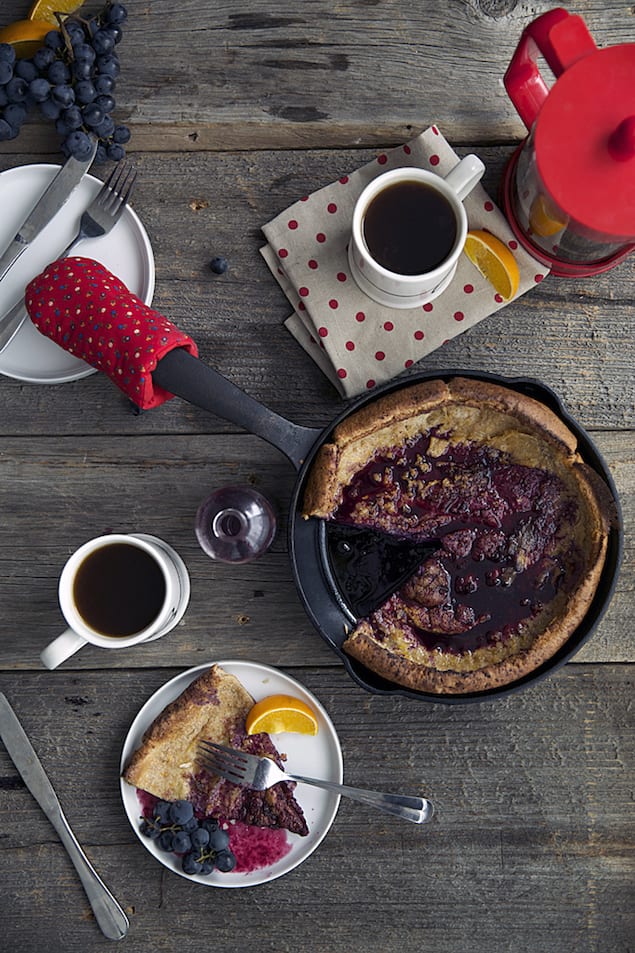 Dutch Baby Pancake with Spiced Concord Grape Sauce
Light, yet still slightly crunchy, the height this baby gets is all from the eggs in the batter. Top with sweet concord syrup. Inspired by Hummingbird High.
Ingredients
For Concord Grape Syrup
2 cups concord grapes
¼ cup maple syrup
1 orange, juice only
⅛ tsp ground cardamom
⅛ tsp ground nutmeg
2 cinnamon sticks
2 star anise
pinch of ground cloves
For Dutch Baby
3 eggs, room temperature
⅔ cup whole milk, room temperature
1 orange, zest only
⅔ cup spelt flour
¼ tsp vanilla extract
⅛ tsp cinnamon
⅛ tsp nutmeg
⅛ tsp salt
6 Tbsp butter
Instructions
For Concord Grape Syrup
In a medium saucepan, heat grapes, maple syrup, orange juice and spices over low heat until grapes have released their juices. About 30 minutes.
Allow to cool. Remove cinnamon sticks and star anise. Strain mixture through a fine mesh sieve and discard any solids
For Dutch Baby
Preheat oven to 450F, with the cast iron skillet placed in the middle rack.
In the bowl of stand mixer (or using a whisk), beat eggs until pale yellow and frothy. Add milk, vanilla, and orange zest mix to combine. Add flour, spices, and salt. Continue mixing until mixture is smooth and runny.
Remove skillet from oven and add butter. Carefully swirl around the bottom and sides of the pan until all the butter is melted. Add batter and place skillet back in the oven. Bake for about 20 minutes until golden.
Serve with concord grape syrup, and orange slices.
Lynsey Walker
Lynsey Walker has a master's degree in nutritional science and is currently finishing up her Registered Holistic Nutritionist designation. By inspiring people to start cooking and getting back to eating real food, as well as fostering healthy relationships what they put in their body she is on a mission to shake up the world of nutrition.