The celeriac mash creates a nice, slightly tart contrast with the rich, sweet sauce, but mashed potato with lots of butter is good too.
By Jess Lacey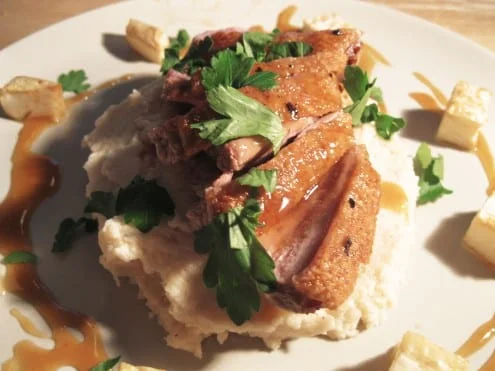 This recipe was the first one my overly ambitious father attempted to teach me to cook at age 8 (yet I still to this day do not know how to make an omelette). It is a rich vinegary caramel sweet and sour sauce (nothing like the Chinese sweet and sour sauce). It is the best duck dish I have ever encountered, including the ubiquitous, and, to my mind, overrated duck a l'orange.
Print
Duck Aigre Douce with Roasted Garlic and Celeriac Mash
The celeriac mash creates a nice, slightly tart contrast with the rich, sweet sauce, but mashed potato with lots of butter is good too.
Author:

Jess Lacey

Prep Time:

30 mins

Cook Time:

1 hour

Total Time:

1 hour 30 mins

Yield:

4

1

x
Category:

Main
Duck and Sauce
4

duck breasts with skin

75g

sugar

30g

water
-1 pint stock, preferably duck or chicken, but other meat stock will do

100g

butter

75g

red wine vinegar
Olive oil
Salt and pepper
Celeriac mash
2

celeriac

2 tablespoons

creme fraiche

3

cloves of garlic
a pinch of nutmeg
olive oil
Instructions
Sauce
In a small saucepan dissolve 75 grams of sugar in 30 grams of water and cook until caramelised; the mixture will start to develop a slight brown colour, the bubbles get bigger and you begin to get a a slight sweet caramel smell.
Watch carefully at this stage; continue cooking until the caramel has a good rich colour and a sweet, slightly nutty aroma; If you cook it for too long it will develop a deep mahogony colour and a bitter, burnt taste.
If this happens, you start again (don't worry if this does, it has happened to me and is always successful the second time around).
At this stage remove the caramel from the heat and add 75 grams of red wine vinegar, (be careful as it can splash back at you at this stage).
Cook slowly until all the caramel is dissolved.Add one pint of stock and reduce down to a rich coating consistency.
Season with salt and pepper and add 100 grams of butter.
Duck
Meanwhile, heat a tablespoon or so of olive oil in a large frying pan over medium heat.
Add the duck breasts skin side down.
Cook for 20 minutes, then turn over and cook for 3-4 minutes to seal.
Season.
Slice the duck breast and serve with the sauce.
Celeriac mash
Remove the ugly skin from the celeriac (this is best done basically by chopping it off with a sharp knife, peeling is a horrible never ending task).
Cut into 2cm cubes.
Toss in olive oil.
Roast with the garlic for 30 or so minutes at 180C until soft.
Reserve a few cubes to scatter around each plate.
Mash the rest using a potato masher or (preferably) a hand held blender, along with the peeled garlic cloves, creme fraiche and nutmeg.
Season
Serve the duck in slices on a bed of mash, with cubed celeriac as garnish.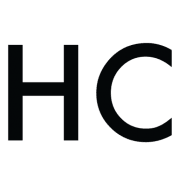 Jess Lacey
Jess Lacey is an Irish food blogger and soon to be lawyer. She has found a home in London, Dublin, Leiden, Melbourne and Aarhus. After a brief foray into the world of Michelin starred cooking, she decided to keep cooking and food as relationships based purely on passion rather than income. She travels frequently, and justifies this by writing about it. More of her musings and recipes are available on her blog, Canal Cook.