With a reputation for being one of the most unique and sought after knife brands in the industry, Florentine Kitchen Knives makes cutlery in a sleek and contemporary design, leaving their fans paying hundreds of euros for the knives which have a waiting list of up to a year. Now they are opening an atelier and storefront in Barcelona, so we caught up with the intriguing business for a chat.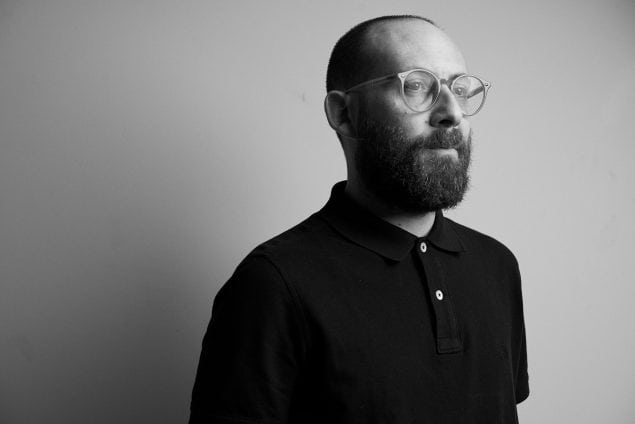 In a digitalized world, we are used to having everything at the tips of our fingers. A few clicks on the computer and you can order just about anything to be delivered to you in the comfort of your own home. However there are few items so luxurious and desirable, that we don't mind being on a waitlist for years to get our hands on them. Custom made Bentleys for car aficionados, Hermès' luxurious Birkin bags for the affluent fashionistas. And for the food connoisseur, a custom knife from Florentine Kitchen Knives. The difference between these is that behind Florentine Kitchen Knives (FKK) you won't find a million dollar enterprise. Each knife leaving the workshop is basically handcrafted by the small family business operated by husband and wife, Tomer Botner and Noam Blumenthal, based in the heart of Barcelona's old quarter.
From final thesis to booming business
The story of FKK begins when Tomer worked in hospitality to pay his way through product engineering and design school in his native Israel. A leap of faith and some good timing from Instagram catapulted FKK into reality.
"I saw the growing interest in cooking all over the world, especially in TV-shows and social media, so I decided to focus my final thesis on something that has to do with the kitchen. I wanted a tool and not a complicated machine because I wanted to be able to make it myself with the 8 months I had to finish the project. That's how I ended up making knives".
Tomer decided to document his whole process on his social media accounts, which led to him being noticed by a then relatively new company called Instagram, who picked up the pictures and posted them on their official Instagram blog only a few weeks after Tomer graduated. After that the ball kept rolling
"My phone basically exploded with requests following that. I had to set up a waiting list with no knowledge or experience in how to produce knives in this quantity, but I was determined to make it happen. I decided to crowdfund, but back then the only big site to do that on was Kickstarter, and because I was creating knives, they didn't allow me to use their platform".
So instead on IndieGoGo, Tomer managed to collect around $10,000, which led to the birth of Florentine Kitchen Knives as a business.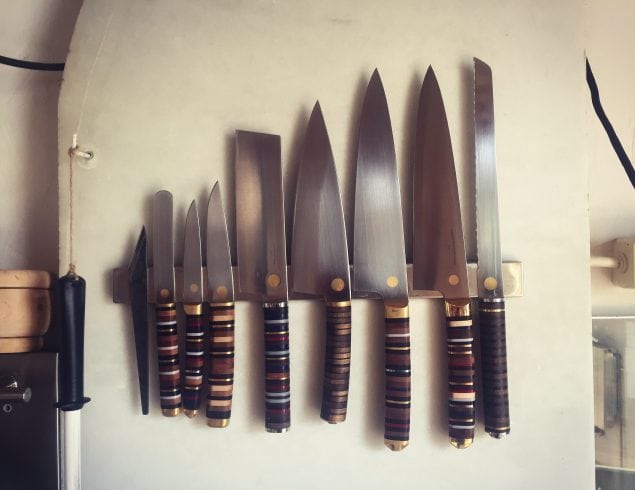 High-end cutlery with sleek and contemporary design
The business quickly took off, and today the client list consists of some very impressive names and places in the culinary industry such as The Jane in Antwerp, Mr. Porter (W Hotel) Amsterdam, The Four Seasons in Kuwait and the Waldorf Astoria in Bangkok to but name a few.
What makes the knives stand out from the rest is their form and the way they look.  The design of each knife is very unique, while it still ticks all the boxes of being a practical high-quality tool. And since the majority of sales are made online, the customers do not have the chance to actually touch and feel the product before purchase, proving just how important the design actually is.
"This is our 6th year and the 5th model we are doing. We started out with 100 knives made from a single model and in 2017 we made around 3000 knives from different models, including steak knives, chef knives and bread knives. With the current design we are going to launch 3 different models, but with the deviations in design it ends up being 12 different variations", Tomer explains and adds that for each new model he discontinues the old ones; "The batches of knives usually sell pretty fast and then comes the feedback and we get to spend a little more time with them and figure out what we can do even better for the next ones. At the end of the day, that's why we do what we do; to get better all the time and be the best we can be."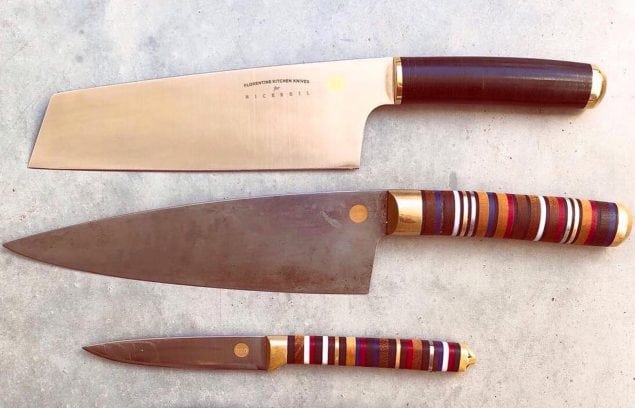 Florentine Kitchen Knives designs all knives without compromise though with self-inflicted limitations and each one is a little bit different by design, so every FKK is indeed truly a unique product. Tomer wants the best possible knives he can make for the price he sell them for.
"We use the best materials we can get and we never compromise on steel and heat-treatment quality which we treat in very accurate industrial facilities. To keep our prices reasonable and our quality high we use technology for the things we believe don't make a difference in the final outcome; things that machines do as well, like laser cutting out the blanks, removing material from the blade before giving it it's final geometry and cutting our discs and handles to shape with a CNC machine. All these things save time and money and give us more time to concentrate on the finishes and overall quality.
From inspiration to finished product
The process of making the knives is long, especially when it comes to creating custom made knives for restaurants. When a restaurant commissions him, Tomer will usually visit the restaurant in question, have dinner there and have several conversations with the management and chefs so they are all clear on the vision for the finished product. This is a process that easily can take 3-6 months whether it's yearly models or a custom-made knife for a restaurant. The waiting time from purchasing the product to receiving it could sometimes be as long as 12 months. That being said Florentine Kitchen Knives also offers "off the shelf" knives too that you can buy online.
"I think what stands out about our knives and our business is our background in design studies and practical product design experience. Having these practices installed in me has given me a good understanding of geometrical figures, shapes and lines, as well as production processes and materials. Each step of the process, from brainstorming to package design, incorporates elements that I was taught in school and practiced in my work after that. So product design and design in general is a pivotal part of our business."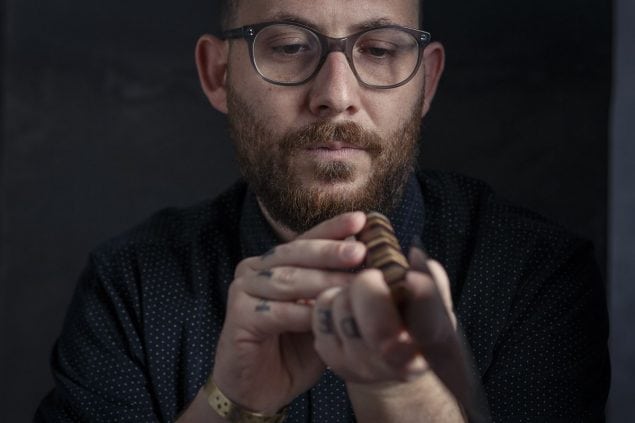 Dedication: Knife maker Tomer Botner has "handmade" tattooed below his knuckles.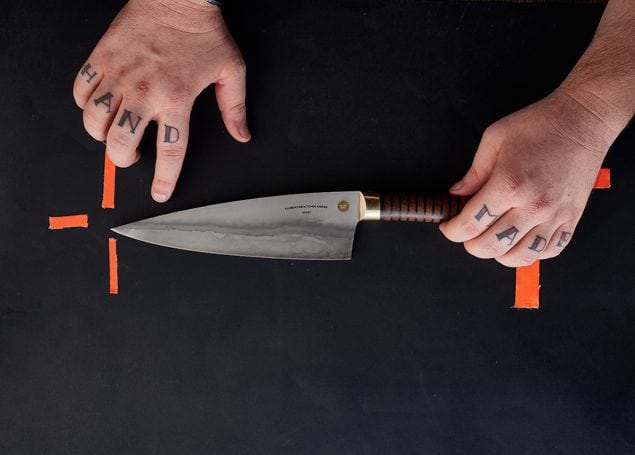 The knives from Florentine Kitchen Knives are not only functional and of high quality, but the design is top notch as well. The inspiration behind each design comes from day-to-day things as well as Tomer's background in Tel Aviv, where the business actually got its name from the neighborhood of Florentin. Here Tomer started designing knives. Back then he was afraid people would think he had made a spelling error so he added the "E" at the end of the name and pretty soon it was too late to change it back.
"Florentin is such a melting pot of different cultures and ideas from all over the world.  In theory, they shouldn't function that well together. The reason might be that it's not such a melting pot when it comes to economical status. I get inspired by that a lot and often mix design elements that usually don't go well together, though I try to keep everything on the same level on all parts and aspects of the product. I try to use that same approach now living in Barcelona. Raval is quite similar to Florentin that way, and by seeing things on the streets I notice how the different elements connect and I'm instantly fascinated."
Florentine Kitchen Knives version 2.0 – Barcelona edition
Having established a fruitful business, Tomer was craving new adventures and relocated to Barcelona, Spain with his wife Noam. Noam herself was a successful entrepreneur with her own brand of womenswear. But as his business kept growing, she closed down her brand to focus solely on FKK.
"There wasn't a specific reason to why we moved to Barcelona. I wanted to leave Israel as it wasn't good for my business, so I asked my wife where she wanted to go and she said Barcelona. It's never easy being an immigrant in a new country, especially when we came from outside of the European Union. Coming to Europe was easier for the company though".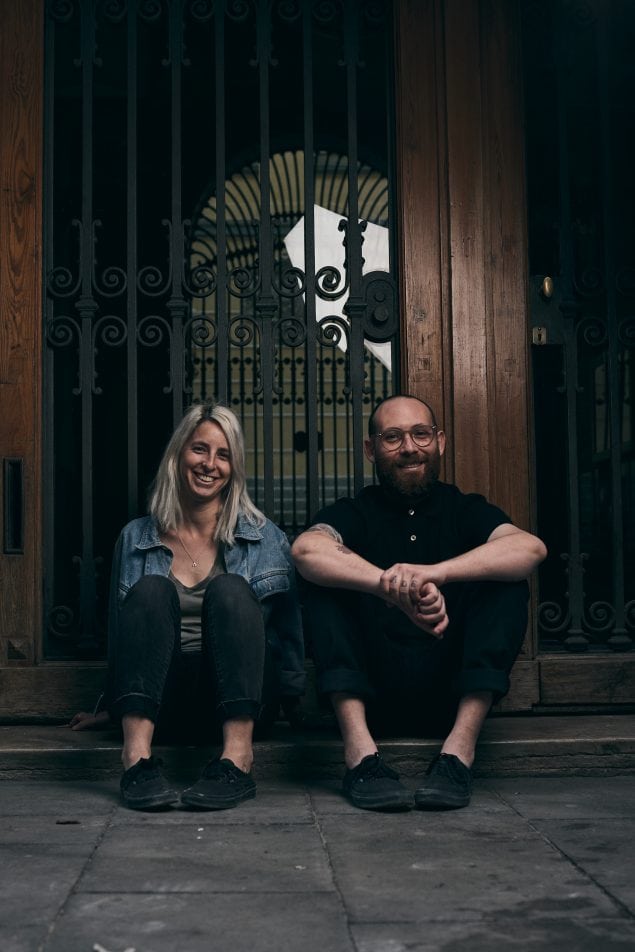 Since June 2017 the couple have been renting a workspace in the thriving neighborhood of El Raval, which during the 80s and 90s was an area where prostitution and drugs dominated the neighborhood. Over the last 10 years however, the area has been known for some of the hippest and trendiest bars and cafes as well as cultural milestones such as Centre de Cultura Contemporània de Barcelona and the museum of modern art. Although still in construction chaos, the couple plans to unveil the home of Florentine Kitchen Knives in July 2018.
"In this new workshop we are going to make all the products on site.  It measures 100m2 and it will be divided into two sections – one focusing on the workshop and knife productions and the other focusing on the retail. The room will be divided using glass, so you'll still have a good view of the work process and the knives being made in real time".
"It will be an all-round concept store. We will have a lounge with cook books, and over time we hope to start cooking, sharpening and cutting classes. And of course you can come by to see and touch the material and immerse yourself into the process of making a custom made knife. You will get to choose the knife type, steel type, handle material and finishing", Tomer explains.
While the main focus for the foreseeable future will be the workshop, Tomer still has some tricks up his sleeve as well. But don't expect him to release a whole assortment of kitchenware.
"I've tried to do more things before. It's nice but I want to be amazing in my area and knives, luckily, have a broad enough spectrum for me to be able to stick with one single tool and the many variations of it", Tomer says and adds that you need to find consistency in your product so everything comes out as close to perfect as you can every time.
Right now it's all about living in the moment for Tomer and Noam. Other than the workshop they also have a 2-year-old son who they want to spend as much time as possible with, so for them both it's about finding a balance that includes their whole family. "And a workshop close to home is the perfect solution", he adds.
"The new Atelier and shop is a huge change for us. Having a place where we can realize our designs and be more flexible, give more options to our clients and do it all ourselves, as well as providing service and managing a physical retail space. It's like starting over for us, like launching a startup. It's going to take everything we got and we will give it all."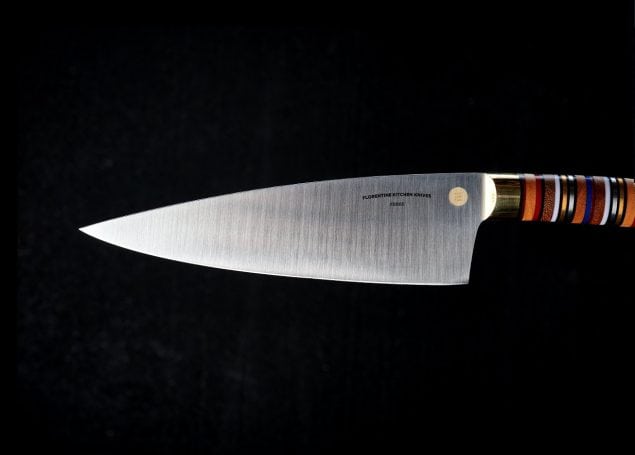 Florentine Kitchen Knives
www.florentinekitchenknives.com
Address: Carrer del Notariat, 7, 08001 Barcelona
Phone: 664 14 83 69
Tentative opening date: 4th July.